Kneading and baking bread, buns, flatbreads, pita breads and all you can imagine with flour/yeast/baking powder is my first and last love, love at the first, second and forever sight ♥. It has so many possibilities when you start to bake with flour, no matter is it dough with yeast or baking powder, there is no limit. You can add so many different spices, vegetables, fruits, cheese, salty or sweet dough….Rarely I stick to the recipe, I just inspire myself with ingredients that I find in my fridge and I just get adventurous…so is the case with this recipe. Summer, let say on-off summer in Munich, is still here, and I decided to enjoy my dayoff in roasted spicy vegetables, my favorite baked goat's cheese with honey and thyme and very easy to make (simple recipe, fast preparation and baking) aromatic flatbread….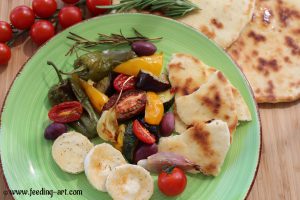 I adore this flatbread recipe because I do not need to turn on oven, do not need to wait dough to be doubled, they are not fatty (they are not baked in fat)…and what to say at the end but Bon Appétit!
Flatbread:
300g white flour
300g yoghurt
1 tablespoon olive oil
½ pack of baking powder
Salt, pepper, ground chili
Finely chopped rosemary and thyme
Mix all dry ingredients, add yoghurt and oil and knead soft dough (but it should not be sticky…if needed add some flour).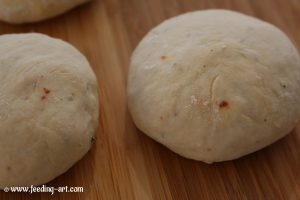 Divide dough into 7-8 pieces and form balls. From each ball make thinner flatbread (diameter ca 20 cm)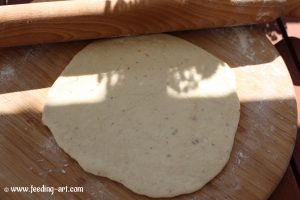 and bake in a hot frying pan without any fat. Bake each side approximately 2 minutes (or until it gets nice colors).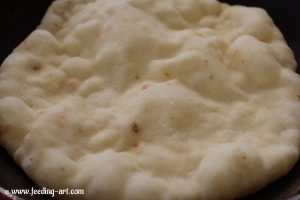 When flatbread is baked, place it on a baking try or plate, sprinkle with little bit of olive oil and cover lightly with aluminum foil in order to keep them soft (do not press aluminum foil too tight all over flatbread). Repeat with each flatbread.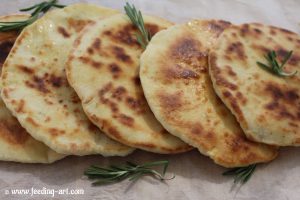 Roasted vegetables
Mini tomatoes, different colors
Yellow pepper
Zucchini
Egg plant
2 Shallots
4 clove of garlic
Habanero spicy (hot) pepper (it is very hot, at the scale of 10, Habanero is 9,5)
Pimentos de padron (green mini pepper)
Olive oil
Coarse salt with different spices and brown sugar
Coarse black pepper
Rosemary, fresh
Cut tomatoes in half or in ¼. Yellow pepper, zucchini and egg plant cut in smaller pieces. Cut shallot in ½. Press garlic cloves (together with skin) with knife and put between vegetables. Place Pimentos de padron (do not cut them). Cut finely Habanero hot pepper and sprinkle all over vegetables (be careful with quantities, it is very hot!). Pour little bit of olive oil, season with salt with spices, black pepper, and sprinkle tomatoes and shallots with little bit of brown sugar (they become great caramel flavor). Add fresh rosemary between vegetables and bake at 200 C.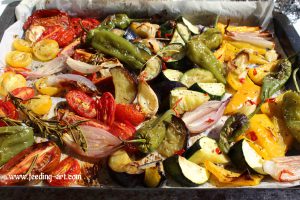 And little bit of….
Goat cheese in the roll
Honey
Thyme
Kalamata olive
Cut goat cheese into rings. Preheat the frying pan and spread with little bit of olive oil. Bake shortly cheese rings, place on a plate, pour some honey at the top of it and sprinkle with finely chopped thyme.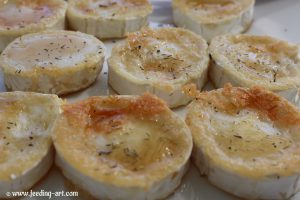 At the end, serve kalamata olive.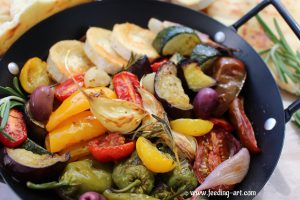 -Croatian version-
Miješenje i pečenje kruha, peciva, lepinja i svih njihovih izvedenica moja je prva i posljednja ljubav….na prvi, drugi i n-ti pogled ♥. Toliko je mogućnosti kada se zaigraš s brašnom, bez obzira radi li se o tijestu s kvascem ili praškom za pecivo, samo je mašta granica – dodavanje raznih začina, povrća, voća, sira, slatko ili slano tijesto…Rijetko se pridržavam recepta, jednostavno se inspiriram sastojcima koje imam u hladnjaku i krenem u avanturu…tako je i s ovim receptom. Ljeto, doduše malo klimavo, još uvijek je prisutno u Münchenu pa sam odlučila još malo uživati u lagano pečenom povrću malo jače začinjeno čili paprikom, meni omiljenom kozjem siru u roli kratko pečenom na maslinovom ulju s medom i timijanom te vrlo zahvalne za izradu (jednostavnog recepta, brze pripreme i pečenja) aromatične lepinje….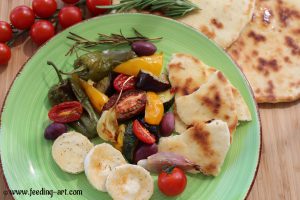 Posebno su mi drage ove lepinje jer ne moram paliti pećnicu, nema čekanja da se tijesto digne, nisu masne jer se ne peku na ulju i što reći nego dobar tek :).
Lepinje:
300g bijelog brašna
300g jogurta
1 jušna žlica maslinovog ulja
½ vrećice praška za pecivo
Sol, papar, mljeveni čili
Sitno sjeckani ružmarin i timijan
Postupak:
Brašno prosijati te dodati sve suhe sastojke i promiješati. Potom dodati jogurt i ulje te umijesiti mekano tijesto koje se ne lijepi za prste. Po potrebi pri miješenju dodati malo brašna. Tijesto podijeliti na 7-8 dijelova i formirati kuglice. Valjkom svaku kuglicu oblikovati u tanju lepinju promjera oko 20 cm te peći na dobro zagrijanoj tavi bez masnoće. Svaku stranu peći oko 2 minute odnosno dok ne dobije lijepu boju.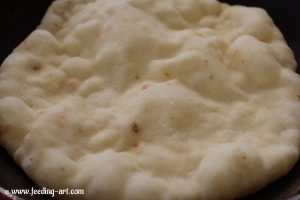 Pečene lepinje slagati na tepsiju, lagano premazati s malo maslinovog ulja i prekriti aluminijskom folijom da ostanu mekane (ne stiskati čvrsto foliju preko lepinja, dovoljno je prekriti i samo lagano sa strane spustiti foliju). Ponoviti sa svakom lepinjom, kada su pečene mogu se slagati jedna na drugu.
Pečeno povrće
Mini rajčice raznih boja
Žuta paprika
Zelena tikvica
Patliđan
Ljutika
Češnjak
Habanero ljuta paprika (9,5 na skali ljutine)
Pimentos de padron zelene mini paprike
Maslinovo ulje
Krupna sol sa začinima, smeđi šećer
Grubo mljeveni papar
Svježi ružmarin
Postupak:
Rajčice prepoloviti, krupne narezati na četvrtine. Žutu papriku, tikvicu i patliđan narezati na manje komade. Ljutiku prepoloviti. Češnje češnjaka s korom stisnuti nožem i staviti među povrće. Pimentos de padron staviti cijele. Habanero ljutu papriku sitno narezati i posuti po povrću (vrlo je ljuta, na skali do 10 ona je 9,5 i zato pažljivo s količinom, a naročito sa sjemenkama). Preliti s malo maslinovog ulja, začiniti krupnom soli sa začinima i paprom, a rajčice i ljutiku posuti s malo smeđeg šećera (odličnog su blago karameliziranog okusa). Dodati grančice svježeg ružmarina te peći na 200 C.
Ostalo:
Kozji sir u roli
Med
Timijan
Kalamata masline
Kozji sir u roli narezati na kolutiće. Tavu dobro zagrijati te premazati s malo maslinova ulja. Kolutove sira kratko peći s obje strane, staviti na tanjur i preliti s malo meda te posuti sitno sjeckanim timijanom.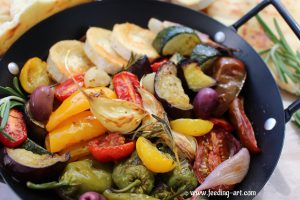 Kalamate masline servirati na gotovo povrće.