The Crime scene: Vinkovci, Slavonija, Croatia.
The Suspect: Denis Fiš Šoštarić https://www.facebook.com/denis.n.osijek?fref=ts/#
The Witness: Inga
Fish Stew is
the most famous meal prepared in kettle, and it is a part of traditional cuisine. Especially in the eastern part of Croatia, Slavonija, we are very proud of this meal which is prepared on an open fire. In this case, our guest Denis Šoštarić, the master of kettles, prepared more than 15 kettles at the same time.
The secret of this famous meal is a good balance of all ingredients – different types of river Fish (common carp, catfish, pike and perch), onion, sweet and hot peppers, salt, white wine, concentrated tomato sauce and water.It is very important to have very fresh and good quality Fish and Peppers. Mostly is used generous quantity of hot peppers, but for those which do not like too spicy, it goes as well with mild or sweet peppers.
Fish Stew is prepared originally in a kettle because you are not supposed to stir it too much, but to rotate around its own axis. In this way all ingredients grow together in unique entity and develop special flavors with lots of culinary skills and passion.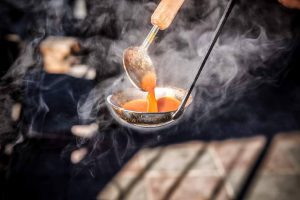 Although it seems like a very simple and easy recipe, to make great Fish Stew requires lots of experience and hard work to achieve the best balance of all ingredients. Most of the cooks kept the recipe as secret, but as said before, great quality of fish and the right timing of adding ingredients are the key of the great fish stew.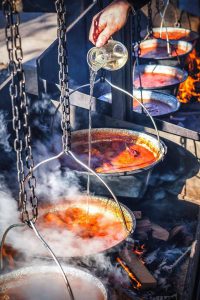 Fish Stew is most of the time described as breathtaking, bright red and spicy delicacy.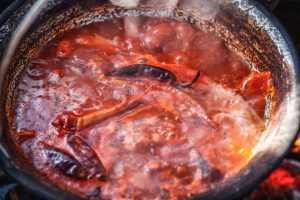 It is served directly from the kettle, and the best way to enjoy this meal is to serve it with broad homemade noodles.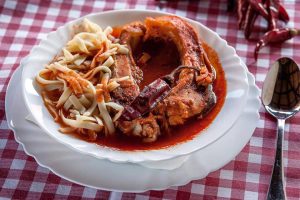 Recipe that we got from Denis:
3 kg fish
3,9 l water
40 dag chopped onion
3 tbs sweet peppers
0,5 tbs hot peppers
1 tbs salt
1 tbs concentrated tomato sauce
0,03 dcl white wine
First, boil chopped onion in some water and mix it. Then, add peppers, stir well, add concentrated tomato sauce, water and all spices expect wine. Put fish chopped into large pieces and bring to boil. After 20 minutes add wine and keep cooking for additional 20 minutes.
*Important note for all professionals and amateurs — yes, I know you have your own recipe and it is delicious. So keep cooking as always…we are just sharing gorgeous pics and recipe from Denis and he is doing this just great like you. And I do not want to fight about 1 l water….Thank you and enjoy your meal!
Competitions in preparing Fish stew are very popular in Croatia. They are usually held at fairs and visitors are offered to taste the fish stew for money which is most of the time for charity purpose collected. The quality is determined mostly by the public and in this case success or failure of cooks is often subject of personal taste.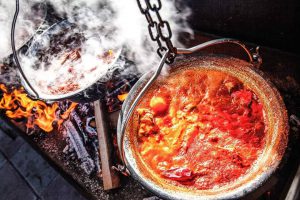 Of course they organized competition with professional committee as well, and in this case more or less successful Cooks are recognized on professional level.
If you want to try this delicious fish stew from chef Denis, do not miss to visit restaurant Vatikan (Andrije Hebranga bb street) in Vinkovci, (by the way, the oldest city in Europe, and my birthtown), always Fridays. Find them on https://www.facebook.com/pizzagrill.vatikandijana/#
You are not going to regret it:)
Denis Šoštarić dedicated his professional life to the mastering cooking in kettle, not only fish stew but also meat stew and in august 2016 did enter Guinness by cooking the biggest meat stew in Vukovar, east Croatia. Denis and 12 assistants spent 9 hours cooking up 4,650 l of meat stew (12 500 portions), setting the new world record for the largest meat stew. Well done Chef!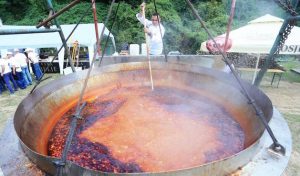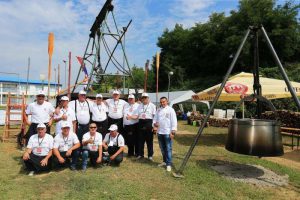 *Croatian version:
Mjesto zločina: Vinkovci, Slavonija, Hrvatska
Osumnjičenik: Denis Fiš Šoštarić https://www.facebook.com/denis.n.osijek?fref=ts/#
Svjedok: Inga https://www.facebook.com/inga.basic.3/#
Fiš je jedno je od najpoznatijih jela koje se priprema u kotliću i dio je tradicionalne gastronomske ponude u Hrvatskoj. Posebno smo mi u istočnoj Hrvatskoj, Slavoniji, ponosni na ovo jelo koje se uglavnom priprema na otvorenoj vatri. Stoga smo posjetili Denisa Šoštarića, majstora kotlića, u Vinkovcima koji nam je otkrio jednostavan recept za ovo odlično jelo, ali da bi i bilo za prste polizati, treba puno skuhanih kotlića, strpljenja, ljubavi, probe, traženja kvalitetnih sastojaka….pa krenimo s pričom…
Tajna ovog poznatog i traženog jela je u pravom omjeru svih sastojaka – različitih vrsta riječne ribe ( som, štuka, smuđ, šaran), luk, slatka i ljuta mljevena paprika, sol, bijelo vino i voda.
Posebno je važno nabaviti svježu ribu i papriku odlične kvalitete. Najčešće se kuha ljuti fiš, ali za one koji vole nešto blaži okus, dodaje se mala količina ljute i veća količina slatke paprika.
Originalno se fiš priprema u kotliću na otvorenoj vatri da bi se omogućilo pravilno sljubljivanje svih sastojaka – nikako miješanjem žlicom nego okretanjem kotlića oko njegove osi.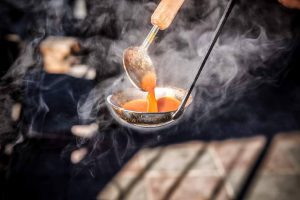 Iako je recept za fiš vrlo jednostavan uz malo sastojaka, kako bi se napravio zaista dobar fiš potrebno je puno iskustva, znanja, strpljenja i ljubavi prema ovom jednostavnom, a opet pomalo zahtjevnom jelu. Većina kuhara ne odaje tajnu svog recepta, ali ako nabavite kvalitetnu ribu, domaću mljevenu papriku odgovarajuće ljutine te otkrijete pravi trenutak za dodavanje određenih sastojaka – uspjeh neće izostati.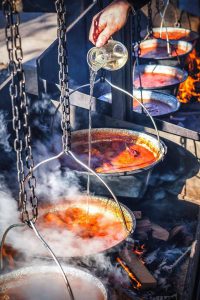 Najveći obožavatelji i štovatelji fiša opisuju ga kao jelo koje oduzima dah svojim okusom i žarko crvenom bojom.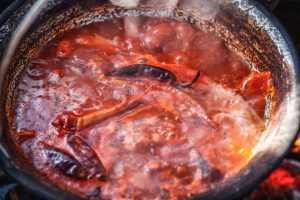 Fiš se servira s kotlićem na stolu, a najidealnije ga je poslužiti uz domaće široke rezance.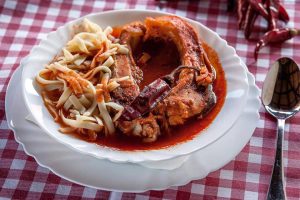 Recept koji smo dobili od Denisa:
3 kg ribe
3,9 l vode
40 dag crvenog luka
3 žlice slatke paprike
0,5 žlice ljute paprike
1 žlica soli
1 žlica koncentrata rajčice
0,03 dcl bijelog vina
Prvo skuhati luk u vodi te u blenderu usitniti u kašu. Staviti u kotlić, dodati papriku, promiješati te dodati koncentrat rajčice, ostatak vode i sve začine osim vina. Potom dodati ribu narezanu na krupnije komade i ostaviti da provrije. Nakon 20 minuta dodati vino i kuhati dodatnih 20-tak minuta.
*Važna informacija za sve profi i one koji će to tek postati — da, znam da imate svoj tajni recept koji je odličan i ne dijelite ga ni sa svojom boljom polovicom! Savjetujem vam da nastavite kuhati po svom receptu…željala sam samo podijeliti s vama ove prekrasne fotografije i recept od Denisa koji kuha s jednakom strašću kao i vi. Da vas inspirira da u ove hladne dane zagrijete kotlić u dvorištu…i pustite ribu da pliva..
Iskreno, neda mi se raspravljati ide li po"originalnom" receptu dcl više ili manje vode, vina, ove ili one ribe. Toliko 🙂 Hvala na pažnji i dobar tek!
Natjecanja u pripremi fiša se često organiziraju i vrlo su popularna u Hrvatskoj. Često se održavaju na raznim sajmovima gdje se porcija fiša prodaje po simboličnoj cijeni, a prikupljeni novac daje se u dobrotvorne svrhe. Najčešće publika određuje čiji im je fiš najbolji i u tom slučaju proglašenje "pobjednika" rezultat je subjektivnog okusa širokog dijela publike.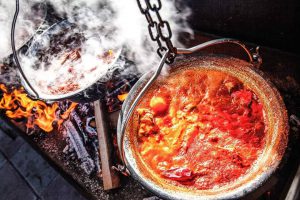 Međutim, organiziraju se i natjecanja s profesionalnom komisijom koja daje svoj sud o svakom skuhanom fišu posebno primjenjujući profesionalne kriterije. U tom slučaju su najuspješniji kuhari priznati kao majstori fiša na profesionalnoj razini.
Ako želite probati ovaj specijalitet iz ruku majstora Denisa, posjetite restoran Vatikan u Vinkovcima, Andrije Hembranga bb, isključivo petkom. A više o ponudi restorana Vatikan na https://www.facebook.com/pizzagrill.vatikandijana/#.
Denis Šoštarić svoj gastronomski put gradi kao majstor kotlića, ne samo kuhajući fiš nego i obarajući Guinnessov rekord u kuhanju najvećeg čobanca na svijetu u Vukovaru, 2016 godine.
Devet sati kuhanja, 12 asistenata na čelu s majstorom kotlića Denisom Fiš Šoštarićem, 4,650 litara čobanca za 12 500 porcija, impresivne su brojke ovog svjetskog rekorda. Čestitamo!