Salenjaci…fragrant, soft, warm, sugary and suprisingly not greasy when you eat them….pastries with a thousand leaves.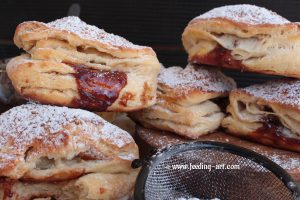 It will be forever a piece of nostalgia of childhood times and traditional food from our childhood..it raise a huge smile on my face when I hear the name Salenjaci. For me it is a picture of mini me, cold winter with a lot of snow in Slavonia, my Mum kneats dough, grinds leaf lard, sprinkles hot Salenjaci generously with powdered sugar.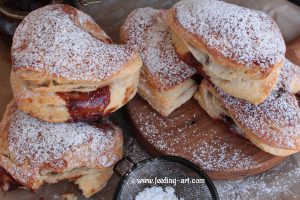 With a first bite, hot plum jam mixed with sugar sticked with your lips and gives you this heavenly taste that is left forever in your childhood memories.
Made from homemade yeast dough, coated several times with leaf lard and filled with homemade plum jam.
They are not made so oft today, young generation do not even know what is leaf lard, and if they would know from what this delicacy is made of, probably they would never try it. But, would they try Croissants if they know how much butter is in it:)?
Their beautiful layered structure is achived by multiple folding of the pastry when it is coated with leaf lard and rolled out. This recipe is my most beautiful sweet childhood memory of winter in Slavonia.
Tipp: it is importat to have warm room where you are making Salenjake, while you need to make several time coating, rolling out and resting. For succesfuly layered pastries, required room temperature is the most important.
Dough:
400g white flour
220 g milk
2 eggs
1 soup spoon pig fat
1 soup spoon of sugar
1 pack of dried yeast (or ½ pack of fresh)
½ tea spoon of salt
Mix all ingredients and knead medium soft dough. Let it rest at the warm place until doubled in volume (covered with shower cap).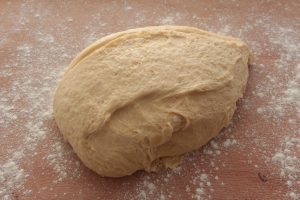 Coating:
Pig leaf lard (ca 200-250g), this is fat without smell and taste and should be cleaned from the capillaries tissue with your fingers and small knife.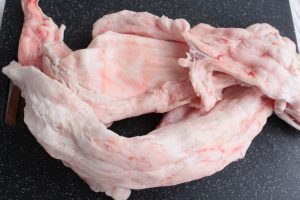 Then mince it 2 times and leave at the room temperature for 1-2 hours.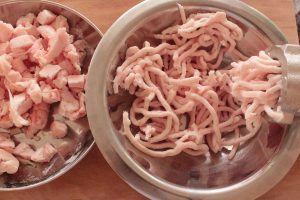 I would suggest, buy it at the private butchery. If you explain what you need they will know exactly what are you talking about.
Filling:
Plum jam
1 egg for coating before baking
Making and baking:
Roll out dough approximately 1 cm thick, coat with one part of leaf lard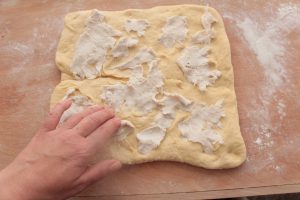 and fold as followed: and then two opposite edges of the dough are folded inwards to touch in the middlen (first left side then right).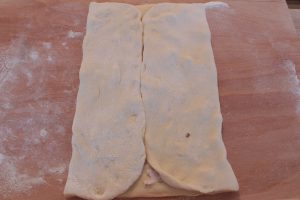 This procedure is repeated from the other two edges of the square.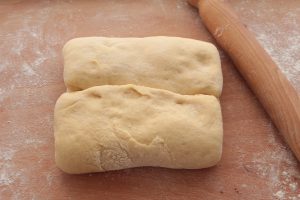 The folded dough is the left to rest 30 minutes, and then is rolled out again.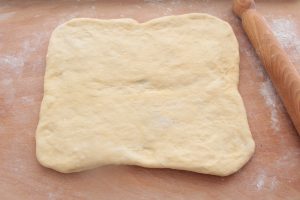 The folding procedure is repeated, but in the reverse order (firs upper part then lower part, then right and at the end left), after which the dough is left to rest once more for 30minutes). The same procedure is repeated two more times until the last time when it is rolled out 1 cm thick, which is cut into small squares.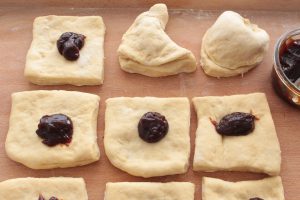 A spoonful of the plum jam is placed on each square, than each pastry is folded (use egg white as glue) and put on a baking tray. Let it rest for 30 minutes covered with a kitchen towel. Before baking coat them with a beaten egg yolk with little bit of milk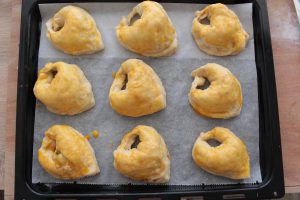 (but do not coat on the side, you will not be able to see layers after baking) and placed in a pre-heated (180 C) oven until they turn golden brown (20-25 minutes, dependson oven). Hot Salenjaci are sprinkled with powdered sugar.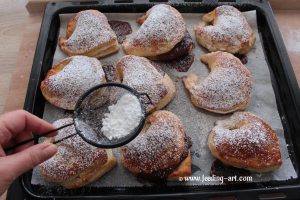 -Croatian version-
Topli, mekani, mirišljavi, puni toplog pekmeza od šljiva i šećera u prahu koji unatoč salu ne ostavljaju mastan okus u ustima…Salenjaci…božanstvo moga djetinjstva. Još i danas vidim te zimske dane, snijeg do koljena, peć na drva i mamu kako mijesi tijesto, strpljivo čisti i melje salo, još vruće Salenjake velikodušno posipa šećerom u prahu…a mi klinci sretni jer je to jedan od rijetkih kolača bio koji smo smjeli jesti dok je još vruć. A tada su Salenjaci najbolji :)..svi njegovi božanstveni okusi dolaze do izražaja..slasno se oblizuješ ne dopuštajući niti jednoj mrvici šećera pomiješanog s toplim, ljepljivim domaćim pekmezom od šljiva da pobjegne s tvojih usana….
Iako mlađe generacije niti ne znaju što su Salenjaci, a bome ni što je salo za salenjake :)…a i da im pojasniš sumnjam da bi probali ovo božanstvo….mada se pitam bi li uživali u Croissants da znaju koliko je zapravo maslaca u njima 🙂 ?
Saljenjaci…moje najslađe zimsko sjećanje iz djetinjstva….
Tipp: s obzirom da se tijesto za salenjake nekoliko puta maže salom, preklapa i miruje, najvažnije je da prostorija u kojoj radite bude topla. U protivnom se tijesto neće lijepo dignuti u svakoj fazi mirovanja te se na ispečenim salenjacima neće lijepo vidjeti razlistano tijesto.
Tijesto:
400g brašna
220 g mlijeka
2 jaja
1 žlica masti
1 žlica šećera
1 vrećica suhog kvasca (ili pola kocke svježeg)
Malo soli
Pomiješati sve sastojke kako bi dobili mekanije tijesto i ostaviti pokriveno na toplome mjesto da se udvostruči.
Premaz:
Salo (ca 200-250g)
Samljeti na mašini za meso (2 puta) i prije korištenja ostaviti na sobnoj temperaturi sat-dva.
Ostalo:
Pekmez od šljiva
1 jaje za premazivanje
Postupak:
Kada se tijesto udvostručilo u obujmu, razvaljati na 1cm debljine, premazati dijelom sala i preklapati: lijevu stranu prema sredini, desnu stranu prema sredini, gornju stranu prema sredini pa donju isto. Ostaviti pokriveno na toplome pola sata. Ponovo razvaljati na 1cm debljine, premazati dijelom sala i preklapati: ovaj puta prvo donju stranu prema sredini pa gornju stranu prema sredini, potom desnu stranu prema sredini pa lijevu stranu isto. Ostaviti 30 minuta pokriveno na toplome da se odmara. Razvaljati na 1cm debljine, premazati salom te preklapati kao prvi puta i ostaviti 30 minuta da odmara. Ako vam je ostalo još malo sala, razvaljajte tijesto, premažite salom i preklapajte kao drugi puta. Ostaviti 30 minuta da, pokriveno krpom, odmara.
Razvaljati tijesto na otprilike 1cm debljine, rezati u obliku kvadrata, staviti žličicu pekmeza od šljiva u sredinu, premazati rubove bjelanjkom, dijagonalno preklopiti, a krajeve spojiti iza.
Zagrijati pećnicu na 180 C, pripremljene salenjake pustiti da se odmaraju 20tak minuta, prije pečenja premazati žumanjcem s malo mlijeka (ali samo odozgora, nikako ne po rubovima i sa strane jer se pri pečenju neće lijepo razlistati tijesto).
Peći oko 20 – 25 minuta, odnosno dok salenjaci ne poprime lijepu boju (ovisi o pećnici).