Knock, knock, knockin' on my heart's door….when Nostalgia over 1000 km away knock at my heart door, I make my big, soft and delicious Slavonian kifle with cheese and ham…my mama's recipe…no scale, just love…
This is one of those childhood recipes from collection "My Mum bakes the best"…well, yes, my mum bakes the best, the softest and the thickest slavonian rolls with cheese and ham….and I am baking them in rainy Sunday afternoon the same way my mum did. Without scale, easy, with lots of love and attention for dough…and there is no way they are not going to be success!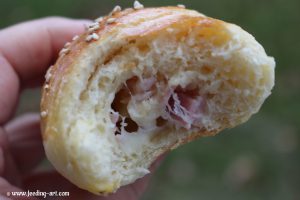 For all of you who would like to have some certain quantities, I did try to write approximately how much of all ingredients did I use….because it would be pity not to try to make those beauties. The most important is to have soft dough and to give it enough time to rise in a warm place. This is very important when you form rolls, be sure to leave them to rise for about 30 minutes.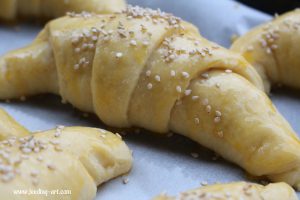 At the end you are going to have beautiful, rich, soft, fluffy slavonian rolls….eat them warm, fresh baked…but you will not regret if you leave 2-3 pieces for the day after…with your favorite cup of tea or coffee
Slavonian rolls with ham and cheese
500g flour
2 eggs and 1 egg yolk
20g fresh yeast and 1 tea spoon sugar
About 250-280ml lukewarm milk
60g butter
2 tee spoon salt
Mix yeast, sugar, 2 soup spoon flour and little bit of warm milk and let it rise in a warm place.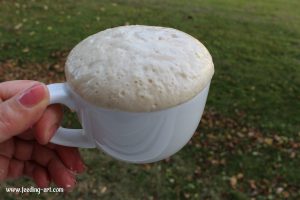 In the meantime make milk warm and melt butter in it (not too hot). In a bowl put flour, eggs, egg yolk, salt, raised yeast, sol and with lukewarm milk with butter and knead soft dough. Add some flour or milk as needed.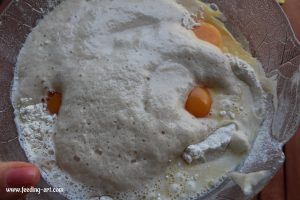 Cover and leave in a warm place to rise, knead again and let it rise. Make a big circle, divide in 8 or 16 pieces (depends how big rolls you want to have). Coat every rolls surface with little bit of milk and butter, fill up with cheese and ham and make rolls.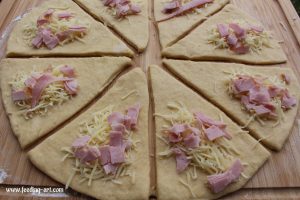 Make rolls easy and gently in order to see dough layers. Put them on a baking tray, cover and let it rise for half an hour. Coat with mixture of egg yolk and milk with butter and sprinkle with sesame. Preheat oven on 180-190 C and bake for about 20 minutes (depends on oven).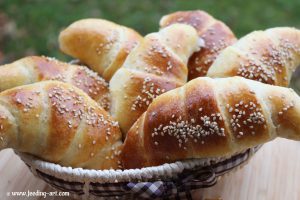 For coating:
Egg yolk, little bit of milk with butter, sesame
To fill up:
Cooked ham
Grated cheese (Ementaler…or similar)
-Croatian version-
Kada nostalgija i mirisi djetinjstva pokucaju na vrata moga srca ja zamotam moje najdraze, debele, mekane Slavonke…kifle na mamin nacin..bez vage…ali uz ekstra dozu ljubavi 🙂
Ovo je jedan od onih recepata iz djetinjstva iz kolekcije "Moja mama peče najbolje"…pa tako moja mama peče najbolje, najmekše i najdeblje slavonske kifle sa sirom i šunkom….a ja ih u nedjeljno kišno popodne radim upravo onako kako je to moja mama radila. Bez vage, polako, uz puno pažnje i ljubavi prema tijestu…i nema da ne uspije.
Da se ipak nekako i vi možete snaći oko količine sastojaka otprilike sam stavila grame i mililitre jer šteta bi bilo da ih i vi ne ispečete….bitno je da tijesto nije pretvrdo i da mu ostavite dovoljno vremena da se na toplome udvostruči….a obavezno i pri kraju kada već formirate kiflice. Ostavite ih 30 tak minuta da se tijesto odmori….rezultat su lijepe, bogate, mekane, pahuljaste slavonske kifle koje obavezno jedite još tople…iako su i iduće jutro odlične uz jutarnju kavicu….
Slavonske kifle sa šunkom i sirom
500g brašna
2 jaja i 1 žumanjak
Pola kocke svježeg kvasca i malo šećera
Oko 250-280ml mlakog mlijeka
60g maslaca
2 kavene žlice soli
Pola kocke svježeg kvasca s malo šećera, toplog mlijeka i brašna dobro izmiješati i ostaviti na toplom mjestu da se digne. U međuvremenu zagrijati mlijeko (ne smije biti prevruće) i u njemu otopiti maslac. U zdjelu staviti brašno, jaja, žumanjak, sol, kvasac te s mlakim mlijekom i maslacem umijesiti mekano tijesto. Po potrebi dodavati mlijeko ili brašno. Tijesto ostaviti pokriveno na toplome da se udvostuči, premjesiti te ostaviti na dasci da se još jednom digne. Razvaljati u krug i podijeliti na 8 ili 16 dijelova, ovisno koliko velike kifle želite. Površinu svake kifle premazati mlijekom s otopljenim maslacem i puniti ribanim sirom i šunkom. Zarolati u kiflu tako da se lijepo vide slojevi tijesta. Složiti na papir za pečenje, prekriti krpom i ostaviti na toplome da se digne. Potom ih pažljivo premazati smjesom žutanjka i mlijeka s maslacem te posuti sezamom. Peći na 180-190 C dok ne dobiju lijepu boju, oko 20 tak minuta (ovisno o pećnici).
Za premazivanje:
Žumanjak, malo mlijeka s maslacem i sjemenke sezama
Za punjenje:
Kuhana šunka po izboru
Ribani sir (Ementaler…i sl)