One of the most traditional dish in Bavaria is Roast Pork with crispy skin, beer sauce and potato dumplings. I love it, but I never use to love those dumplings in restaurant, they have little bit of rubbery taste. I understand it is not possible for Restaurants in Bavaria to make so many homemade potato dumplings because every tourist as well as domestic hedonist eats mostly traditional Bavarian's dishes. That is why I prepare at home only homemade potato dumplings, they are really easy to make and cook.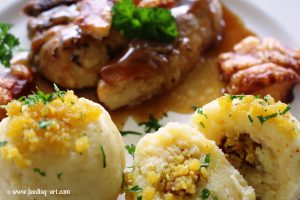 By baking pork use dark beer because it has more intense taste and do not be scared to marinate skin in beer, you will notch it easier and it will be at the end as crispy as you want it. For a strong and delicious taste of sauce stir fry vegetables shortly before bake it with meat and use some brown sugar to caramelize….
An Guàdn! Just to know, if stop by in Munich…it means Enjoy your meal 🙂
Roast Pork:
Pork (of a port shoulder with skin)
Cumin and coarse salt
2 carrots, ½ celery, 2 onion, leek (white part), parsley root, 4 cloves of garlic, little bit of brown sugar
Oil, vegetable stock and dark beer
Cornstarch
Pour some beer in baking tray and marinate pork (side with skin put in beer that you can cut skin easily).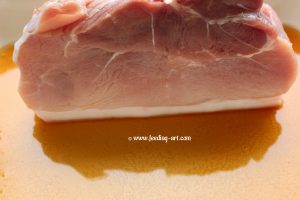 Dry with kitchen towel and notch skin easily in cubes. Season pork generously with salt and cumin and place pork again in baking tray, but this time meat side in beer.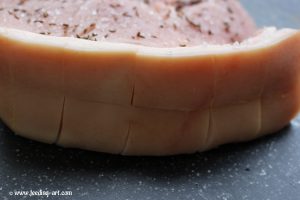 In separate pan put some oil and stir shortly vegetables, not to cook but to have nice color. Sprinkle some brown sugar to caramelize and pour some beer.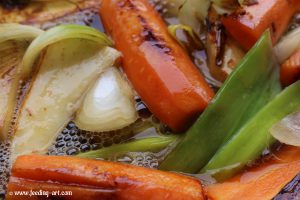 Place all in baking tray with meat, add some vegetable stock and bake on 140 C about one and half hour depends on how big is pork). During baking add some beer or vegetable stock. Raise the heat on 200 C and bake shortly until skin gets crunchy with nice color.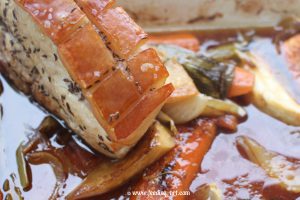 After baking remove skin and leave until serving. Cover meat and leave in warm place until served. Strain liquid from baking tray through sieve, put in pot and reduce for 1/3. Make it thicker with little bit of cornstarch as needed and season.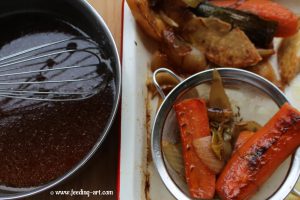 Potato dumplings:
4 big potatoes
20 dkg butter
Nutmeg, salt and pepper
2 soup spoon of cornstarch
Bread crumbs with butter
Parsley, finely chopped
Cook potatoes with skin, drain, peel and make potato mash with butter, nutmeg, salt and pepper. When it cools down, add cornstarch and form dumplings.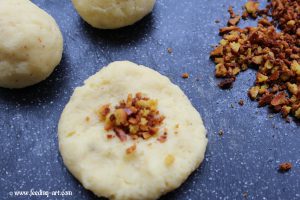 Fill them with little bit of bread crumbs and cook them in slightly boiling water until they come at the top (about 15-20 minutes). Serve them with little bit of bread crumbs with butter and finely chopped parsley at the top.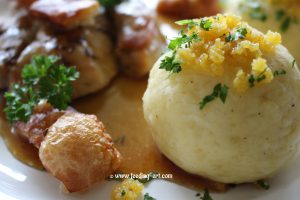 -Croatian version-
Jedan od tradicionalnih i meni omiljenih bavarskih jela je pečena svinjetina (plećka s kožom) u umaku od piva s hrskavom koricom koja ima blagi okus na kim. Kupovne knedle od krumpira koje uglavnom serviraju u restoranima nikada mi se nisu sviđale, ali razumijem da je u Bavarskoj teško napraviti svaki dan toliku količinu domaćih knedli od krumpira. Naime, uz toliko turista željnih prave, tradicionalne bavarske hrane kao i domaćih hedonista koji najradije jedu upravo bavarska jela, nitko se ne upušta u avanturu izrade domaćih knedli. Zato sam za domaći ručak kod kuće uvijek uz domaće knedle koje su u vrlo kratkom roku gotove. Koristite svakako tamno pivo jer je intenzivnijeg okusa i bez straha pacajte kožu mesa u pivi, lakše će se zarezati, a neće izgubiti na hrskavosti….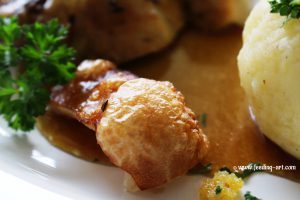 Povrće svakako prvo kratko na visokoj temperaturi prepržite i s malo smeđeg šećera karamelizirajte te dodajte pivo…dati će posebni okus pečenju i umaku.
An Guàdn! Što bi Bavarci rekli, dobar tek 🙂
Za pečenu svinjetinu:
Svinjetina (komad od plećke s kožom)
Kim i krupna sol
2 mrkve, pola glavice celera, 2 crvena luka, bijeli dio poriluka, korijen peršina, 4 češnje češnjaka, malo smeđeg šećera
Ulje, povrtni temeljac, tamno pivo
U tepsiju uliti malo piva i pola sata uroniti meso, stranu gdje je koža, da omekani i lakše se zareže. Posušiti kuhinjskim papirom i zarezati u obliku kockica. U meso dobro utrljati kim i krupnu morsku sol te meso ponovo vratiti u tepsiju, ali ovaj puta s kožom prema gore. U tavi na ulju kratko popržiti povrće da dobije boju, podliti pivom te staviti oko mesa u tepsiju. Uliti temeljac i lagano na 140 C peći oko sat i pol. Po potrebi dodati piva ili temljeca u tepsiju. Potom pojačati na 200 C kako bi korica dobila lijepu boju i postala hrskava. Nakon pečenja odvojiti koricu kako ne bi omekanila pod folijom, a meso prekriti i ostaviti na toplom. Procijediti tekućinu iz tepsije, staviti u lonac i reducirati za 1/3. Po potrebi zgusnuti s gustinom i začiniti.
Za knedle od krumpira:
4 krumpira
20 dkg maslaca
Muškatni oraščić, sol i papar
2 jušne žlice gustina
Malo preprženih krušnih mrvica s maslacem
Sitno kosani peršin
Krumpir skuhati u kori, procijediti, oguliti i zgnječiti kroz presu u pire. Dodati maslac, sol, papar i muškatni oraščić. Kada se ohladi dodati gustin, dobro sjediniti i formirati knedle. Puniti ih s malo preprženih mrvica te kuhati u lagano kuhajućoj slanoj vodi dok ne isplivaju na površinu (ca 15-20 tak minuta). Knedle servirati s malo preprženih mrvica i kosanog peršina uz pečenu svinjetinu i umak od svinjskog pečenja i piva.