Here is my Falafel plate, based on my view of taste of Arabic world. Precisely, only from small part of this welt that I met working in a hotel and having opportunity to work with my colleagues from this beautiful world. I fell in love with theirs simple but aromatic dishes, lots of fresh vegetables and simple vinaigrette (mostly only lemon juice and olive oil), chili in every single meal, yogurt with fresh mint leaves, avocado with tomatoes, coriander and parsley, lots of nuts….and not to mention different spices. I could not write exactly how much of chili and spices I used as this is up to your taste, but I would recommend you to visit a good restaurant to try some Arabic dishes and feel this aromatic world. Then you will understand that it is cooking to taste…:)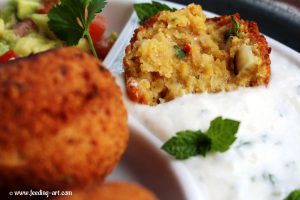 I love Falafel and I am eating them usually with salad and yoghurt dip…or like street food – falafel wrap with humus, salad, fresh cucumber and tomatoes, parsley and yoghurt…..very delicious. But I find combination of avocado and tomatoes perfect for Falafel as well, with a touch of coriander and little bit of spicy chili pepper…I hope you are going to enjoy this Falafel plate as much as I did….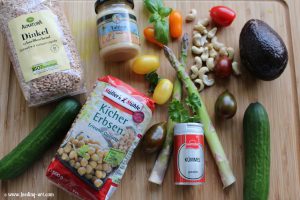 Falafel:
200g dried chickpeas
1 Onion and 2 cloves of garlic
Olive oil (2-3 Soup spoon)
Lemon juice and zest
1 handful of roasted cashew nuts
Coriander and parsley, chopped
Chickpeas flour as needed (3-4 Soup spoon)
Salt, cumin, pepper, cinnamon
Chili pepper, finely chopped
3 tee spoon of Tahini paste
1 egg
Oil for frying Falafel
Soak chickpeas for 12 hours, drain and put in food processor. Add all ingredients except parsley, coriander, egg, flour, 2 Soup spoon roasted and roughly chopped cashew nuts and chickpeas. Mix it shortly but do not make too smooth. Place the mixture in a bowl and add finely chopped parsley and coriander, egg, flour (as needed, depends on how soft mixture is) and roasted and chopped nuts and chickpeas.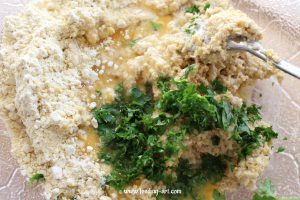 Stir with fork and season as needed. Form balls and fry in oil. Put on the kitchen paper to soak fat.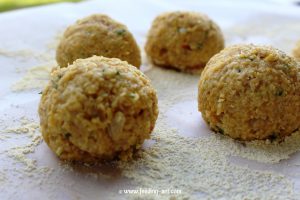 Avocado-tomato salsa
1 Avocado
1 Tomato
½ chili pepper
Lemon juice and zest
Coriander
Salt and pepper
Cut Avocado in small cubes and add some lemon juice. Cut tomato in ¼, remove seeds and ''meat'' and cut in small cubes, mix with avocado. Season with finely chopped chili pepper and coriander, salt, pepper, lemon juice and zest.
Mint yogurt
Yogurt
Fresh mint leaves, finely chopped
Salt, pepper and little bit of lemon juice
Mix all together, season as needed
And….:
Salad of your choice (in this recipe rocket, corn salad, green salad lollo bianco, scallions, sprouts, chili pepper cut in stripes)
Fresh cucumber and mini tomatoes different color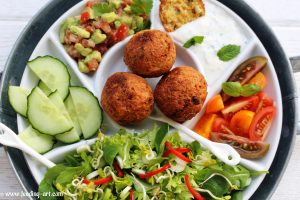 -Croatian version-
Ovako šareno i veselo voljela bih servirati Falafel platu u mome restoranu…do tada uživajmo u slikama i receptu :). Inspiracija je svakako mojih 4 godine u gastronomiji i rad uz kolege iz tog nama tajanstvenog svijeta iz 1001 noći. Zaljubila sam se u ta jednostavna jela prepuna povrća, začina, čilija, cimeta, đumbira, orašastih plodova i vrlo malo mesa. Ja, Slavonka, koja obožava svinjetinu, čvarke, kulen, slaninu….(s)našla sam se u orijentalnoj kuhinji kao kod kuće. Sviđa mi se jednostavnost u pripremi, zdrave namirnice, puno salate i jednostavnog dresinga – najčešće samo maslinovo ulje i limunov sok. Rekla bih da je orijentalna kuhinja po mome ukusu jer teško je tu pisati o točnoj gramaži svih začina, ovdje glavnu ulogu igraju nepca…a to je moj stil kuhanja :). Ako vam je teško kuhati na taj način, preporučila bih vam da posjetite jedan od restorana koji priprema ovu vrstu hrane, naručite nekoliko njihovih tradicionalnih jela i uživate u mirisima i okusima. Vjerujem da ćete me tada bolje razumjeti kada kažem da se začini jednostavno ne važu..oni se osjećaju :). Dobar tek i ugodnu aromatičnu avanturu vam želim…
Volim Falafel umotane u tortilju zajedno s humusom, raznom zelenom salatom, svježim krastavcima i rajčicama, peršinom i jogurtom. Sjajan street food. Iako moram priznati da se sjajno slažu i uz avokado-rajčice salsu s korijanderom i čilijem te jogurtom s mentom, kako i sami recept predlaže. Nadam se da ćete u Falafel na moj način uživati jednako kao što sam i ja….
Falafel:
200g suhog slanutka
1 Luk i 2 češnja češnjaka
Maslinovo ulje (2-3 jušne žlice)
Sok i korica limuna
1 šaka preprženih indijskih oraščića
Korijander i peršin, sitno nasjeckan
Brašno od slanutka po potrebi (3-4 jušne žlice)
Sol, kim, papar, cimet
Chili paprika, sitno nasjeckana
3 čajne žlice Tahini paste
1 jaje
Ulje za prženje Falafel
Suhi slanutak ostaviti u hladnoj vodi 12 sati, procijediti te staviti u sjeckalicu. Dodati sve sastojke osim peršina, korijandera, jaja, brašna i 2 jušne žlice preprženih i grubo nasjeckanih indijskih oraščića i slanutka. Kratko usitniti, bitno je da su vidljivi sitni komadići slanutka (ne miješati predugo da ne nastane pire smjesa). Prebaciti usitnjenu masu u zdjelu te dodati ne presitno rezani peršin, korijander, zatim jaje, brašno (po potrebi manje iliviše od navedenog, ovisi koliko je smjesa mekana) te 2 jušne žlice preprženih i grubo nasjeckanih indijskih oraščića i slanutka. Umiješati vilicom u jednoličnu smjesu. Po potrebi začiniti. Formirati kuglice te pržiti ili fritirati u ulju. Staviti na papir da upije masnoću.
Avokado-rajčice salsa
1 Avokado
1 Rajčica
Pola Chili paprike
Sok i korica limuna
Korijander, sitno narezan
Sol, papar
Avokado narezati na sitnije kockice i pokapati malo limunovog soka da ne potamni. Rajčicu prerezati na četvrtinu, odstraniti meso i koštice te narezati na sitne kockice i pomiješati s avokadom. Začiniti sa svježom sitno rezanom čili paprikom, korijanderom, soli, paprom, sokom i koricom limuna.
Mint jogurt
Jogurt
Svježi listići mente
Sol, papar i malo limunovog soka
Pomiješati jogurt, nasjeckanu mentu, sol, papar i limunov sok
Ostalo:
Salata po izboru (u ovome receptu kombinacija rukole, poljske salate, zelene salate, mladog luka, klica, chili paprika)
Svježi krastavac i mini rajčice