I have several dishes that I call "Fast & Furious" Collection. Why? It does not take too long to cook it and it is not pizza, burger or pommes, but proper, mostly pasta meal…really, really gastro furious…this time 5 min for glass pasta..13min for cutting vegetables and chicken…8.5 min to fix it with sesame and sweet chili sauce…well you food riders…shall we enjoy some Fast&Furious?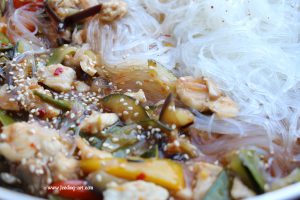 250 g Glass pasta
½ of Zucchini
½ of Eggplant
100g snow peas
½ of red pepper and yellow pepper
1 Shallot
Fresh ginger
Salt and pepper
150 g chicken breast
Ginger powder
Butter and olive oil
Sweet chili sauce and vegetable stock
Sesame
Coriander fresh
Soak glass pasta for 5 minutes in boiled water. Cut Zucchini and eggplant in ¼ lengthwise, remove seeds and cut diagonally in thinner pieces. Clean paprika from seeds and cut in small triangle. Chop shallot and ginger. Cut snow peas in half. Cut Chicken breast in stripes and marinate with salt, pepper and ginger powder. Heat butter and olive oil, add shallot and fresh ginger. Add chicken, stir shortly, add vegetables and stir shortly together.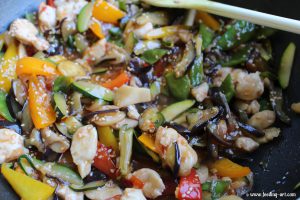 Cook with sweet chili sauce and vegetable stock but take care not to overcook. At the end sprinkle little bit of sesame seeds, season as needed. Serve with glass pasta and fresh coriander.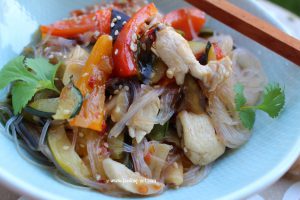 -Croatian version-
Iz moje gastro kolekcije "Brzo&Žestoko" (a nije pomes, burger ili pizza:))….povrće, piletina, sezam, chili slatki umak..wok..stakleni (rižini) rezanci 5min…sjeckanje povrća i piletine 13 min…8.5 min za magiju…
250 g rižine tjestenine
Pola tikvice
Pola patliđana
100g mladih mahuna
Pola crvene i pola žute paprike
1 ljutika
Malo svježeg đumbira
Sol i papar
150 g pilećih prsa
Đumbir u prahu
Sjemenke sezama
Malo maslaca i maslinovog ulja
Slatki čili umak i povrtni temeljac
Svježi korijander
Rižinu tjesteninu preliti s prokuhanom vodm i ostaviti da stoji 5 minuta te procijediti. Tikvicu i patliđan prerezati dužinom na 4 dijela i odstraniti središnji dio sa sjemenkama. Dijagonalno narezati na tanke komadiće. Papriku očistiti od sjemenki i narezati na tanke trokutiće. Ljutiku i svježi đumbir narezati na sitne kockice. Mlade mahune prerezati na pola. Pileća prsa narezati na sitnije komade te marinirati đumbirom u prahu, soli i paprom. U woku na maslacu i ulju popržiti ljutiku i đumbir. Dodati piletinu te kratko popržiti te ubaciti povrće i kratko dinstati uz dodatak čili umaka i po potrebi malo povrtnog temeljca. Na kraju posuti svijetlim sezamom i kratko kuhati, začiniti po okusu. Servirati uz rižinu tjesteninu i svježi korijander.