I made true friendship with Curry since I met the most famous street food delicacy in Germany – Currywurst. I love this intense color, strong taste and great possibilities to combine with most of ingredients, from rice, fish, chicken, wok vegetables till legendary Currywurst. Well, let's stop all the philosophy, until Currywurst recipe, I am giving you recipe for this simple and fast dish – rice cooked with lemon grass has special, refreshing taste, to recommend. If you do not like fish, I would recommend chicken breast. And from vegetables you can combine whatever you like. But definitely do not forget to use ginger and cinnamon, those two spices are the final touch for curry. I need to admit that I prefer spicy dishes as curry in autumn and winter, I suppose because our body need more power food to make immune system ready for cold days. Well, stop talking and start cooking…here is recipe…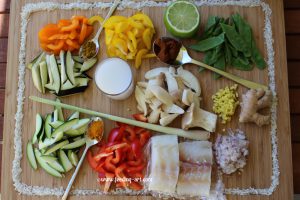 Cod fish
100g Snow peas
Salt and Pepper
½ Zucchini
½ Egg plant
1 Lime
Ginger
1 Shallot
1 Cinnamon stick
2 Soup spoon Curry paste
Curry and curcuma powder as needed
1 stick Lemon grass
100g Mushrooms
Olive oil and butter
1l Coconut milk
Vegetable stock as needed
Rice
Preheat oil and butter and fry shortly finely chopped shallot and ginger. Add curry paste and powder, curcuma and cinnamon, stir and fry shortly. Add vegetables cut in smaller pieces, stir well and pour coconut milk and vegetable stock.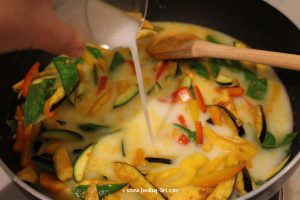 Season as needed with salt, pepper, curry and curcuma and at the end add some cornstarch to make curry sauce thicker. Do not forget some frish Coriander 🙂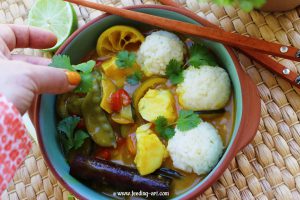 -Croatian version-
S curry-em sam se iskreno sprijateljila preko najpoznatije street food delicije u Njemačkoj – Currywurst. Obožavam tu intenzivnu boju, jak okus i savršeno sljubljivanje s većinom namirnica…od riže, ribe, piletine, wok povrća do legendarne curry kobasice. Bez puno filozofiranja, do skorog currywurst recepta, donosim vam ovaj jednostavni i brzi obrok – riža kuhana s limunskom travom ima posebno osvježavajući okus. Preporučujem. Umjesto bakalara možete i pileća prsa koristiti ako baš ne volite ribu. A od povrća izaberite ono vama najdraže. Nikako nemojte izostaviti đumbir i cimet – to su dva začina koja daju točku na i ovom jelu. Moram priznati da mi jela s curry-jem najviše odgovaraju u jesenjske i zimske dane jer je to aromatično jelo puno zdravih začina koji pozitivno utječu na naš imunitet. E pa zakuhajmo….evo i recepta…
Bakalar
100g mladih mahuna
Sol i papar
Pola zelene tikvice
Pola patliđana
1 limeta
Đumbir
1 ljutika
2 jušne žlice curry paste
Curry i kurkuma u prahu po okusu
1 štapić limunske trave
1 štapić cimeta
100g gljiva
Ulje i malo maslaca
1l kokosovog mlijeka
Po potrebi povrtnog temeljca
Na ulju i maslacu popržiti sitno rezano ljutiku i svježi đumbir. Dodati curry pastu i prah, kurkumu, cimet te kratko popržiti i potom dodati narezano povrće. Dobro pomiješati i podliti s kokosovim mlijekom i povrtnim temeljcem. Začiniti po želji (sol, papar, curry, kurkuma) te dodati sredstvo za zgušnjavanje do željene gustoće umaka.