For carnival, instead of classic donuts, we enjoy just like in childhood in Slavonija (Croatia) – "Ripped pants". This old cake, as story says, was reserved for very poor people in Slavonija. It was made only from flour, water or milk, sometimes egg and was served with sugar and jam. They are famous today because of this funny name, and on every folk celebrations they fry this delicious cake….you cannot miss this gastro point as always is the longest queue for this traditional delicacy. Apart from sugar and jam, it is very popular to eat them with olive oil, parsley and garlic 🙂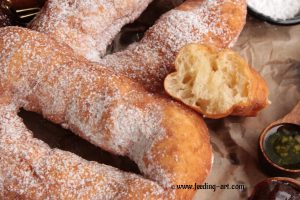 My recipe is with starter Rocky (white flour), but you can use ½ cube of fresh yeast or dry yeast. Soft, warm, delicious and with lots of holes.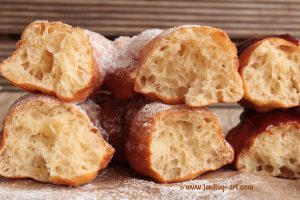 Ingredients:
140g flour 00
260g white flour
*or use just white flour
80g white flour starter (instead you can use fresh oder dried yeast)
Lemon peel
1 vanilla bean
½ tbsp of cinnamon
1 vanilla sugar
1 egg
Little bit of salt
280ml milk
Making dough:
Mix flour, salt, vanilla sugar, lemon peel and cinnamon. Warm up milk (lukewarm, not hot) and mix vanilla in it. Dissolve starter in warm milk and mix together wet and dry ingredients. Let it rest for 1 hour in a warm place, covered with shower cap and kitchen towel. After one hour perform stretch and form 8 times (or just knead as usually for a short time to get smooth dough). Let it rest for 3-4 hours, every half an hour perform stretch and fold. Last 2 hours let the dough rest, than put it in a fridge for overnight rest.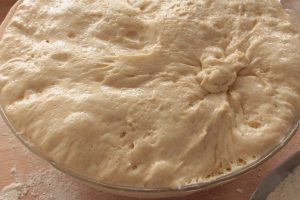 Next day take the dough out of the fridge at the room temperature for 1-2 hours. Cut in 6-7 pieces and form rectangles. Cover and let it rest for one hour. Heat up oil (180 C) in a pot. Cut every rectangle with a knife in the middle.
Fry every piece for a short time until it gets gold color.
Sprinkle powdered sugar all over hot Ripped pants. Serve with homemade plum jam and parsley-garlic spread.
*If you use fresh or dried yeast, do not leave dough overnight in the fridge. Bake the same day
-Croatian version-
Umjesto klasičnih krafni, sladimo se za fašnik popularnim slavonskim Poderanim gaćama :). Ovaj otkačeni naziv navodno su zaslužile kao slastica siromašnih u nekim davnim slavonskim danima, a danas se ne može niti jedno narodno veselje zamisliti bez njih :). Upravo na prošlogodišnjim Vinkovačkim jesenima, najduži red bio je upravo za Poderane gaće 🙂
U mojoj verziji s domaćim kvascem Rocky od bijelog brašna, a vi ga jednostavno zamijenite s pola kocke svježeg kvasca ili 1 vrećicom suhoga. Mekane, sočne, slasne i naravno rupičaste….obožavam ih na klasično sa šećerom, cimetom ili pekmezom od šljiva, a jednako su neodoljive i uz mix maslinovog ulja s peršinom i češnjakom što se redovito nudi na kirvajima i slavljima po Slavoniji.
Sastojci:
140g brašna 00
260g bijelog glatkog brašna
*ili koristite samo bijelo glatko brašno
80g domaćeg kvasca od bijeloga brašna (ili pola kocke svježeg ili vrećica suhog kvasca)
Korica jednog limuna
1 mahuna vanilije
½ kavene žlice cimeta
1 vanilin šećer
1 jaje
Malo soli
280ml mlijeka
Postupak:
Prosijte brašno, dodajte sol, vanilin šećer, koricu limuna i cimet. Zagrijte mlijeko (neka bude mlako, ne vruće) u kojemu pomiješajte sredinu jedne mahune vanilije. U toplome mlijeku pomiješati domaći kvasac dok ne nastane ujednačena smjesa. Potom spojiti suhu i mokru smjesu te ostaviti da stoji sat vremena na toplome, prekriveno prianjajućom folijom i krpom. Nakon sat vremena tijesto premijesiti, ili metodom podizanja i utiskivanja u sredinu ili klasičnim miješenjem da bi se dobilo tijesto glatke strukture. Ostaviti prekriveno na toplome još oko 3-4 sata, pri čemu svakih pola sata kratko premijesiti tijesto. Zadnjih 2 sata ostaviti tijeto da miruje. Tijekom noći ostaviti ga u hladnjaku.
Idući dan izvaditi tijeto sat-dva na sobnu temperaturu. Prebaciti na pobrašnjenu površinu, narezati na 6-7 komada i prstima pažljivo oblikovati pravokutnike. Ostaviti na toplome sat vremena da se tijesto odmori. U međuvremenu zagrijte ulje u posudi (do 180 C). Svaki komad tijesta pažljivo zarežite po sredini i malo prstima proširite prorez. Pažljivo spuštajte jedan po jedan komad u vruće ulje i kratko pržite s obje strane (dok se tijesto ne napuhne i ne dobije lijepu boju).
Posuti šećerom u prahu još dok su tople. Servirati uz pekmez od šljiva i uz češnjak i peršin u maslinovom ulju.
*Ako radite tijesto sa svježim ili suhim kvascem, nije potrebno ostavljati tijesto u hladnjaku tijekom noći.Pecite isti dan (nakon što se tijesto na toplome odmaralo i udvostručilo u volumenu