It is asparagus season…and very delicous are wild asparagus. Instead of classic – omelet with asparagus or asparagus with ham and hollandaise sauce, I decided to make simple but really tasty flatbread from black flour. And not to mention, fresh cherry tomatoes different colors, little pioppino mushrooms, homemade green mayo, feta cheese for extra juicy flatbread, grana padano cheese for more delicious bottom of the bread and as a final touch after baking ….mmm….let's have a look at the recipe before flatbread cool down:)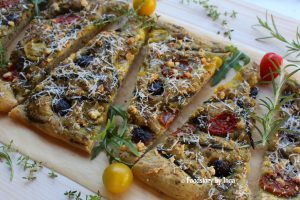 And the most suitable name is of course spring flatbread! You can enjoy it with your Friends, just add a bottle of wine and I suggest you to bake a double portion. Or simple serve it with rocket or any green salad you like.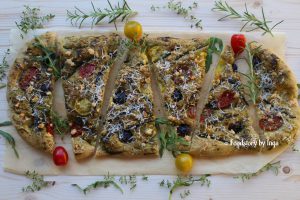 For dough:
300g black flour
1 teaspoon yeast and 1 teaspoon sugar
Coarse sea salt with thyme and rosemary
100 ml Olive oil
130-150 ml warm water
2 cloves of garlic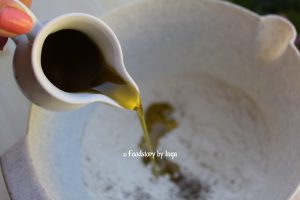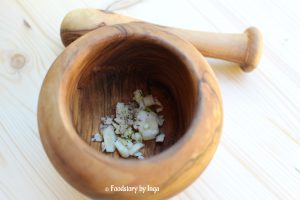 For Flatbread:
Wild asparagus, blanched
Mini tomatoes, different colors
Pioppino (black poplar) mushrooms
Feta cheese
Grana padano cheese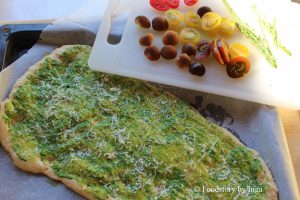 For green mayo:
1 bunch of wild garlic
1 bunch rocket
Milk as needed
Salt, pepper and lemon juice
Vegetable oil as needed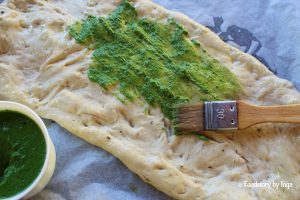 For green mayo put in bowl wild garlic, rocket and little bit of milk and mix it, if needed put more milk but take care not to have too liquid mixture. Add salt, pepper and lemon juice as needed. Slowly add little bit of oil and mix it. When the mixture is slightly thickened, you can add oil faster and mix until the desired consistency. At first it is not going to be thick as mayo, but after several hours in fridge it will have right consistency.
Let's bake it:
From garlic, salt and some olive oil make a paste. From flour, yeast, sugar, coarse salt, olive oil, garlic paste and warm water knead medium hard dough. Leave it in a warm place until rise, about 1 hour. Knead the dough again, shortly, and leave it in a war place to rise, 30 min.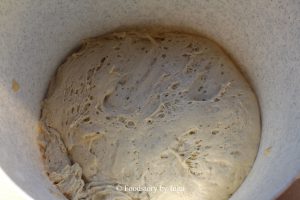 Stretch the dough with your hands in an irregular rectangle. Smear with green mayonnaise. Pour grated cheese Grana Padano. Spread wild asparagus, halved cherry tomatoes, and mushrooms all over the flatbread. Crumbled Feta cheese spread at the top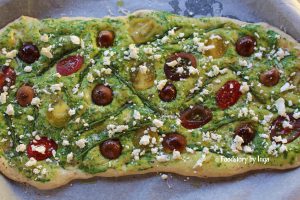 and bake it in preheated oven 180-190 C, 20-30 min (depends on oven) until slightly brown. Put grated Grana Padano cheese all over the hot flatbread and let it melt. Serve with rocket or any green salad.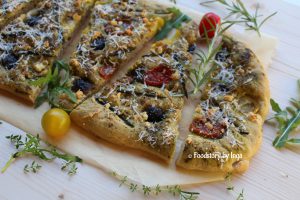 -Croatian version-
Sezona šparoga u punom je jeku… i još kad nabaviš divlje šparoge…mljac…Osim klasika – omleta sa šparogama ili šparoge sa šunkom i hollandaise umakom, odlučila sam ih ipak stopiti s prefinom pogačom od crnog brašna. Uz dodatak svježih rajčica raznih boja, malih jablanovača, osvježavajuće, domaće zelene majoneze, feta sira koji je dao dodatnu sočnost, grana padano sira za ukusniju podlogu i kao finalni "touch" na tek ispečenoj pogači….mmm..idemo na recept dok se pogača nije ohladila.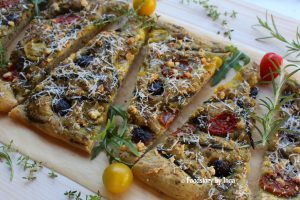 A kako je drugačije nazvati nego proljetna pogača :)! Uz dodatak svježe i hrskave zelene salate ili rukole kompletan obrok stoji vam na stolu. Ili uz čašu vina uživati u dobrom društvu, ali u tom slučaju predlažem vam da napravite duplu porciju 🙂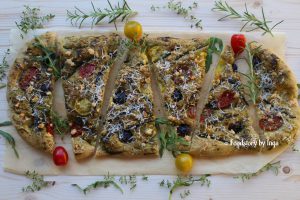 Za tijesto:
300g crnog brašna
Pola vrećice kvasca i malo šećera
Krupna sol sa začinima (timijan i ružmarin)
100 ml maslinovog ulja
130-150 ml mlake vode
2 češnja češnjaka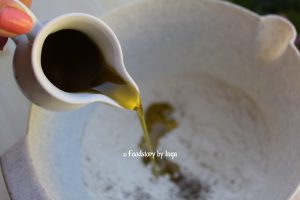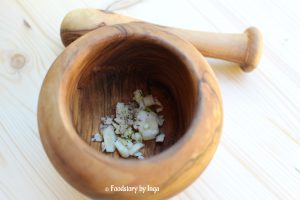 Za pogaču:
Divlje šparoge, prethodno blanširane u slanoj vodi
Mini rajčice raznih boja
Gljive jablanovače
Feta sir
Grana padano sir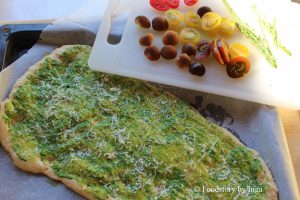 Za zelenu majonezu:
1 vezica medvjeđeg luka
1 vezica rukole
Mlijeko po potrebi
Sol, biber i limunov sok
Ulje po potrebi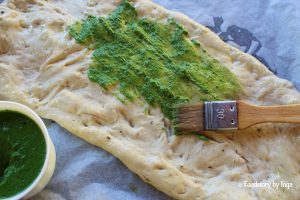 U visoku posudu staviti listove medvjeđeg luka, rukolu i malo mlijeka te štapom za piriranje izmiksati, po potrebi dodati još malo mlijeka, ali ne smije biti jako tekuće. Dodati sol, biber i limunov sok po okusu. Dodavati ulje u početku vrlo male količine i istovremeno mixati. Kada se smjesa malo zgusne, ulje brže ulijevati i miksati do željene gustoće. Neće biti odmah gustoća prave majoneze, ali će se stajanjem u hladnjaku dodatno stisnuti.
Postupak:
Od češnjaka i soli uz dodatak malo maslinova ulja napraviti pastu. Od brašna, kvasca, šećera, krupne soli, maslinova ulja, paste od češnjaka i mlake vode umijesiti srednje tvrdo tijesto. Ostaviti da se diže na toplome sat vremena te premijesiti.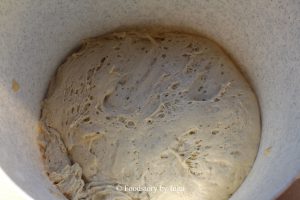 Ostaviti još pola sata da se diže te razvući rukama u neravni pravokutnik. Premazati zelenom majonezom. Naribati Grana Padano sir. Blanširane divlje šparoge utisnuti u pogaču. Mini rajčice prepoloviti i utisnuti u tijesto, također i klobuke od jablanovača. Feta sir razmrviti preko cijele pogače.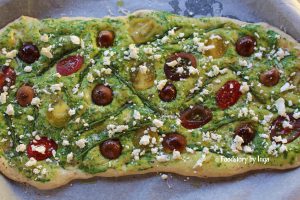 Peći na 180 C 20-30 minuta (ovisi o pećnici) dok ne poprimi lijepu boju. Preko vruće pogače sitno naribati Grana Padano sir i pustiti da se rastopi. Poslužiti uz rukolu ili miješanu zelenu salatu.