When your guests are at the door and you have just bananas and 1 hour of your time….bake this beautiful sweet bread….
300 g whole grain flour
50 g brown sugar
1 baking powder
1 egg
3 bananas
10 semi-dried apricots
rum (for apricots)
salt
cinnamon
vanilla stick
3 tbs oil
100 g finely chopped dark chocolate
Place bananas in a bowl and puree. Add Egg and oil and stir well with fork. In a second bowl sift the flour and baking powder, add sugar, cinnamon, little bit of salt, vanilla and mix with a hand with bananas and egg. At the end, mix carefully finely chopped apricots (marinated in rum) and finely chopped chocolate.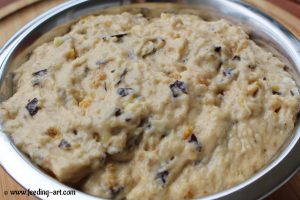 Divide the mixture into two paper baking pans (17*9cm, height 5cm), but do not fill pans to the top (2/3 is enough) because cake rise as it bakes.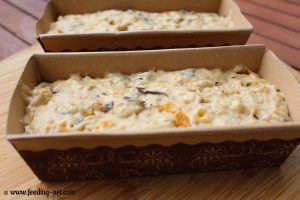 Bake in preheated oven (180C), 25-30 minutes (check with a wooden stick is it baked).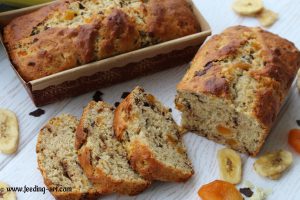 -Croatien version-
Kada se gosti iznenada najave, a doma imate samo banane i još ponešto…ispecite ovaj brzi, aromatični, slatki kruh koji nikoga neće ostaviti ravnodušnim…
300 g crnog brašna
50g smeđeg šećera
1 prašak za pecivo
1 jaje
3 banane
10 sušenih marelica
3 jušne žlice ulja
Malo ruma za mariniranje marelica
Malo soli
Žličica cimeta i štapić vanilije
100g sitno sjeckane tamne čokolade
Banane mikserom izmiješati u pire. Dodati jaje i ulje te pjenjačom promiješati. U drugu posudu prosijati brašno i prašak za pecivo, dodati šećer, cimet, malo soli, vaniliju te sjediniti rukom s mokrom smjesom. Na kraju pažljivo umiješati sitno rezane marelice prethodno namočene u rum kao i sitno sjeckanu čokoladu.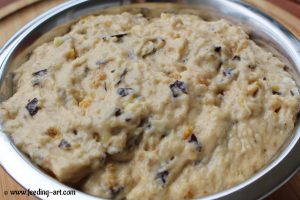 Smjesu raspodijeliti u dvije papirnate modle za pečenje (17*9cm, visina 5cm), ali ne puniti modle do vrha jer smjesa pri pečenju naraste. Peći na 180C, 25-30 minuta (štapićem provjeriti je li pečeno).