I really like burgers…. maybe 'cos I like street and fast food (but tasty and well made), actually everything that you can eat with your hands :). Homemade burger for me is not real burger if you do not make your own buns and sauce. That is why I make them only if I have enough time…believe me it is wort every second of your work. Also, I like to experiment with different type of flour, and this time I used red lentil flour….I can only highly reccomend you to try….I would named this receipe – How girl from Slavonia eat fish….In Burger of course! So, let's start!
Burger buns:
300g red lentil flour
1 tbs salt
1 tbs sugar
0,5 pack dried yeast
1 soup spoon honey
25g butter
1 egg
160-170 ml lukewarm water
Mix all dried ingredients separate, add wet ingredients and knead dough. Leave in a warm place to double in volume. Knead again and make balls (for normal size of burger buns make 100g dough, for mini burger, like this salmon burger, 60g dough). From this whole dough I did make 2 normal 100g buns and 4 small 60g buns.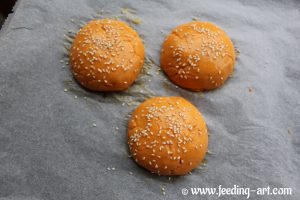 Leave balls in a try, cover them and let them rice in a warm place for one hour. Coat with egg yolk and milk and sprinkle with some sesame seeds. I baked big burger buns on 190 C for about 15-17min and little ones for about 12min, but it is always individual, depends on oven.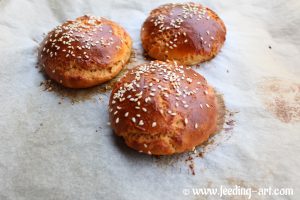 Guacamole:
2 avocado
1 tomato without skin and seeds
Fresh chili as needed
Salt and pepper
Lemon juice and zest
If you like, little bit of finely chopped coriander
Peel avocado and crush it with a fork. Add tomato and chili, cut in small cubes, and stir carefully.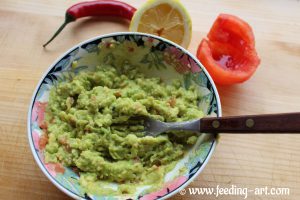 Season with some salt, pepper, lemon juice and zest, if you like, add finely chopped coriander. Leave in a fridge until needed.
Salmon burger:
Put file salmon in mixer and chop it, not to fine. Season with lemon zest and juice. Add pepper and coarse salt with thyme and rosemary.
Make a burger, wrap in foil and put in a plastic bag. Shut the bag and boil it approximately 2-3 minutes.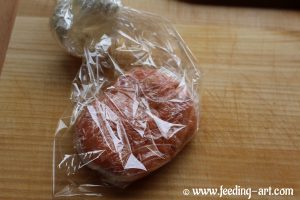 Carefully take burger out of bag and let it cool it down. Put the burger first in flour, then eggs and at the end in black magic bread crumbs.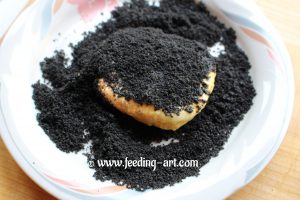 Bake it in oven, 180 C about 5 minutes.
Wild garlic and rocket mayo:
Wild garlic
Rocket
Milk
Salt and pepper
Oil
Lemon juice and zest
Put wild garlic and rocket in a bowl, add some milk and mix it in medium thick mixture.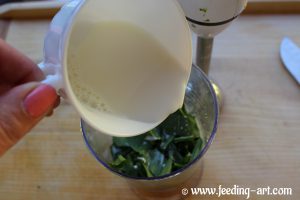 Then, add little bit of oil, at first slowly and mix it well at the same time. When you feel that mixture is slightly thickened, you can put more oil faster. Season as needed with salt, pepper, and lemon. Leave it in fridge until served.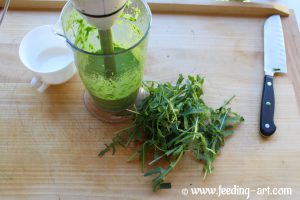 Do not worry if it is not thick like Mayo after mixing, if you leave it in fridge for more hours, it will be thicker.
What else we need?
Feta cheese
Spinach fresh
Tomato without skin and seeds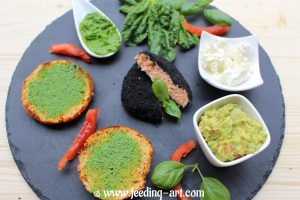 Let's make it like a real Salmon Burger:
Cut the buns in half and grill it shortly. Coat both halves with wild garlic/rocket mayo.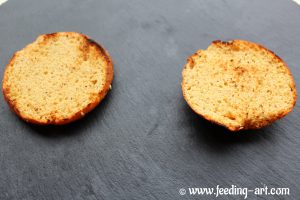 At the bottom side of burger bun place 2-3 leaves of spinach, guacamole, feta cheese and 1-2 pieces of tomato.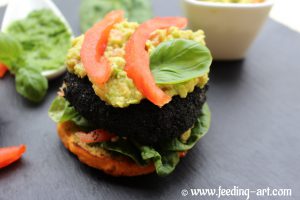 Then, put salmon burger, guacamole, tomato, 1-2 leaves of Basil, and at the end put the top of burger bun.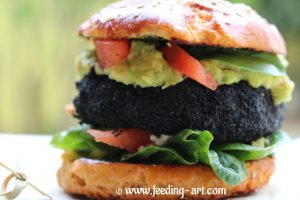 Voilà!! Enjoy your special burger day!
-Croatian version-
Obožavam hamburgere…kao sinonim za street i fast food, ali i kao brzi obrok (koja ja kao pravi hedonista ipak jedem polako) koji se jede rukama uz super slasni domaći umak koji se cijedi niz prste. Za mene burger nije burger ako se ne naprave domaća peciva i umak jer su mi to dva najvažnija sastojka koja daju točku na I ovog zamamnog jela…..Volim eksperimentirati s raznim vrstama brašna pa sam za ova peciva koristila brašno crvene leće koje je mirisom i okusom neutralno, a opet daje lijepu boju tijestu i sjajno se slaže s ovim zdravim namirnicama…pa krenimo u priču – kako Slavonka najradije jede ribu 🙂 U hamburgeru, jasno!
Burger peciva:
300g brašna od crvene leće
1 čajne žlice soli
1 čajne žlice šećera
0,5 vrećica suhog kvasca
1 jušna žlica meda
25g maslaca
1 jaje
Oko 160-170 ml mlake vode
Pomiješati suhe sastojke posebno i dodati mokre te zamijesiti tijesto. Ostaviti da se udvostruči na toplom mjestu. Premijesiti i formirati kugle (za normalnu veličinu burgera izvagati cca 110g tešku kuglicu tijesta….za miniburger kao u ovom slučaju 60g). Meni je od ove količine tijesta ispalo 2 velike kugle i 4 malih.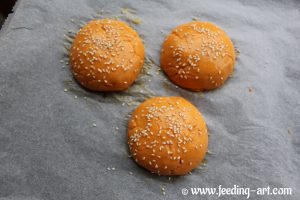 Ostaviti kuglice u tepsiji na papiru za pečenje pokriveno da se diže sat vremena na toplom…premazati razmučenim žutanjkom s mlijekom..po želji posuti sezamovim ili nekim drugim sjemenkama. Pekla sam na 190 C oko 15-17min velika a manja oko 12min…međutim to je individualno od pećnice do pećnice…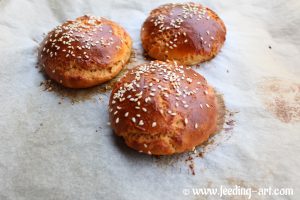 Guacamole:
2 avokada
1 svježa rajčica bez kore i sjemenki
Svježi chili po okusu
Sol i papar
Sok i korica limuna
Po želji korijander sitno nasjeckani
Avokado oguliti i izvaditi košticu. Vilicom usitniti i zgnječiti te dodati na male kockice narezanu rajčicu i chili te pažljivo promiješati.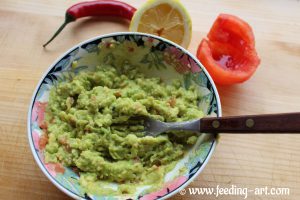 Začiniti solju, paprom i limunom. Po želji dodati sitno rezani korijander. Ostaviti uhladnjaku do korištenja.
Losos pljeskavica:
File lososa staviti u multipraktik i usitniti. Začiniti koricom i sokom limuna, krupnom solju s timijanom i ružmarinom te paprom.
Rukama formirati pljeskavice. Umotati ih u prianjajuću foliju te staviti u vrećicu koju treba dobro zavezati da voda ne ulazi u nju. Staviti tako zapakiranu šniclu u prokuhalu vodu da se kratko kuha (oko 2-3 minute).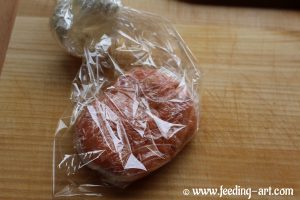 Izvaditi iz vrećice i pustiti da se ohladi. Panirati (brašno-jaja-crne mrvice od Black Magic kruha) i peći u pećnici na 180 C oko 5 minuta.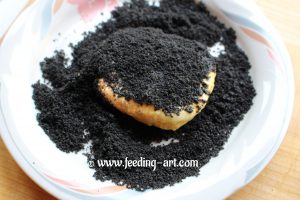 Mayo od medvjeđeg luka i rukole:
Medvjeđi luk
Rukola
Mlijeko
Sol i papar
Ulje
Malo soka i korice od limuna
Listove medvjeđeg luka i rukolu staviti u visoku posudu, dodati malo mlijeka i purirati u srednje tekuću masu.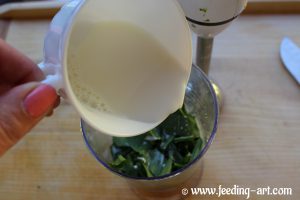 Na početku dodavati polako ulje i istovremeno purirati dok se smjesa ne počne malo zgušnjavati. Tada možete ulje i u većim količinama dodati.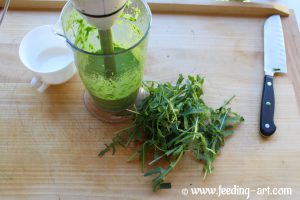 Začiniti po okusu sa soli, paprom, limunom. Ostaviti u hladnjaku prije posluživanja. Stajanjem u hladnjaku se dodatno stisne tako da ne brinite ako je smjesa nakon puriranja možda malo prerijetka.
Osim toga:
Feta sir
Svježi špinat
Rajčica, bez kore i koštica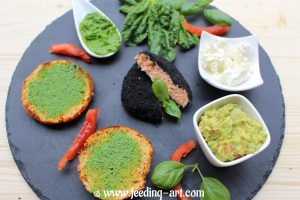 Finaliziranje Burgera:
Presjeći burger pecivo i svaku polovicu na grill tavi malo prepeći. Obje polovice namazati majonezom od medvjeđeg luka i rukole.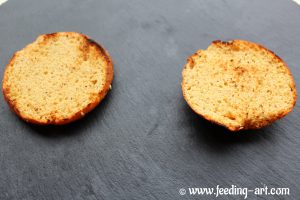 Na donju polovicu peciva stavi par listova svježeg špinata, guacamole, feta sir i 1-2 komadića rajčice. Zatim stavi šniclu od lososa, guacamole, rajčice, listić-dva bosiljka i na kraju spojite sve s drugom polovicom peciva.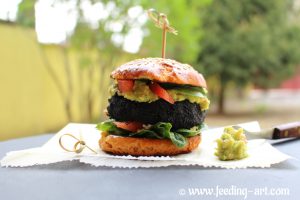 Voilà!! Uživaj u svom posebnom burger danu!