This delicious bread we did enjoy with fresh cheese, tomatoes salad and little bit of dried ham…but to be honest, homemade bread is delicious enough to be eaten on its own…enjoy it as well as we did.
Ingredients: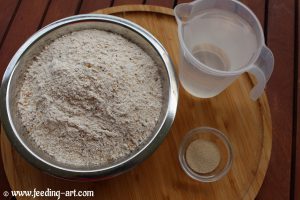 500g whole grain flour
Flax seeds (brown and golden)
Chia seeds
Sesame seeds
1 bag of dry yeast
Little bit of sugar
2 tea spoon salt
280-300ml lukewarm water
Mix all dry ingredients together and knead medium hard dough with lukewarm water.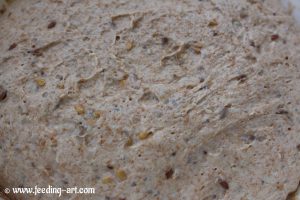 Let it rise in a warm place for one hour. Shortly knead again and let it rise for 30 minutes in floured form for bread.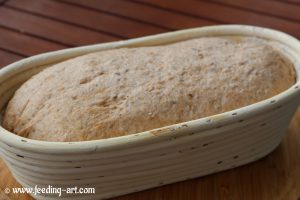 After that place bread dough on the baking tray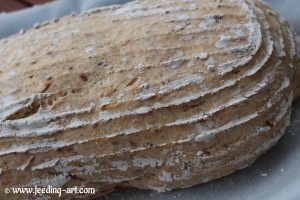 and bake in preheated oven 180 C for about 45-55 minutes (depends on oven).
-Croatian version-
Ovaj prefini kruh s puno različitih sjemenki vrlo je jednostavan za napraviti, a svojim mirisom i okusom ostavlja bez daha…mi smo ga jele uz malo svježeg sira u listićima, salatom od rajčica s bosiljkom i sušenom šunkom….ako vam je hladnjak prazan, ne brinite, domaći kruh je dovoljan sam sebi…uživajte u njemu kao u posebnom kolaču…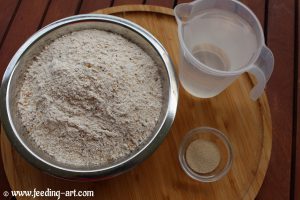 Potrebno:
500g crnog, punozrnog brašna
Lanene sjemenke (svijetle i tamne)
Chia sjemenke
Sezamove sjemenke
1 vrećica suhog kvasca
Mala žlica šećera
2 žličice soli
280-300ml mlake vode
Pomiješati sve suhe sastojke i s mlakom vodom zamijesiti srednje tvrdo tijesto. Ostaviti da se diže na toplome mjestu oko sat vremena.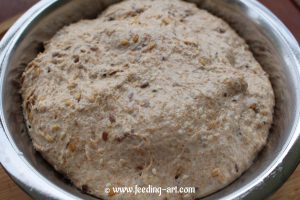 Kratko premijesiti i staviti u prethodno pobrašnjenu košaru za dizanje tijesta i ostaviti dodatnih pola sata da se diže.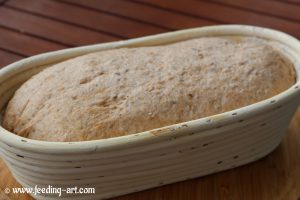 Potom kruh prebaciti na papir za pečenje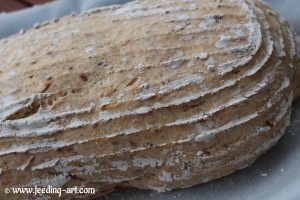 i peći u prethodno zagrijanoj pećnici na 180C 45-55 minuta (ovisi o pećnici).