In my childhood tomato soup was on the table at least once a week, it was certainly one of our favorite soup. Maybe because it was so simple and fast to prepare and was still very delicious, or maybe because our moms were preparing lots of homemade tomato juice for winter….so we did enjoy always fresh and homemade tomato soup and tomato sauce with mash potato. I just love those beautiful and smelly memories from childhood :)….today, my soup have more ingredients, almost all of them are tomatoes, but all kind, fresh, canned tomato, juice, concentrate….I did pimp up my soup with homemade bread chip that is perfect opportunity to use your old bred….and of course…tomato soup without crème fraiche is no tomato soup….enjoy….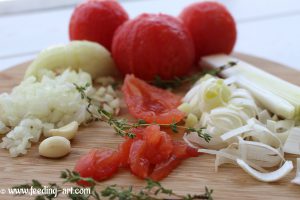 Ingredients:
6 ripe tomatoes, peeled, quartered and seeded
1 onion, chopped
3 garlic cloves
1 leek but only white part, chopped
Butter and olive oil
Brown sugar
Tomato paste
Tomato juice
Vegetable stock
Canned tomato cubes
Sol, pepper, fresh thyme and basil leaves
Method:
Cut the tomatoes lightly at the top and boil them briefly. Put them in cold water, peel and seed them. Cut tomatoes meet in large pieces. Heat the oil and butter and cook onion, leek and garlic until softened. Caramelize with brown sugar. Add little bit of tomato paste and cook shortly. Put tomatoes meet, cubes from can and fresh thyme.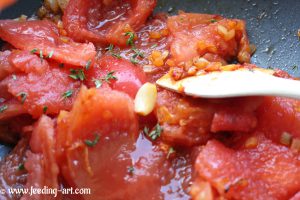 Season with salt and black pepper and cook for about 45 minutes. Transfer to a food processor or blend and process until smooth. Reheat the soup with fresh basil leaves, then remove leaves, taste and adjust the seasoning.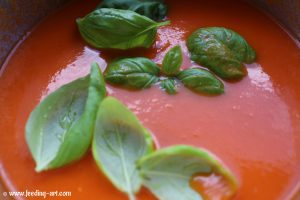 Serve with crème fraiche, sprouts and bread chips with coarse salt with spices and parmesan.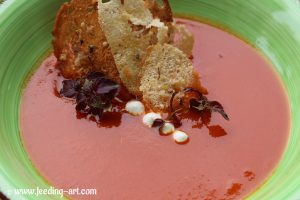 Bread chips: cut bread in thin slices, place on the baking tray, pour with olive oil, sprinkle with coarse salt and finely grated parmesan.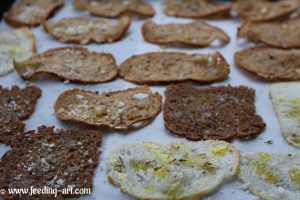 Bake shortly on preheated oven 130 C, 5-8 minutes, but constantly check because it is not supposed to be very brown.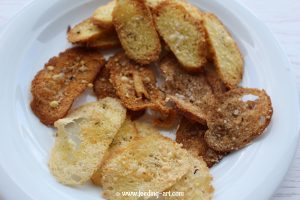 -Croatian Version-
Juha od rajčica ili kako smo je mi zvali paradajz juha, bila je na stolu barem jednom tjedno. Jedna od najomiljenijih juha što zbog svoje jednostavnosti pripreme, ali i zbog toga jer su naše mame same pripremale zimnicu pa uz to i nekoliko desetaka litara soka od rajčica upravo za juhu i umak od rajčica koji je najčešće išao uz pire od krumpira, a ako je bila i nedjelja onda i uz dodatak mesnih okruglica :). Ah ta lijepa, mirisna sjećanja iz djetinjstva….moja juha ima malo više sastojaka, odnosno rajčica u raznim konzistentnim stanjima, od koncentrata, soka, svježih rajčica do komadića iz konzerve…..obogatila sam je čipsom od kruha koji vrlo brzo i jednostavno možete napraviti kod kuće od viška kruha..i naravno, bez točkica ili žlice vrhnja nije to ta juha iz djetinjstva…i zato dodajem točku na i u obliku vrhnja….dobar tek ….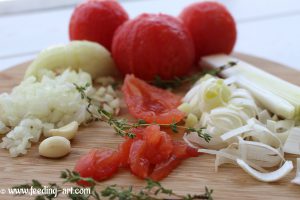 Potrebno:
6 rajčica bez kože i sjemenki
1 glavica luka, sitnije nasjeckana
3 češnja češnjaka
Bijeli dio od jednog poriluka, na ploškice nasjeckan
Malo maslaca i maslinovog ulja
Malo smeđeg šećera
Koncentrat rajčice, pola jušne žlice
Sok od rajčice po potrebi
Povrtni temeljac po potrebi
Komadići rajčice iz konzerve
Sol, papar, svježi timijan i bosiljak
Postupak:
Rajčice zarezati na gornjem dijelu, kratko blanširati, ostaviti u hladnoj vodi 5 minuta, oguliti i odstraniti sjemenke. Meso rajčica narezati na krupnije komade. Na maslacu i ulju dinstati luk, poriluk i češnjak. Karamelizirati smeđim šećerom. Dodati pola jušne žlice koncentrata od rajčice i kratko prodinstati. Dodati meso rajčica, komadiće iz konzerve, sok od rajčica i svježi timijan.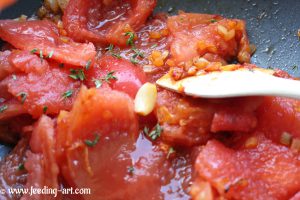 Začiniti sa soli i paprom i kuhati oko 45 minuta. Maknuti s vatre, izblendati i po želji propasirati kroz cjedilo. Vratiti kratko na vatru, dodati svježe listove bosiljka i kratko prokuhati. Izvaditi listove i po potrebi začiniti.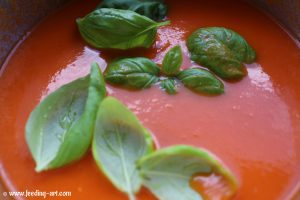 Dekorirati s vrhnjem, klicama i čipsom od kruha posutim krupnom soli sa začinima i parmezanom.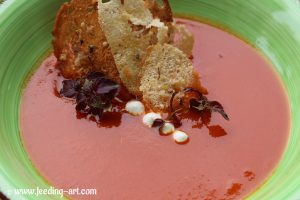 Čips od kruha: kruh ili pecivo vrlo tanko narezati, poslagati na papir za pečenje i malo posuti maslinovim uljem, krupnom soli sa začinima i sitno ribanim parmezanom.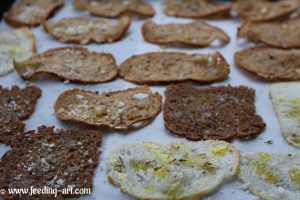 Na 130 stupnjeva kratko peći (5-8 minuta, ali svakako povremeno pogledati jer ovisi o pećnici i debljini kruha).