There is no better pasta as homemade pasta, and I use every opportunity to find little bit extra time to make my own. I did not make ravioli for a long time and inspiration for this recipe I found in magazine. At first it was little bit strange for me to mix together pasta and couscous, but I must admit I was really pleasant surprised with the taste.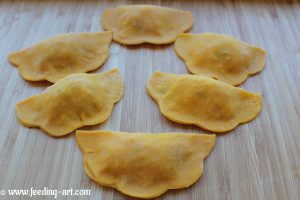 Couscous on its own is very healthy and goes very well with lots of other ingredients. Lemon grass has specific and refreshing aroma and with all those vegetables is just a perfect match for this dish. I did not have any doubts about sauce – little bit of butter with fresh lemon juice and zest, and as I am big fan of any green and edible decorations, I put some fried sage leaves all over. The whole combination is excellent gastro introduction to the summer in the Mediterranean way.
Dough for ravioli:
200g whole grain flour
2 eggs
1 tbsp olive oil
0,5g saffron (powder)
Water as needed
From all ingredients knead dough, wrap it in cling film and put it in the fridge to rest for an hour before you use it.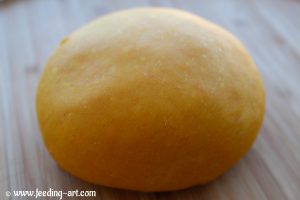 Dust your work surface with flour. Take a lump of pasta dough the size of lemon. Press it out flat gently. Roll the lump of pasta dough through the widest setting of pasta machine. If the pasta sticks, lightly dust it with flour. Fold the pasta in half from each side and roll the dough through again. Repeat this process several times, until you get perfect long rectangular shapes and your own pasta smooth as silk is. Work the pasta dough through all the setting on the machine, from the widest till the narrowest (for ravioli I did last size 7 from 9 on my pasta machine). Lightly dust both sides of the pasta if needed.
From ravioli dough make circles (with a glass or form), put some filling from couscous and vegetables at the first part of circle.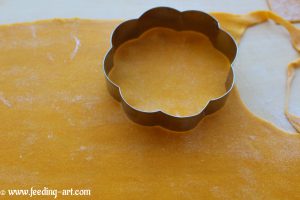 Coat the edges with water place other part of ravioli all over and press gently together.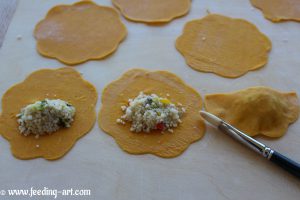 Boil salted water, remove from heat and place ravioli to stay in for 4-5 minutes.
Couscous filling for ravioli:
300g couscous
1 Egg plant
1 green courgette
1 red and 1 yellow paprika
2 Apple
1 shallot
Butter
Lemon grass (3 pieces) and about 600 ml water
Salt and pepper
Cut lemon grass in smaller pieces and cook in salted water. Reduce on about 400ml. Let it rest for about half an hour. Heat up again and pour all over couscous, stir with fork and let it rest till couscous soft is.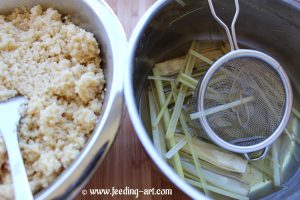 Stir on butter vegetables cut in very small cubes and add to the couscous. Add more lemon grass reduction if couscous is too dry and season with salt and pepper if needed.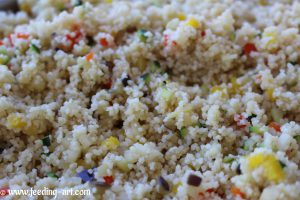 For sauce:
Butter, lemon, salt and pepper
Melt butter add lemon juice and zest, salt and white pepper.
Decoration: sage leaves, oil, pine nuts, lemon zest cut in stripes, cherry tomatoes
Fry sage leaves (shortly, they should be crisp and not too dark). Toast pine nuts without fat. Bake shortly cherry tomatoes in oven or in a frying pan.
To serve:
Place cooked ravioli on a plate, pour all over little bit of butter-lemon sauce, sprinkle with toasted pine nuts and decorate with fried sage leaves and cherry tomatoes.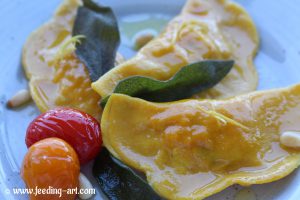 -Croatian version-
Nema te kupovne tjestenine koja može zamijeniti domaću i kada imam vremena uvijek rado umijesim domaće. Nisam dugo raviole radila, a inspiraciju za ovaj recept našla sam u novinama. Bilo mi je na prvu pomalo neobično spojiti tijesto s cous cous, ali moram priznati da sam se ugodno iznenadila okusom.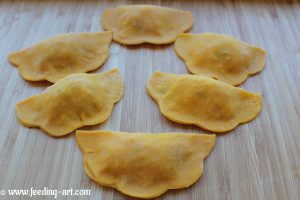 Cous cous sam po sebi je prilično lagana namirnica, a limunova trava koja ima svoju specifičnu aromu i kratko dinstano povrće bili su točka na I ovom laganom obroku. Za umak nije bilo dvojbe – malo maslaca začinjenog s limunovim sokom, soli i paprom, a kako sam ljubitelj raznih zelenih dodataka kao jestive dekoracije, ubacila sam par listića fritirane kadulje. Cjelokupna kombinacija odličan je uvod u dugo toplo gastro ljeto na mediteranski način.
Tijesto za raviole:
200g crnog brašna
2 jaja
1 jušna žlica maslinova ulja
0,5g šafrana u prahu
Po potrebi malo vode
Od navedenih sastojaka umijesiti tijesto, zamotati u prozirnu foliju i ostaviti da odmara pola sata.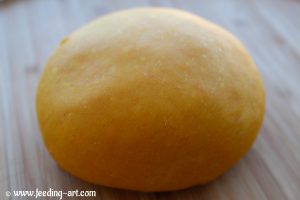 Na mašini za tijesto razvaljati tanko (ja sam na razini 7 od mogućih 9, s time da je razina jedan početna za razvijanje tijesta, tj. najšira). Ako se tijesto lijepi, posuti ga brašnom kao i podlogu na kojoj se radi. Po želji modlom, čašom ili specijalnom formom za raviole izrezati krugove.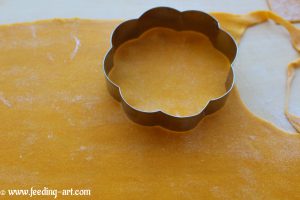 Na tijesto staviti punjenje, rubove tijesta premazati vodom pomoću tanjeg kista te preklopiti i lagano pritisnuti rubove da se tijesto lijepo spoji.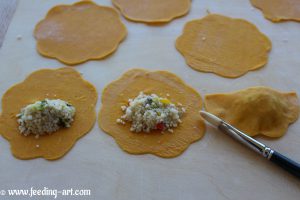 Punjenje za raviole:
300g cous cous
1 patliđan
1 tikvica
1 crvena i 1 žuta paprika
1 jabuka
1 ljutika
Maslac za dinstanje
Limunska trava (3 kom) i oko 600 ml vode
Sol i papar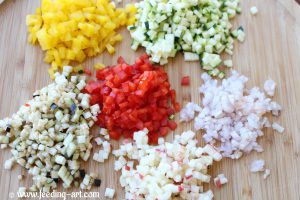 Limunsku travu prerezati po dužini i nasjeći na manje komade kako bi pustila svoju aromu te u vodi s dodatkom soli prokuhati i reducirati na otprilike 400ml. Ostaviti sa strane barem pola sata. Ponovo zagrijati i preliti cous cous, promiješati vilicom i ostaviti u jednoj tepsiji ili široj posudi da se cous cous ne zalijepi.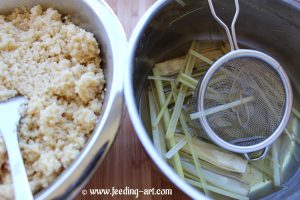 Na maslacu kratko dinstati na sitne kockice narezano povrće te dodati u cous cous. Po potrebi dodati još malo redukcije od limunske trave da se osjeti aroma te začiniti sa soli i paprom.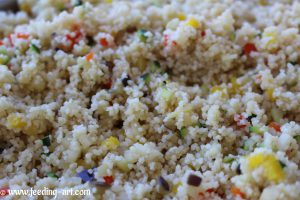 Za umak
Maslac, limun, sol i papar
Otopiti maslac, dodati sok od limuna, koricu jednog bio limuna, sol i bijeli papar
Dekoracija: listići kadulje, ulje, pinjoli, trakice limunove korice, mini rajčice
Fritirati listiće kadulje. Tostirati pinjole na tavici bez masnoće. Na malo ulja kratko popržiti mini rajčice.
Serviranje:
Prokuhati vodu sa soli, maknuti sa štednjaka i ostaviti raviole 4-5 minuta u vrućoj vodi. S obzirom da se radi o svježe pripremljenom tijestu za raviole, nikako ih ne kuhati kao tjesteninu u kipućoj vodi, nego ih ostaviti da stoje u vrućoj vodi. Servirati na tanjur, preliti s malo maslaca s okusom limuna, posuti tostiranim pinjolima, ukrasiti fritiranim listićima kadulje i mini rajčicama.