Even small bread slices are big enough to carry on colorful gastro story….and in this rebellious team of bruschetta I did play with vegetables, fruits, nuts, cheese, honey, eggs….but the final touch gave three specific taste/color of breads (recipe: http://feeding-art.com/2017/08/06/black-magic-chestnut-and-mediterranean-breadcrni-kesten-i-mediteran-domaci-kruh/ Sweet and rich taste of chestnut flour bread was perfectly match with dried ham, melon and walnut, cheese and apple….Black magic bread, which is alone attractive enough on its own, needed for perfect harmony just few everyday ingredients but in complete contrast color. And at the end, Mediterranean bread full of warmth and hedonism….lots of fresh spices, Mediterranean salad and vegetables with the best quality homemade olive oil (thank you Mariana – Korčula :)).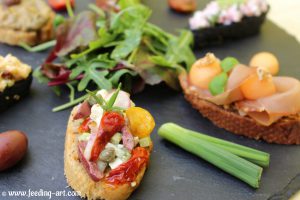 Well Inga, just stop talking…. let your eyes and palate enjoy explosion of color and taste…
Black Magic bread- bruschetta
Wash radish and finely cut in a small pieces. Add cottage cheese and green onions, season with salt, pepper, lemon juice and finely chopped parsley or chives.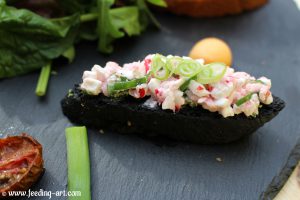 Scrambled eggs with zucchini, semi-dried tomatoes and cheese
In a pan preheat oil and stir fry shortly zucchini cut in a small cubes and semi-dried tomatoes. Whisk eggs with chopped cheese (Ementaler, Gouda…) and ad to the pan with vegetables. When scrambled eggs are finished, add finely cut parsley.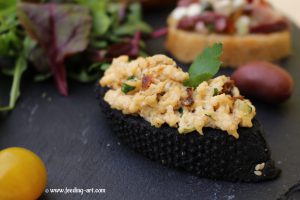 Mediterranean bread – bruschetta
Cut eggplant lengthwise in 4 pieces. Marinate with pepper, salt, garlic slices and olive oil. Bake in preheated oven on 180 C. When eggplant soft is, remove meat from skin and put in mixer. Add anchovies, capers, lime juice, olive oil, cayenne pepper, semi-dried tomatoes and finely cut thyme. Mix all together in compact mass, season as needed and let it rest in fridge for 2-3 hours before serving. Decorate with one anchovies, caper and fresh thyme.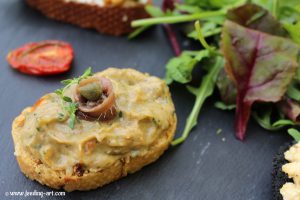 Greek salad bruschetta – mix cucumber (cut in small cubes without skin), olives, feta cheese, semi-dried tomatoes, scallion (only green part), shallot, salt, pepper, lemon juice, olive oil, capers. Decorate with fresh rosemary.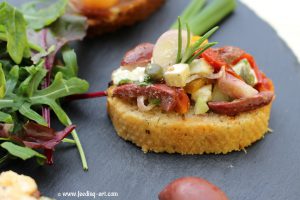 Bruschetta from chestnut flour bread
Dried ham (Buđola)-melon-walnut with honey
Bruschetta with dried ham and melon – Cut walnuts in not too small pieces and mix with honey and spread in a thin layer all over bread slice. Place two slices of dried ham, decorate with melon and at the top add some walnuts with honey.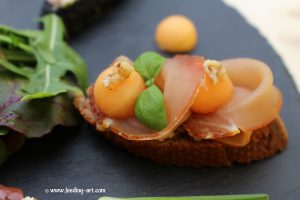 Grill zucchini filled with caramelized apples
Zucchini and apple bruschetta. Spread Philadelphia or similar spread all over slice of bread and place some rocket. Peel Apples, cut in small cubes, shortly bake on butter and sprinkle with some sugar to caramelize. Slice pumpkin lengthwise (thinly), grill shortly, cool down and place 2-3 slices of scamorza cheese. Add caramelized apples, roll it and decorate with some honey and walnut.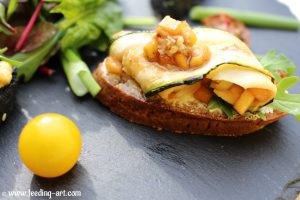 – Croatian version-
Čak i malene kriške kruha dovoljno su velike da na sebi nose šarenu gastro priču…pa sam se u ovoj buntovnoj ekipi bruscheta poigrala s voćem, povrćem, sirom, medom, jajima……a točku na i kako vizualno tako i okusom dala su tri specifična okusa/boje kruha (recepti za kruhove na linku: http://feeding-art.com/2017/08/06/black-magic-chestnut-and-mediterranean-breadcrni-kesten-i-mediteran-domaci-kruh/. Slatkasti kruh od kestenovog brašna koji se sjajno stopio s buđolom, dinjom i orasima, sirom i jabukama…..crni kruh koji je svojom bojom atraktivan sam za sebe, a nema specifičan okus – za pravu harmoniju dovoljno je nekoliko jednostavnih, svakodnevnih namirnica u potpunom kontrastu boja. I na kraju mediteranski kruh pun topline i hedonizma….puno svježih začina, mediteranske salate i povrća te najkvalitetnijeg domaćeg maslinovog ulja (hvala Mariana – Korčula :)).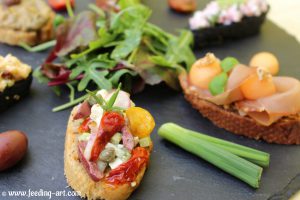 Dosta priče…neka oči i nepca uživaju u eksploziji boja i okusa….
Black Magic kruh- bruschette
Rotkvice oprati i narezati na sitne kockice te usitniti u multipraktiku. Dodati zrnati sir, mladi luk, začiniti sa soli, biberom, limunovim sokom i nasjeckati po želji peršin ili vlasac.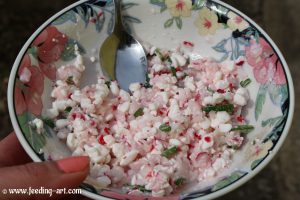 Kajgana s tikvicama, polusušenim rajčicama i sirom
Na malo ulja kratko prepržiti tikvice narezane na kockice i polusušene rajčice.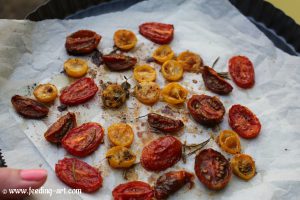 Dodati razmućena jaja sa sirom (ementaler, gouda i sl). Kada je kajgana gotova, dodati sitno kosani peršin.
Mediteranski kruh – bruschette
Patliđan po cijeloj dužini prerezati na 4 dijela. Marinirati biberom, soli, ploškicama češnjaka i maslinovim uljem. Peći na 180 C. Vilicom odvojiti meso patliđana od kore i staviti u mixer te dodati srdele, kapare, sok limete, maslinovo ulje, kajenski papar, sušene rajčice i sitno rezani timijan.
Sve dobro sjediniti u kompaktnu masu, po želji začiniti i ostaviti u hladnjaku par sati prije serviranja. Za dekoraciju zarolati jednu srdelu, u sredini staviti kapar i malo svježeg timijana.
Grčka salata bruschette – pomiješati sitno narezane oguljene svježe krastavce, masline, feta sir, polusušene rajčice, zeleni dio mladog luka, ljutiku, sol, biber, limunov sok, maslinovo ulje, kapare.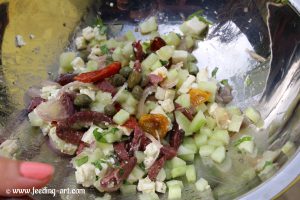 Ukrasiti s malo svježeg ružmarina.
Bruschette od kruha s kestenovim brašnom
Buđola-dinja-orasi s medom
Bruschette s buđolom i dinjom – Orahe nožem srednje srubo nasjeckati i pomiješati s medom. Kruh tanko premazati smjesom oraha i meda.
Staviti dvije šnjite buđole (ili neke drugog suhomesnatog proizvoda po želji), dekorirati polukuglicama dinje i na vrh dinje staviti malo oraha s medom.
Gril tikvica punjena karameliziranim jabukama
Bruschetta s tikvicom i jabukama. Krišku kruha tanko namazati sirnim namazom (Philadelphia ili neki slični namaz) i staviti par listova rukole. Jabuku ogulite, narežite na sitnije kockice, kratko prepržiti na maslacu te posuti šećerom da se karameliziraju. Tikvicu tanko po dužini narezati, na tavici kratko prepržiti, ohladiti, složiti par šnjita scamorza sira, puniti karameliziranim jabukama, zarolati i kao dekoraciju staviti malo oraha s medom.