For stuffed peppers:
18 medium peppers (in Croatia sort Babura)
1kg minced meat (700g beef and 300g pork)
100g rice
1 onion (medium size), finely chopped
3 cloves of garlic, finely chopped
1 egg
About 2-3 tea spoon of salt (not full)
Black ground pepper as needed
Fresh parsley, finely chopped
About 1 tea spoon of ground red pepper (sweet)
If desired, you can use some ground chili (I used very spicy one, only little bit)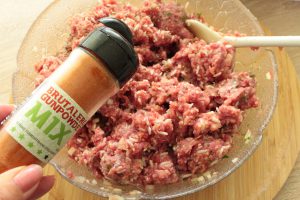 Wash the peppers well, cut the upper part and clean inside from seeds. Wash them again.
Mix all other ingredients, carefully, do not knead too much with hand (you can use fork or plastic cooking spoon). Fill the peppers, but do not overfill (during cooking, filling is growing bigger and peeper may break). Put the peppers in the pot (for 18 peppers I used 2 Pots) with open side up.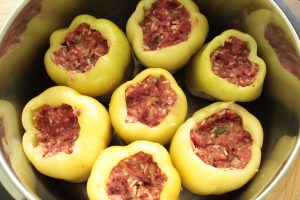 Pour with prepared soup.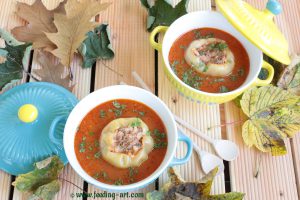 Soup for stuffed Peppers:
About 4 soup spoon of oil
3 soup spoon of flour
1 onion, finely sliced
1 tea spoon of brown sugar
4 cloves of garlic, finely chopped
About 800 ml of tomato juice
About 1,5 l of vegetable stock
Salt, ground pepper, little bit of spicy ground red pepper
Sautѐ onion, caramelize with brown sugar and add garlic. After few minutes, add flour and fry until light brown. Add some sweet or spicy ground red pepper. Turn off the heat and add tomato juice and vegetable stock, stir constantly. Bring to boil, add some salt and ground pepper if needed. Pour the soup all over stuffed pepper. Cook slowly about one and a half hours.
-Croatian version-
Za filovane paprike:
18 srednjih paprika (babura)
1kg mljevenog mesa (700g junetine i 300g svinjetine)
100g riže
1 srednje veliki crveni luk, sitno narezan
3 češnja češnjaka, sitno narezana
1 jaje
Oko 3 kavene žlice soli
Papar po okusu
Sitno sjeckani svježi peršin
Oko 1 kavene žlice slatke mljevene paprike
Po želji malo mljevenog čilija (ja sam koristila ekstra ljuti pa sam samo na vrh noža dodala)
Paprike dobro oprati i odrezati im gornji dio kod peteljeljke te pažljivo očistiti od koštica i ponovo dobro oprati.
Ostale sastojke zajedno pomiješati, najbolje kuhačom da se meso ne stišće previše rukama. Tako će nakon kuhanja ostati rahlije. Puniti paprike, ali ne tiskati previše meso niti punuti preko vrha paprika jer kuhanjem se fil još proširi pa bi paprike mogle puknuti. Paprike poslagati u lonac (za 18 paprika koristila sam dva lonca) s otvorenom stranom okrenutom prema gore. Preliti s pripremljenom juhom
Juha za filovane paprike:
Oko 4 jušne žlice ulja
3 jušne žlice brašna
1 glavica crvenog luka, sitno narezanog
1 kavena žlica smeđeg šećera
4 češnja češnjaka, sitno narezana
Oko 800 ml pasirane rajčice
Oko 1,5 l povrtnog temeljca
Sol, papar, na vrh noža srednje ljute mljevene paprike
Na ulju popržiti crveni luk i kratko karamelizirati te dodati češnjak. Nakon minute-dvije dodati brašno i popržiti dok ne poprimi svijetlosmeđu boju. Dodati po želji malo slatke ili ljute paprike. Maknuti s vatre te dodati, uz stalno miješanje, pasiranu rajčicu i temeljac. Pustiti da provrije, začiniti solju i paprom po okusu te preliti paprike. Kuhati na laganoj vatri oko sat do sati i trideset minuta.