I have this recipe for a long time, but I was always prolonged to make them. Maybe because those orange beauties are vegan, and I thought what kind of taste is it :). As I really love all dishes with pumpkin, this autumn was time for Hokkaido gnocchi. It is not enough to say that I was pleasantly surprised with taste. I can honestly say that I love them more than potatoes gnocchi. I do not like heavy sauces with gnocchi, it is enough some of olive oil or brown butter. But, it is important for me to have lots of green vegetables and good cheese. In this case, young spinach, mangold and crunchy, fried rocket. Delicious 🙂
*vegan dish
For 3 persons:
300g mashed Hokkaido pumpkin
Olive oil to spread over pumpkin before baking
Sweet red ground paprika, nutmeg, curcuma, salt and pepper (to sprinkle over pumpkin before baking)
150g spelt flour and little bit more for forming gnocchi
45g durum wheat semolina
25g potatoes flour
For sauce:
Olive oil, young spinach, mangold, jalapeno pepper, pecorino cheese, fried rocket
Preparation:
Cut pumpkin in ¼, take out seeds, sprinkle with some olive oil and spices and bake at 180 C until soft. Mix pumpkin meat without skin in mashed pumpkin and let it cool down. Knead gnocchi with mashed pumpkin, flour and durum wheat semolina (but not too long). It should be soft and smooth. Use some flour on the working surface if dough is too sticky. Cut the dough in 4-5 pieces, and roll it into a rope.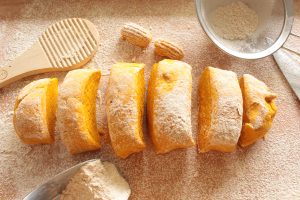 Use a knife to cut out square bites. To indent gnocchi you can use a special wooden board (like me), or a fork.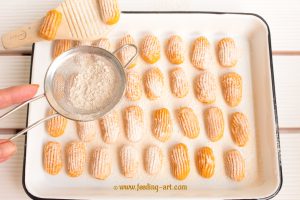 Bring a large pot of salted water to boil salt and add gnocchi. Give one gentle stir and wait until the gnocchi all float to the surface of the water, and them cook them for about 1 minute.
On olive oil sauté jalapeno cut in rings, young spinach and mangold. Serve with freshly cooked gnocchi and pecorino cheese. Decorate with fried rocket.
-Croatian version-
Dugo već imam recept za ove njoke od Hokkaido bundeve, ali nikako da se odvažim napraviti ih. Iako obožavam sva jela od bundeve, vjerojatno me veganski karakter ovih njoka malo podalje držao od pripreme. Ali, kako to najčešće biva s receptima koje malo s daljine gledamo, odlučila sam ih pripremiti ove jeseni. I oduševili su me, čak bih rekla da su mi bolji od krumpirovih. Ne volim posebno teške umake uz njoke, radije izaberem smeđi maslac ili maslinovo ulje, ali zato volim puno zeleniša i dobar sir. Ovi narančasti ljepotani sjajno su se složili s mladim špinatom i mangoldom, a točku na i dala je hrskava fritirana rukola.
Za 3 osobe:
300g pirea od Hokkaido bundeve
Malo maslinovog ulja za pečenje bundeve
Malo mljevene crvene paprike (slatke), muškatnog oraha, kurkume, soli i papra (za posuti po bundevi prije pečenja)
150g crnog brašna, plus malo za izradu njoka
45g griza
25g brašna od krumpira
Za umak i prilog:
Maslinovo ulje, mladi špinat, mangold, jalapeno paprika, pecorino sir, fritirana rukola
Izrada njoka:
Bundevu oprati, isjeći na ¼, izvaditi koštice, posuti maslinovim uljem i začinima te peći na 180 C dok ne omekani. Meso bundeve bez kore purirati dok ne dobijete glatku smjesu te ostaviti da se ohladi. Potom umijesiti njoke od pirea od bundeve, brašna i griza na radnoj podlozi posutoj brašnom. Podijeliti na 4-5 komada, formirati tanju rolu i rezati njoke. Po želji formirati njoke pomoću drvene dašćice za njoke ili pomoću vilice.
Zakuhati posoljenu vodu i kuhati njoke dok ne isplivaju na površinu.
Na maslinovom ulju kratko sotirati na tanke krugove narezanu jalapeno papriku, mladi špinat i mangold. Servirati uz tople njoke i posuti pecorino sirom. Dekorirati s fritiranom rukolom.