Für 11 Stück ( große Papierförmchen )
Zutaten:
11 Aprikosen ( kleine, frisch oder aus dem Kompot )
1 Bio-Orange
2 Eier ( M )
75ml Öl ( Sonnenblumen- oder Rapsöl )
120g Zucker
1 Vanillinzucker
1 Prise Salz
200ml Joghurt
2 TL Backpulver
250g Mehl
250g Mascarpone
3 TL Speisestärke
3 EL Aprikosenkonfitüre
1 EL Puderzucker zum bestäuben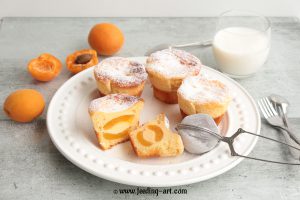 Zubereitung:
Ofen auf 175°C vorheizen. Frische Aprikosen mit kochendem Wasser überbrühen, häuten, halbieren und entsteinen. Bei Aprikosen aus der Dose, natürlich, nicht notwendig. Orange waschen, Schale fein abreiben, von ½ Orange Saft auspressen. Beides mit 1 Ei, Öl, Zucker, Vanillezucker, Salz und Joghurt verrühren. Mehl und Backpulver sieben und in die flüssige Zutaten hineinrühren. Muffin Blech mit Muffin Förmchen (Tulpen Förmchen, s. Abbildung) belegen und Teig verteilen.
Mascarpone, 1 Ei, Speisestärke und Konfitüre glatt rühren. 11 Aprikosenhälfte mit je 1 TL Mascarponecreme füllen. Restliche Aprikosenhälften auflegen und gefüllte Aprikosen vorsichtig in den Muffin Teig drücken. Mit restlicher Mascarponecreme bedecken. Die Muffins ca.30 Minuten backen. Aus dem Ofen nehmen und auf einem Kuchengitter auskühlen lassen. Mit Puderzucker bestäubt servieren.
-Kroatische version-
Za 11 Muffina ( velike papirnate košarice, kao na slici )
Sastojci:
11 marelica (manjih, svježih ili iz kompota)
1 bio-naranča
2 jaja (M)
75ml ulja
120g šećera
1 vanilin šećer
1 prstohvat soli
200ml jogurta
2 male žličice praška za pecivo
250g glatkog brašna
250g mascarpone sira
3 male žličice škrobnog brašna (gustina)
3 velike žlice marmelade od kajsija
1 velika žlica šećera u prahu (za posuti prije serviranja)
Priprema:
Zagrijati pećnicu na 175°C. Ako koristite svježe marelice potrebno im je oguliti kožicu i to tako da ih prelijete kratko vrelom vodom, ogulite, prepolovite i izvadite koštice. Ako koristite marelice iz kompota ili konzerve dovoljno je ocijediti tekućinu i kuhinjskim papirom osušiti. Naranču oprati, koricu naribati, a sok od ½ naranče ocijediti. Sok i koricu pomiješati s 1 jajetom, uljem, šećerom, vanilin šećerom, soli i jogurtom. Dovoljno je sve to sjediniti pjenjačom, ne treba vam mikser. Brašno i prašak za pecivo prosijati i pjenjačom sjediniti s mokrim sastojcima. Kalup za muffine obložiti papirnatim košaricama za muffine (najbolje je uzeti malo više košarice pošto tijesto naraste). Raspodijeliti tijesto na 11 košarica.
Mascarpone sir, 1 jaje, škrobno brašno i marmeladu pomiješati. 11 polovica marelica puniti kremom i poklopiti drugim polovicama. Pažljivo ih položite na tijesto i do pola ugurajte. Ostatkom kreme prekrijte marelice. Muffine peći oko 30-tak minuta. Izvaditi iz pećnice i ostaviti da se na žici potpuno ohlade. Prije serviranja posuti šećerom u prahu.