My gastro journey to Asia is more and more often and last weekend I made this simple and aromatic dish. Just perfect for hot summer days. Just drunk shrimps in egg white and coconut than bake in oven. It is so delicious, that you need only perfect dip! And I have it too! It is simple and it goes perfectly with coconut shrimps. Mix sesame oil with fresh chili (and seeds), chopped coriander and finely grated ginger. As balance, serve with rice salad (brown and wild rice) mixed with coriander seeds, snow peas and peas. As well as with refreshing cucumber salad seasoned with olive oil, fresh mint and spring onion. As 3 books of Asian recipes are waiting for me, sorry my friend, I suppose you will have to travel with me through beautiful, spicy, aromatic and colorful dishes.
Rice salad:
125g rice (mix of brown and wild rice)
Snow peas
Peas
Coriander, fresh
Ginger, fresh, finely grated
Coriander seeds, crushed and toasted
Salt and pepper
Lemon juice
Sesame oil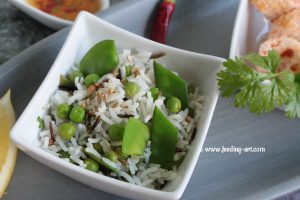 Cook rice and cool down with cold water. Blanch (cook briefly in boiling water) snow peas and peas and shock shortly in cold water.
Cucumber salad:
1-2 cucumber
Mint, fresh
Lemon juice and zest
Spring onion
Olive oil
Salt and pepper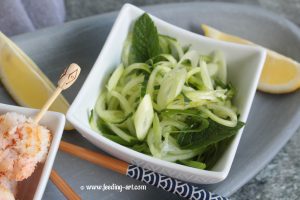 Cut cucumber in straps as spaghetti (using spiralizer) or any other way you like. If you have Bio cucumber, you can eat with skin. Slice spring onion and mix with cucumber. Season with olive oil, salt, pepper, lemon and mint.
Shrimps with coconut:
Shrimps
Egg white
Shredded coconut
Salt and pepper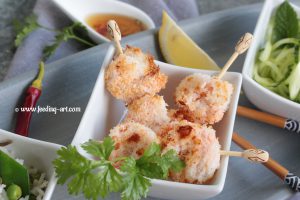 Season egg white with salt and pepper. Dunk shrimps in egg white then in coconut. Put on a baking paper and bake in preheated oven (180 C) for about 5-7 minutes until coconut is slightly brown.
Dip for Shrimps:
Sesame oil
Chili, chopped, with seeds if you like spicy
Coriander, fresh, chopped
Ginger, fresh, finely grated
Mix all ingredients in a dip.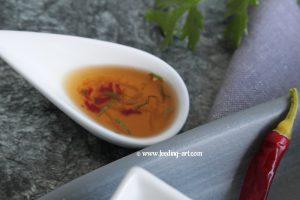 -Croatian version-
Moji izleti u azijsku kuhinju sve su češći, pa je tako nastalo i ovo jednostavno i prefino jelo. Kao stvoreno za vruće ljetne dane. Kozice uvaljane u bjelanjak pa u kokos te kratko pečene u pećnici nešto je najfinije što sam u zadnje vrijeme jela. Neizostavno uz njih ide jednostavan umak od sezamovog ulja s čilijem (i sjemenkama ako volite ekstra ljuto), svježeg, fino ribanog đumbira i korijandera. Eksplozija okusa! Salata od smeđe i divlje riže začinjena sjemenkama korijandera kratko preprženih uz blanširane mlade grašak mahune i grašak na jednoj i klasična salata od krastavaca uz mentu i limun, savršeni su balans u ovome jelu. S obzirom da me na policama čekaju 3 knjige azijskih jela, vidim da ću vas još neko vrijeme "ljutiti" ovim pikantnim i egzotičnim okusima!
Salata od riže:
125g riže (mix smeđe i divlje riže)
Grašak šećerac (cijela mahuna), odrezati krajeve i dijagonalno prepoloviti
Grašak
Svježi korijander
Svježi đumbir, sitno ribani
Sjemenke korijandera, u mužaru malo usitnjene i kratko popržene na tavi bez masnoće
Sol i papar
Limunov sok
Sezamovo ulje
Rižu skuhati u vodi, ocijediti i isprati hladnom vodom. Grašak šećerac i grašak kratko blanširati i također kratko ohladiti u hladnoj vodi te pomiješati s rižom. Začiniti sa soli, paprom, svježim korijanderom, đumbirom, limunovim sokom, sezamovim uljem i sjemekama korijandera.
Salata od svježih krastavaca:
1-2 svježih krastavaca
Svježa menta
Limunov sok i korica
Mladi luk
Maslinovo ulje
Sol i papar
Krastavce oprati i narezati prema želji (poput špageta ili na kolutove). Ako koristite bio krastavce možete i s korom. Narezati mladi luk na tanke ploškice i zajedno pomiješati. Začiniti navedenim začinima.
Kozice s kokosom:
Kozice
Bjelanjak
Kokos
Sol i papar
Bjelanjak pomiješati sa soli i paprom. Kozice uvaljati prvo u bjelanjak pa u kokos. Složiti na papir za pečenje i peći u prethodno zagrijanoj pećnici na 180 C 5-7 minuta (ili dok kokos ne dobije malo boje).
Umak za kozice:
Sezamovo ulje
Čili, narezan, zajedno sa sjemenkama ako volite ljuto
Svježi korijander, narezan
Svježi đumbir, sitno nariban
Navedene sastojke pomiješati.