Pita bread
300g flour
300g yoghurt
½  baking powder
1 tsp of salt
Finely chopped rosemary and thyme
Finely chopped chili
1 tbsp of olive oil
Flour for dusting
Knead soft but not sticky dough. If needed, use more flour. Divide in 4 pieces (if you prefer thicker pita bread) or 6 pieces (if you prefer thinner pita bread) and with a rolling pin roll out a circle. Preheat a frying pan without fat, place pita bread dough and bake until you see bubbles, and from the bottom get nice, light brown color. Turn and bake the other side. You can sprinkle baked pita bread with some olive oil mixed with parsley and garlic.
And, some more…:
Tomatoes, sliced
Grilling cheese (or Halloumi cheese), sliced
Mix of olive oil, finely chopped parsley and garlic
At the top of baked pita bread place tomato slices and cheese.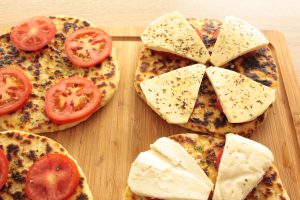 Preheat oven 200C, grill function and bake shortly until they get slightly brown on the edges.
-Croatian version-
Pita bread lepinje
300g brašna
300g jogurta
½ vrećice praška za pecivo
1 mala žličica soli
Sitno rezani svježi ružmarin i timijan
Sitno rezani svježi čili
1 jušna žlica maslinovog ulja
Od navedenih sastojaka umijesiti mekano, ali ne jako ljepljivo tijesto. Podijeliti tijesto na 4 komada (ako volite deblje lepinje) ili na 6 komada (ako volite tanje) i svaki komad oklagijom razvaljati u obliku kruga. Zagrijati tavu bez masnoće, položiti lepinju u tavu i peći dok se ne pojave mjehuri, a s donje strane lepinja ne dobije lijepu, smeđu boju. Okrenuti i peći isto na drugoj strani. Po želji kada su pečene premazati s jedne strane mješavinom maslinovog ulja, peršina i češnjaka.
Ostalo:
Rajčice, narezane na šnjite
Sir za grilanje (ili Halloumi sir), narezan na ca 0,5cm debele šnjite
Mix maslinovog ulja, sitno sjeckanog peršina i češnjaka
Na pečene lepinje staviti kriške rajčice. Na njih sir. Zagrijati gornju ploču pećnice na 200 C (gril funkcija) i kratko zapeći sir ne dobije blago smeđu boju na rubovima.