I never ate so much asparagus as in corona time :), I think isolation at home that we are all part of it, did change our eating habits. With so much time, I never ate so much seasonal vegetables.
If you think that asparagus has to be always part of vegetarian dish or salad, let me show you how I joined asparagus with my favorite oven baked potatoes, bacon and sour cream dip. Just imagine…hot potatoes, butter and cheese melted immediately, sour cream with chili spice up and crispy bacon with tender asparagus…delish!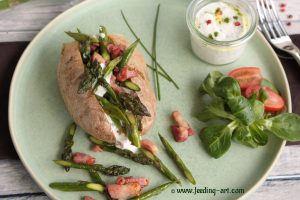 One more comfort food recipe 🙂
And if you feel guilty because of butter and cheese in your light prepared potato, than make balance with lots of fresh herbs and lemon in sour cream, as well as mixed seasonal salad as a side dish. I am sure, this potato-asparagus-bacon bomb will be little bit less bombastic:)!
Enjoy!
Ingredients for 2:
2 potatoes (ca 280-300g each)
125g green asparagus
125g bacon cut in cubes
Hard cheese (any sort you like, Gouda, Emmentaler, goat's, sheep's….)
20g butter
Dip:
1 sour cream
Fresh chives, parsley, thyme, finely chopped
1 clove of garlic, finely chopped
Little bit of chili, finely chopped
1 tsp of olive oil
Lemon zest
Salt and pepper
For dip, mix all ingredients. Season to taste.
Pre heat the oven on 200 ⁰C. Wash potatoes and put them in the oven (on the middle rack) with skin. Bake for about one, or one and a half hour (depends on sort of potatoes).
Fry bacon and asparagus on olive oil.
Cut baked potato lengthwise, but not all the way through. Put some butter and grated cheese, try to mix little bit of potato from both sides with cheese and butter. Pour 2-3 tsp of sour cream and handful of asparagus with bacon.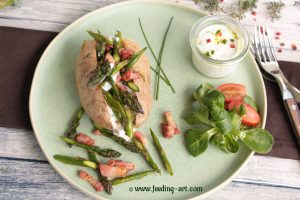 Serve with salad.
-Croatian version-
Sastojci za 2 osobe:
Nikada prije nisam toliko šparoge jela kao u ovo korona vrijeme :). Kućna izolacija ostavila je traga i na našoj prehrani. Kod mene se nikad više nije jelo svježeg voća i povrća. Da šparoge ne moraju biti samo dio vegetarijanskog obroka ili salate, udružila sam ih s mojim omiljenom krumpirom pečenim u pećnici. S korom naravno :). A da ne bi sve tako "light" bilo, dodala sam im slanine i punomasno vrhnje. Vrući krumpir u kojem se topi maslac i sir, vrhnje s čilijem i na kraju hrskava slanina s kratko grilanim šparogama, mmmm i evo još jedan omiljeni recept za comfort food. A ako vas muči grižnja savjest zbog kockice maslaca i ribanog punomasnog sira u light pripremljenom krumpiru, kao balans sam dodala puno svježih začina u umak od vrhnja. I naravno, svježa salata, rajčice, krastavac, mladi luk….sve to lijepo složite u zdravu salatu i servirajte uz ovu krumpir bombu! Dobar tek!
Sastojci za 2 osobe:
2 krumpira (težine ca 280-300g komad)
125g šparoga
125g slanine, nasjeckane na kockice
Tvrdi sir po želji (gouda, emmentaler, kozji, ovčji…)
20g maslaca
Umak:
1 kiselo vrhnje
Svježi vlasac, peršin i timijan
1 češanj češnjaka
Malo čilija
1 kavena žlica maslinovog ulja
Korica od pola limuna
Sol i biber
Za umak sitno nasjeckati peršin, timijan, vlasac, češnjak i čili. Koricu limuna sitno naribati. Pomiješati s vrhnjem, začiniti sa soli i paprom.
Zagrijati pećnicu na 200 ⁰C. Krumpire dobro oprati (peku se s korom) i staviti na rešetku da se peku (ovisno o vrsti krumpira, sat, sat i pol).
Na malo maslinovog ulja kratko prepržiti šparoge i kockice slanine.
Kada je krumpir pečen nožem ga zasjeći, ali ne do kraja prepoloviti. Ubaciti malo maslaca i ribanog sira te pomiješati s dijelom krumpira u unutrašnjosti da nastane jednolična masa. Staviti 2-3 žlice umaka od vrhnja i šparoge sa slaninom.
Servirati uz salatu.