Do you have your favorite italian restaurant? Do you loooove Pasta? Do you like Fast & Furious 30min dishes? YES, YES and YES? Well, you are at the right place my dear! Here we are at Inga's Spaghetti Milanese! I am crazy in love with all pasta dishes and I like from very few ingredients to make magic with any sort of pasta. Few tomatoes, more garlic as usual, lots of basil, little bit more wine, spaghetti, parsley, shallot, olive oil, my favorite pecorino cheese…what are you waiting for???
For 2 persons:
300g spaghetti
1 dose of tomato puree
2 big tomatoes cut in cubes without seeds
1 clove of garlic, chopped
1 bigger shallot, chopped
Little bit of olive oil
50ml red wine
2 tsp of parsley, olive oil and garlic mixture (it is not necessary)
1 tsp of sugar
Salt and pepper, chili flakes or fresh chili
Pecorino sir (or other hard cheese)
Fresh basil
Preheat little bit of olive oil and sauté shallot, add sugar and let it caramelize. Add garlic, stir shortly and add tomato cubes. Pour red wine and reduce. Add tomato puree, mixture of parsley, garlic and olive oil if you have, salt, pepper, chili.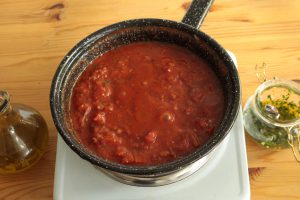 Cook shortly and at the end season to taste if needed.
Cook Spaghetti in lots of salty water. Drain and add to the tomato sauce. Grate pecorino cheese, add fresh basil and enjoy!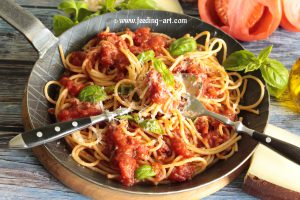 -Croatian version-
Imate li svoj omiljeni talijanski restoran u blizini? Zaljubljeni ste u tjesteninu? Obožavate brza i žestoka jela u 30min? DA, DA i DA? E onda ste u pravo vrijeme na pravom mjestu dragi moji! Dobrodošli kod Inge na porciju Spaghetti Milanese!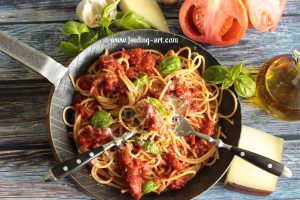 Ja sam ovisna o tjestenini, u svim kombinacijama, a najradije od malo sastojaka volim složiti nepcu neodoljivo jelo!
Milanese…nekoliko rajčica, malo više češnjaka kao i obično, puno svježeg bosiljka, malo više vina, špagete, peršin, ljutika, maslinovo ulje, moj omiljeni pecorino sir za poseban wow u ovom jednostavnom jelu!
Dobar tek!
Za 2 osobe:
300g spaghetta
1 doza pasiranih rajčica
2 velike rajčice, nasjeckane na krupnije kockice, bez sjemenki
1 češnjak češnjaka, sitno nasjeckan
1 veća ljutika, sitno nasjeckana
Malo maslinovog ulja za dinstanje
50ml crvenog vina
2 žličice mješavine maslinovog ulje, češnjaka i peršina (nije neophodno)
1 kavena žlica šećera
Sol i papar, čili pahuljce ili malo svježeg čilija
Pecorino sir (ili neki drugi tvrdi sir)
Svježi bosiljak
Na malo maslinovog ulja prodinstati ljutiku, dodati malo šećera da se karamelizira. Dodati češnjak, promiješati i ubaciti kockice rajčica. Podliti vinom i pustiti da se tekućina reducira. Podliti s pasiranim rajčicama, dodati mješavinu češnjaka, peršina i maslinovog ulja i začiniti sa soli, paprom i čili pahuljicama. Kratko kuhati i na kraju začiniti po potrebi.
Spaghette skuhati u puno slane vode. Pomiješati s umakom, naribati pecorino sir i dodati po želji svježe listiće bosiljka.