Ingredients:
1 small Hokkaido, peeled, deseeded and chopped into chunks
2 small pears, peeled, deseeded and chopped into chunks
1 small onion, chopped
About 25g of fresh ginger, peeled and chopped
1 cinnamon stick
180ml pear juice
About 250-300ml water
Nutmeg (about ½ of small spoon)
Little bit of oil
Salt and pepper
Little bit of lemon juice
Pumpkin seeds
Double cream
Sliced pear
Heat oil and sauté onion, ginger and nutmeg shortly. Add Hokkaido and pear, sauté together for 2-3 minutes. Pour juice and water and bring to boil, then simmer for 20-30 minutes (until Hokkaido is very soft).
Purée with a blender and pour the soup through a fine sieve. If needed, season with salt, pepper and lemon juice.
Serve with pumpkin seeds, double cream, sliced pear and for all pumpkin addict add some homemade pumpkin bread (recipe is in category Bread stories).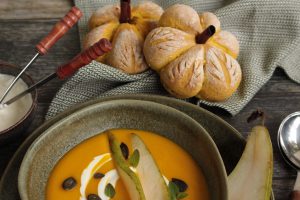 -Croatian version-
Sastojci:
1 manja Hokaido bundeva, oguliti, očistiti od sjemenki i nasjeċi na veče komade
2 male kruške, oguliti i nasjeċi na veče komade
1 mali luk, nasjeckati
Oko 25g svježeg đumbira, oguliti i nasjeckati
1 štanga cimeta
180ml soka od kruške
Oko 250-300ml vode
Muškatni orah (oko pola male žlice)
Malo ulja za dinstanje
Sol i papar
Malo limunovog soka
Bučine sjemenke
Vrhnje
Ploške kruške
Zagrijati ulje te luk, đumbir i muškatni orah kratko prodinstati. Dodati hokkaido i kruške te zajedno dinstati 2-3 minute. Podliti sa sokom i vodom te pokriveno kuhati na srednjoj vatri dok hokaido ne omekša (ca 20-30 minuta).
Juhu purirati i pasirati kroz gušċe cjedilo. Po potrebi začiniti sa soli, paprom i malo limunovog soka.
Servirati uz bučine sjemenke, vrhnje, ploške kruške i ako ste baš jako ovisni o bundevama, uz domaċa peciva u obliku bundeva (recept je po kategorijom kruh).