I am usually late when it comes to gastro trends, so I think I was sleeping when all other were baking leopard/tiger muster bread. But, today is my day, my first breadlicious leopard. The trick is to use rice flour topping, coat bread dough before baking and Voila. I think, I put too much of coating and muster is not so nicely visible, but how does it taste my dear friends! Crust is, thanks to this topping, mega crunchy, but inside is this polenta bread pure heaven…soft, light yellow, fluffy and delicious. Please, let me introduce you to the Sourdough Polenta bread called Tigerlilly.
Ingredients:
100g polenta
100g semola (for homemade pasta)
400g durum wheat flour
15g salt
90g levain (25g starter+45g flour+30g water, mix and rest at the room temperature to increase in volume 2 time)
Ca 545g water (400g boiled water for polenta, ca 125g lukewarm water for mixing flours and ca. 20g to make coil foil)
Flaxseeds
For topping:
3 tbsp rice flour
1 tbsp active starter
1 tbsp polenta
1 tbsp olive oil
1 tbs salt
1 tbs honey
Water as needed (to get a medium thick mixture)
Pour boiled water all over polenta and let it cool down. Sieve the rest of flour, add cold polenta, salt, water and levain. Mix with mixer at lower speed ca 5 minutes, increase speed (medium speed) and mix additional ca 5 minutes.  Cover and rest 30 minutes then repeat the mixing. At the end, dough should be soft but not too sticky. It should separate from the mixing bowl easily and leave the sides relatively clean.
Cover and rest 3 hours, during this time make every 45 minutes stretch and fold. After last rest make lamination and incorporate flaxseeds, cover and rest. Every 45 minutes make coil foil, a total of 2 -4 times, depends how much dough need to get elasticity.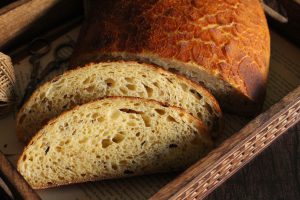 Let it rest at the room temperature until doubled in volume. At the lightly floured working surface form the bread dough as you wish and place in floured banneton. Cover and let it rise in the fridge over the night.
In the morning, mix all ingredients for topping, cover and rest ca 2 hours or until doubled in volume. Heat up the oven at 240 °C with the pot inside (with a lid). Take the bread dough out of the fridge and place carefully on baking paper. Smear with topping 2-3 times. Place in baking pot, put the lid on and bake 20-25 minutes. Lower the temperature at 210 °C and bake ca 15-25 minutes without lid, until bread get nice color (or bread core temperature 97°C). If bread darkness too quickly, lower the temperature and cover with baking paper.
But, as always, temperature and time of baking depends on oven.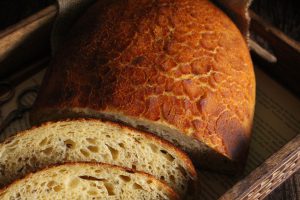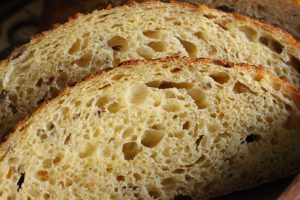 -Croatian version-
Kada su u pitanju gastro trendovi, ja ih obično prespavam, sjedni 1 Inga! Tako bijaše i s leopard/tigar uzorkom na kori kruha. Oduševila sam se slikama u online svijetu, pa hajde da se okušam. Tajna je u premazu od rižinog brašna, a ja sam se malo zaigrala pa debelo namazala i mustra nije baš ekstra vidljiva. Ali ako se koncentrirate na 2 dio videa, postoji mogućnost da ugledate i leoparda na kori ovog prefinog kruha od palente. Korica je savršeno hrskava, a unutrašnjost božanstveno mekana, blago žute boje i sjajnog okusa.
Sastojci:
100g palente
100g grana duro brašno za tjesteninu
400g durum pšenično brašno
15g soli
90g levain (25g starter+45g brašno+30g vode, pomiješati i ostaviti na toplome da se 2- 3 puta poveća)
Ca 545g vode (400g prokuhati za palentu, ca 125 mlake vode za povezivanje brašna i ca 20 za ruke prilikom oblikovanja tijesta)
Lanene sjemenke
Za premaz:
3 jušne žlice rižinog brašna
1 jušna žlica aktivnog startera
1 jušna žlica palente
1 jušna žlica maslinovog ulja
1 kavena žlica soli
1 kavena žlica meda
Mlake vode toliko da dobijete mazivu, srednje gustu smjesu.
Palentu preliti s 400g prokuhane vode i ostaviti da se ohladi. Ostalo brašno prosijati, dodati ohlađenu palentu, sol, vodu i levain te miksati mikserom prvo na najnižoj brzini ca 5 minuta pa povećati na srednju 5 minuta. Prekriti i ostaviti da stoji pola sata pa ponoviti miksanje. Tijesto bi trebalo biti mekano, ali se odvajati od posude .
Prekriti i ostaviti da odmara 3 sata u tijeku kojih svakih 45 minuta napraviti preklapanje. Nakon toga laminirati s lanenim sjemenkama i ostaviti prekriveno da miruje. Svakih 45 minuta napraviti coil foil, ukupno 2 -4 puta ovisi koliko je tijestu potrebno da ne bude premekano i jako ljepljivo.
Ostaviti pokriveno na sobnoj temperaturi da se tijesto podupla. Na lagano pobrašnjenoj radnoj plohi oblikovati štrucu kruha i staviti u košaruza dizanje. Prekriti kapom za tuširanje i ostaviti u hladnjaku tijekom noći.
Ujutro pomiješati sve sastojke za premaz i ostaviti na toplome da se udvostruči (ca 2 sata na sobnoj temperaturi). Zagrijati pećnicu na 240 °C s posudom s poklopcem za pečenje kruha. Netom prije stavljanja kruha u pećnicu, izvaditi košaru s kruhom iz hladnjaka. Pažljivo okrenuti i položiti na papir za pečenje te premazati premazom 2-3 puta. Staviti u zagrijanu posudu, poklopiti i peći 20-25 minuta s poklopcem. Spustiti temperaturu na 210 °C te peći 15-25 minuta bez poklopca dok ne dobije lijepu boju (ili ca temp u unutrašnjosti kruha od 97°C ). Ako kruh tamni prebrzo, prekriti ga papirom za pečenje. Temperatura i vrijeme pečenja ovisi o pećnici.