Traditional French sweet bread Brioche, with its soft and fluffy texture, is something you need to treat yourself from time to time. Sweet buttery flavor with irresistible taste of vanilla and lemon, this is perfect Brioche.  Do not be surprised for this small quantity of sugar in recipe, it is more than enough. You can enjoy brioche with your favorite jam, cheese or chocolate spread, but for me they are just perfect on its own. For this Easter I gave him a brand new look :).
Pre-ferment:
120g white strong/bread flour ( I used yellow white flour 550)
1 tsp caster sugar
40g active starter
120g warm milk (30-35C)
Mix all ingredients and cover with shower cup. Leave to ferment in a warm place  until is bubbling (I left it at the room temp over the night).
Ingredients for main dough:
400g white strong/bread flour ( I used yellow white flour 550)
60 g sugar
1 tsp salt
4 eggs, lightly beaten
160g butter, softened (leave it at the room temperature over night
2 tsp of vanilla powder
Zest of 1 lemon and juice of ½ lemon
Zest of 1 orange
1 tsp of cardamom
100g cranberries, soaked in rum
100g chocolate chunks
Others:
For egg wash use 1 lightly beaten egg and 2 tbsp milk
Decoration:
Pearl or nibbed sugar
In large mixing bowl sieve flour, add sugar, salt, vanilla, lemon zest and juice.  Add the lightly beaten eggs pre ferment and knead dough, at first with mixer. After ingredients come together, dough will be slightly sticky. Divide butter in 5 parts. Start with first part of butter by squashing the butter with your hands into the dough. After that repeat with second part and so on until last peace butter is incorporated.
Cover and rest for 1 hour, but every 15 minutes knead little bit (gentle). After 1 hour let the dough rest until doubled in volume.
Remove the dough from the bowl and place it on a work surface dusted with flour.
Form a boule and place it in buttered baking form. Cover with a shower cap and let them double in volume. Preheat the oven on 170 C.
Paint the top of brioche with egg wash and sprinkle some pearl or nibbed sugar on the top. Bake for about 45-50 minutes, depends on oven (or internal temp., 90-93°C), lower the temperature if they get brown too quickly. Put baking paper at the top of brioche after 15-20 minutes).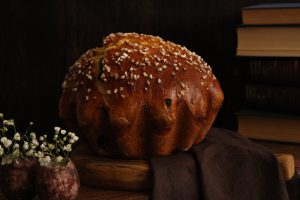 -Croatia version-
Brioche, tradicionalna francuska slatka peciva, bogate, mekane, nježne teksture i neodoljivog okusa maslaca, vanilije i limuna. Nemojte da vas iznenadi na prvi pogled mala količina šećera. Ona je i više nego dovoljna da uz sve ostale sastojke brioche imaju okus baš kako treba. I da u njima možete uživati uz omiljeni pekmez, neki slatki ili sirni namaz. Meni je najukusniji bez ikakvih dodataka.
Ove godine ispekla sam ga u formi kuglofa, da dobije pravi, uskršnji svečani izgled .
1 dan: Predtijesto:
120g bijelog brašna 550/brašna za kruh (ja sam koristila brašno iz pšenice žute sredine zrna 550)
1 čajna žlica šećera u prahu
40g aktivnog startera
120g toplog mlijeka (30-35C)
Pomiješati sve sastojke i prekriveno ostaviti na sobnoj temperaturi da fermentira (ja sam je ostavila tijekom noći).
2 dan: Glavno tijesto
Sastojci:
400g bijelog brašna 550/brašna za kruh (ja sam koristila brašno iz pšenice žute sredine zrna 550)
60 g šećera
1 čajna žlica soli
4 jaja, lagano umućena
160g mekanog maslaca (ostavite ga tijekom noći na sobnoj temperaturi)
2 čajna žlica vanilije u prahu
Korica od 1 limuna i sok od pola limuna
Korica od 1 naranče
1 čajna žlica kardamoma
100g suhih brusnica, prethodno namočenih u rum
100g komadića čokolade (otpornih na visoke temperature pečenja)
Ostalo:
Za premaz 1 jaje lagano umućeno s 2 jušne žlice mlijeka ili vrhnja za šlag
Dekoracija:
Granulirani šećer
Prosijte brašno te mu dodajte šećer, sol, sok i koricu limuna. Potom i lagano tučena jaja i fermentirano predtijesto. Možete na početku povezati sve sastojke s mikserom na srednjoj brzini (ali kratko), a potom dodavati omekšali maslac. Maslac dodajete postepeno, najbolje ga je podijeliti na 5 porcija. Počnite s prvim dijelom maslaca koji lagano umijesite u tijesto (nemojte predugo mijesiti). Čim se maslac stopio s tijestom, dodajte drugi dio i umijesite. Ponavljajte sve dok ne umijesite cijelu količinu maslaca.
Prekriti kapom za tuširanje i ostaviti da miruje na toplome 1 sat, ali svakih 15 minuta kratko i nježno premijesite tijesto (ne stiskajući previše). Nakon 1 sata ostavite tijesto da pokriveno miruje dok se ne udvostruči u volumenu.
Prebacite tijesto na radnu površinu koju ste prethodno posuli s malo brašna. Tijesto je ljepljivo, ali nemojte dodavati previše brašna.
Oblikujte kuglu i stavite u formu za pečenje koju ste prethodno premazali maslacem. Prekriti i ostaviti na toplome da se udvostruči u volumenu. Zagrijte pećnicu na 170C.
Premazati brioche mješavinom jaja i mlijeka ili vrhnja za šlag i posuti granuliranim šećerom. Peći oko 45-50 minuta (unutrašnja temp bi trebala biti oko 90-93°C), po potrebi smanjiti temperaturu i nakon 15-20 minuta staviti papir za pečenje kako brioch ne bi jako potamnio.