According to the book "La Cucina" by the Italian Culinary Academy in Milan, spaghetti Puttanesca dish originates from Rome at a time when dishes with stronger spices have become popular. Since both capers and anchovies have a rather strong and aromatic taste, it is easy to understand this description.
However, since I like more intriguing gastro stories, I tend to believe the anecdote that the dish originated in brothels of central Italy that were organized in the 50s in the so-called closed houses, and were owned by the city. Prostitutes were only allowed to leave the brothel only once a week to shop. Therefore, they bought groceries with a longer shelf life of which they could cook a meal in a short time.
And this dish was created from ingredients that every house has always had on the shelves in the kitchen – anchovies, capers, olives, pasta.
And since Italian cuisine is unthinkable to me without homemade pasta, with this simple and quick dish full of aromas I serve of course homemade spaghette.
For 2 servings:
For homemade spaghetti:
150g semola di grano duro
150g AP flour 405
3 eggs
1 tsp oil
½ tsp salt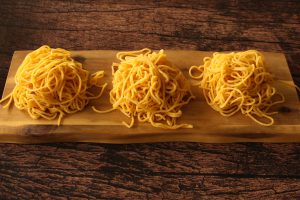 From all ingredients knead a dough. Wrap with cling foil and rest at least 1 hour or over the night in the fridge. Roll the lump of pasta dough through the widest setting of pasta machine.  If the pasta sticks, lightly dust it with flour. Fold the pasta in half from each side and roll the dough through again. Repeat this process several times, until you get long rectangular shapes. Work the pasta dough through all the setting on the machine, from the widest till the narrowest (for spaghetti I did last size 4 from 9 on my pasta maker). Lightly dust both sides of the pasta if needed.
To make spaghetti, use spaghetti dough machine attachment. Cook only few minutes in salted water.
Puttanesca sauce:
6 anchovies finely chopped
3 cloves of garlic (2 sliced and 1 finely chopped)
Little bit of chili
70g black olives, sliced
1 tbsp of capers
1 can of chopped tomatoes (or ca 3 big, fresh tomatoes)
Olive oil
Salt and pepper if needed
Parsley, chopped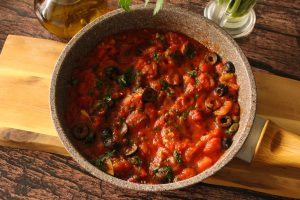 Preheat the oil in a pan then add the peeled garlic, the chilli and the chopped anchovies. Saute shortly and add sliced olives, capers and tomatoes. Sauté all the ingredients and cook for up to 10-15 minutes or until the sauce has reduced. At the end add chopped parsley and salt and pepper if needed.
-Croatian version-
Prema knjizi "La Cucina" talijanske akademije kulinarstva u Milanu, jelo Spaghetti Puttanesca potječe iz Rima u doba kada su postala popularna jela s jačim začinima. Kako su i kapari i inćuni prilično jakog i aromatičnog okusa, lako je razumjeti ovaj opis.
Međutim, kako ja volim intrigantnije gastro priče, sklona sam vjerovati anegdoti da je jelo nastalo u bordelima srednje Italije koji su 50tih godina bili organizirani u tzv. zatvorenim kućama, a bili su u vlasništvu grada. Prostitutke su smjele samo jednom tjedno izaći iz bordela u kupovinu, te su uglavnom kupovale namirnice dužeg roka trajanja. Stoga je ovo jelo nastalo od sastojaka koje je svaka kuća uvijek imala na policama u kuhinji – inćuni, kapare, masline, tjestenina.
A kako je meni talijanska kuhinja nezamisliva bez domaće tjestenine, uz ovo jednostavno i brzo jelo prepuno aroma serviram naravno domaće spaghette.
Za 2 osobe
Za spaghette:
150g semola di grano duro
150g glatkog brašna
3 jaja
1 kavena žlica ulja
Malo soli
Od navedenih sastojaka umijesiti tijesto. Umotati u foliju i ostaviti da odmara minimalno sat vremena ili cijelu noć u hladnjaku. Razvaljati na mašini za tijesto na srednju debljinu (na mojoj mašini širina 4 od mogućih 9).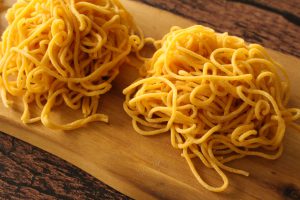 Potom uz pomoć nastavka za spaghette napraviti tjesteninu. Kuhati kratko u slanoj vodi.
Sastojci za umak:
6 inćuna sitno nasjeckanih
3 češnja češnjaka (2 narezati na listiće, jedan sitno nasjeckati)
Po želji malo čilija
70g crnih maslina narezanih na kolutove
1 jušna žlica sitnih kapara
1 doza na kocke narezanih rajčica (ili ca 3 velike svježe rajčice)
Malo maslinovog ulja
Sol i papar po okusu
Peršinov list, nasjeckan
Na maslinovom ulju popržiti sardele, češnjak i čili. Kada češnjak dobije malo boje, dodati kapare, masline i nasjeckane rajčice. Par minuta na laganoj vatri kuhati te na kraju dodati sjeckani peršin.
Po okusu dodati sol i papar. S obzirom da su sardele i kapari slani, sol i papar dodati tek na kraju.