Our favorite and the easiest sourdough bread ever – Multigrain sourdough bread! I only recently found out how amaizing Emmer flour is. It gives fantastic dark color, delicious taste. You can even say that you are eating a piece of cake. On our tabel is almost every week. Bread is even after 8 days still fresh and delicious.
Ingredients for dough:
250g Emmer flour
250g whole wheat flour
290g water
100g active starter
30g honey
30g olive oil
15g salt
Seeds for dough:
30g pumpkin seeds
30g sunflower seeds
30g amarath
30g rye oats
Mix all seeds for dough, pour with ca. 150 ml of boiled water, cover with cling foil and soak for 10-12 hours or overnight.
Others:
Oatmeal
Method:
Mix all ingredients for dough together with mixer until all come together, but not too long. Add soaked seeds for dough and continue to mix. Mix at first on low speed, than on higher speed, until dough smooth is and do not stick to the bowl. The dough should not exceed temperature of 25-26 ⁰C
Cover and rest for about 3-5 hours or until doubled in volume. In this time you can make stretch and fold every 30 or 45 minute (max 3 times). But stretch and fold is not necessary, you can just rest dough until doubled in volume (at the room temperature).
Dust working surface with a little bit of flour, place the dough and shape. Put in oiled pan sprinkled with some oats or/und seeds 23*13cm*7cm (I used butter instead of oil).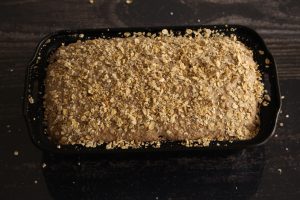 Cover with shower cap and rest in fridge overnight at 4-5 C. Or let it rise at the room temperature 1-2 hours until dough reach the edge of the pan.
Sprinkle some water and oats at the top of the bread.
Preheat oven at 230C with one pot for water. When oven reach 230 C, pour some water in the pot, lower the temp at 180-200 C and bake until bread get nice color and bread temp is about 94-96 C. After 20 minutes of baking, remove pot with water from the oven.