Ingredients:
300g Emmer flour
200g Spelt 1050
300g cooked and smashed potatoes (cook potatoes with skin, peel and smash with fork). Cool down before use.
15g olive oil
15g salt
Ca 250-270g water, cold
50g fried onion
100g poolish (20+40+40)
In the morning mix 20g starter, 40g flour and 40g water. Let it rise until doubled.
Sieve flour and put in one bowl. Add polish, oil, fried onion, potatoes and ca 220g water. Mix using lower speed (at the beginning 1, after 2) for about 5 minute or until all ingredients are combined.
Add salt and the rest of the water and mix using different speed until your dough past window test.
Let the dough rest for about 2 hours, but every 30 minutes perform stretch and fold (3 or 4 times). If dough too wet is, use little bit of water to perform stretch and fold.
Let the dough rise until doubled. Grease baking form with butter and sprinkle some semolina or oats, seeds, etc..
Put some flour on the working surface. Gently place the dough and form boule, batard or any other form you like.
Place formed dough in a baking form and put in the fridge for long cold fermentation (14-18 hours).
Next day, preheat the oven on 230 C with a small bowl of water (to create steam).
Put the bread dough (direct from fridge), after 10 minutes lower the temp on 200 C. Bake until core temp reached ca 95-98 C.
After 25 minutes remove pot with water, if needed cover bread with baking paper.
Cool down on the rack.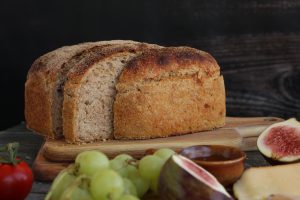 -Croatian version-
Sastojci:
300g Emer brašna
200g crnog brašna 1050
300g kuhanog i vilicom usitnjenog krumpira (krumpir kuhati s korom, oguliti i usitniti). Dobro ohladiti prije korištenja, može se skuhati i dan ranije.
15g maslinovog ulja
15g soli
Oko 250-270g vode, hladne
50g fritiranog luka
100g poolish (20+40+40)
Ujutro pripremite poolish (pomiješajte 20g startera, 40g brašna i 40g vode. Ostavite na sobnoj temperaturi da se udvostruči.
Prosijati brašno i staviti u posudu za miješanje. Dodati poolish, ulje, fritirani luk, krumpir i oko 220g vode. Miksati prvo na nižoj brzini (na početku brzina 1, poslije brzina 2) oko 5 minuta, ili dok se satojci ne sjedine.
Dodati sol i ostatak vode i nastaviti miksati kombinirajući do brzine 4. Paziti da temperatura tijesta ne prelazi 26 C. Uzmite komadić tijesta i razvucite rukama tanko poput kore za štrudlu. Ako ne puca, tijesto ne treba više mijesiti.
Ostavite tijesto da odmara oko 2 sata tijekom kojega napravite "stretch and fold" svakih 30 minuta (3 ili 4 puta). Ako je tijesto dosta vlažno, malo namočite ruke s vodom.
Ostavite tijesto na sobnoj temperaturi, prekriveno, dok se ne udvostruči u volumenu. Premažite formu za pečenje maslacem i pospite semolinom ili zobenim pahuljicama (po želji i nekim sjemenkama).
Na radnu površinu stavite malo brašna te pažljivo prebacite tijesto. Oblikujte po želji i stavite u formu za pečenje. Prekrijte kapom za tuširanje i ostavite u hladnjaku na dugoj, hladnoj fermentaciji (14-18 sati).
Slijedeći dan zagrijte pećnicu na 230 C s malom posudom s vodom (radi pare).
Prije nego stavite kruh da se peče, pošpricajte s malo vode i pospite semolina brašnom. Stavite kruh u zagrijanu pećnicu, nakon 10 minuta smanjite temperaturu na 200 C, a po potrebi kasnije na 180 C. Pecite dok kruh ne dobije lijepu boju i ne dosegne unutrašnju temperaturu od 95 do 98 C.
Nakon 25 minuta izvadite malu posudu s vodom i ako kruh brzo tamni, stavite gore papir za pečenje.
Prije rezanja, dobro ohladiti.