No need to say a word…just enjoy
Applesauce:
Apple, butter, sugar, honey, cinnamon sticks, thyme, wine, apple juice
Apple peel and cut into small cubes, if you do not fry them immediately, put them in cold water (apple are fast dark). In the pan, Melt the butter in the pan, put apple in it, and sprinkle the apple with sugar to caramelize them. Add a little bit of honey, fresh thyme and cinnamon stick, stir, pour with white wine and reduce. Briefly boil with the addition of apple juice.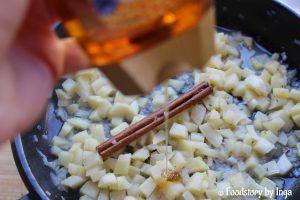 Take one spoon of cooked apple cubes for decoration. The rest of mixture place in a large bowl and mix it in apple mousse. I left one part of applesauce a mousse (served on a white plate), and in the second version on the green plate I diluted apple mousse with apple juice and it was more like a thinner sauce.
For pine nuts: fry pine nuts without fat.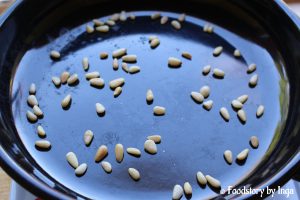 Wild garlic pesto:
Wild garlic, parmesan, feta cheese, olive oil, walnuts, almonds, pepper and lemon juice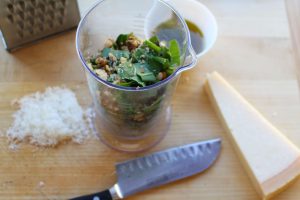 For pesto: put wild garlic and coarsely chopped walnuts and almonds in a high bowl and mix it with olive oil in compact mass. Season with pepper and lemon juice, add finely grated parmesan and little bit of feta cheese. Stir well and season if needed.
Filling for tortellini:
Wild garlic pesto
Fresh cheese
Mix both ingredients well and use it as filling for tortellini.
For tortellini:
How to make homemade Black Magic pasta: http://feeding-art.com/2017/05/03/black-magic-pastablack-magic-tjestenina/
From black magic pasta make circles (with a glass or form), put some filling from cheese and wild garlic peso at the first part of circle.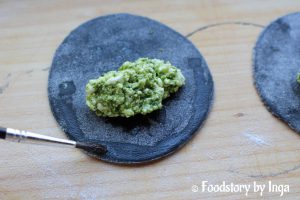 Coat the edges with water, place other part of tortellini all over and for tortellini. Cook them in boiled, salted water. They are cooked in two-three minutes.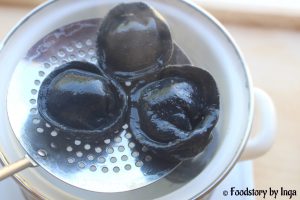 How to serve them…..:
On the white plate: put apple mousse like a line in the middle of the plate. Serve two pieces of tortellini as well as 1/2 from third one. As decoration- fried pine nuts, apple cubes and fresh thyme. Place, on the plate, small bowl with extra apple mousse.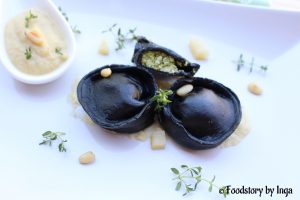 Green plate: add apple juice in apple mousse to make apple sauce. Pour apple sauce in the middle of the plate, put two whole tortellini and one cut in half. For decoration use fried pine nuts, apple and cinnamon stick.
-Croatian version-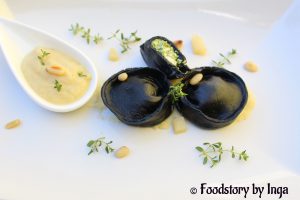 Umak od jabuka:
Jabuke, maslac, šećer, med, štapić cimeta, timijan, vino, sok od jabuka
Jabuke oguliti i narezati na sitnije kockice, ako ih ne dinstate odmah, stavite ih u hladnu vodu da ne potamne. U tavici rastopiti maslac i prodinstati kratko jabuke te karamelizirati šećerom. Dodati malo meda, svježeg timijana i štapić cimeta, promiješati i podliti s malo bijelog vina te reducirati.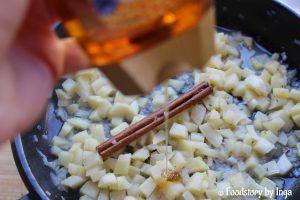 Kratko prokuhati uz dodatak soka od jabuka. Prije puriranja u umak odvojite žlicu smjese za dekoraciju, kako biste imali i jabuke u kockicama na završnom tanjuru. Ostatak mase stavite u visoku posudu i purirajte da dobijete umak. Ja sam jedan dio umaka ostavila u gušćoj verziji više kao mousse (servirano na bijelom tanjuru), a u drugoj verziji (na zelenom tanjuru) razrijedila sam umak sa sokom od jabuka te je više bio kao rjeđi umak.
Pinjole prepržite kratko na tavici bez masnoće.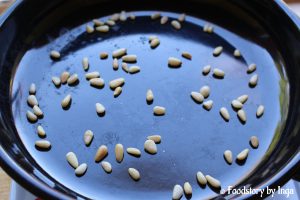 Pesto od medvjeđeg luka:
Medvjeđi luk, parmezan, feta sir, maslinovo ulje, orasi, bademi, biber i limunov sok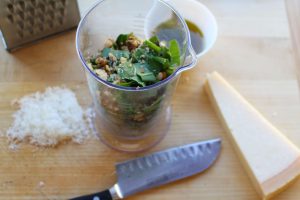 Za pesto: medvjeđi luk, grubo narezane bademe i orase staviti u visoku posudu i uz dodavanje maslinovog ulja purirati u kompaktnu masu. Začiniti biberom i limunovim sokom te dodati fino ribani parmezan i malo feta sira. Kratko purirati i po potrebi još začiniti ili dodati maslinovog ulja.
Punjenje za torteline:
Pesto od medvjeđeg luka
Svježi sir
Ova dva sastojka pomiješati i koristiti kao fil za torteline.
Za Torteline:
Izrada tijesta na linku: http://feeding-art.com/2017/05/03/black-magic-pastablack-magic-tjestenina/
Iz tanko razvaljanog tijesta pomoću modle ili čaše izraditi krugove, staviti fil od svježeg sira i medvjeđeg pesta na prvi dio tijesta,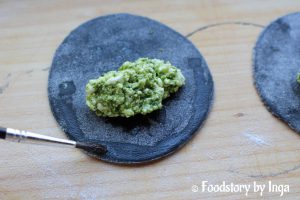 rubove tijesta premazati vodom, preklopiti s drugim dijelom kruga i formirati torteline. Kuhati u posoljenoj vodi, gotovi su kada isplivaju na površinu.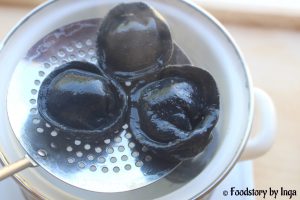 Serviranje:
Na bijelom tanjuru: staviti umak od jabuka, gustoće kao mousse, u tankoj liniji na sredini tanjura pomoću široke četkice. Servirati 2 tortelina te jednu polovicu povrh ova dva. Dekorirati preprženim pinjolima i komadićima dinstanih jabuka te svježim timijanom. Posebno u jednoj manjoj zdjelici servirati manju količinu moussa od jabuka.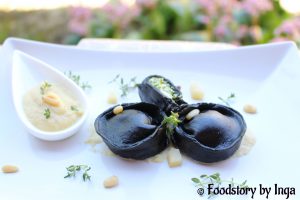 Na zelenom tanjuru: mousse od jabuka razrijediti do konzistencije rjeđeg umaka, servirati dva tortelina uz dodatak pinjola, jabuka i štapića cimeta. Treći tortelin prerezati i servirati pored. U ovom slučaju extra zdjelica s umakom nije potrebna.