Trying to use active carbon did not stop only with making bread, I used it for pasta too. Magic black color, no specific taste or smell, very attractive on the plate. Because of its neutral taste, you can combine it with all sorts of ingredients. Real inspiration for Asian vegetables, ginger, soya sauce….And one part of dough I used to make Tortellini with wild garlic pesto and cheese surrounded by apple-white wine mousse and pine nuts. Stay tuned for Tortellini recipe soon in Blog!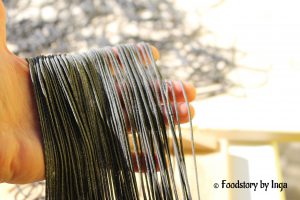 Recipe:
200g white flour
Active carbon, powder
Cayenne pepper
2 eggs
Little bit of salt
One spoon oil
Water if needed (if eggs are too small)
Place the flour on a board, make a well in the centre and crack the eggs into it. Add some salt and oil. Using your fingers, mix the eggs with the flour, incorporating a little at a time, until everything is combined.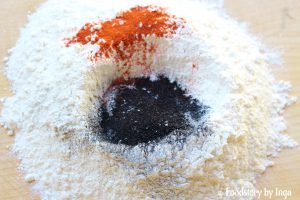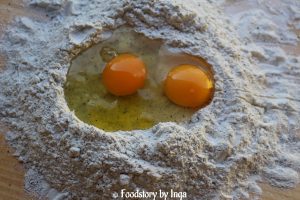 Add little bit of water if needed (if eggs are too small). Knead the pieces of dough together until all bind together to give you one smooth lump of dough. Wrap it in cling film and put it in the fridge to rest for an hour before you use it.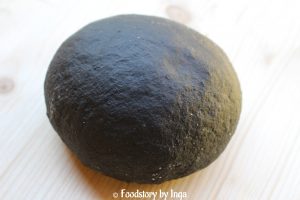 I have at home my mammas pasta machine and it still makes beautiful homemade pasta! At the beginning, dust your work surface with flour. Take a lump of pasta dough the size of lemon. Press it out flat gently. Roll the lump of pasta dough through the widest setting of pasta machine. If the pasta sticks, lightly dust it with flour. Fold the pasta in half from each side and roll the dough through again. Repeat this process several times, until you get perfect long rectangular shapes and your own pasta smooth as silk is.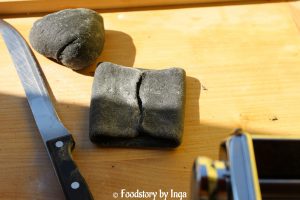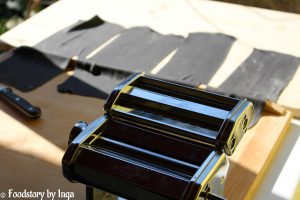 Work the pasta dough through all the setting on the machine, from the widest till the narrowest. Lightly dust both sides of the pasta if needed.
When your pasta is rolled the way you like, shape or cut it immediately…pasta dries quickly!
At the end I got this beautiful black spaghetti.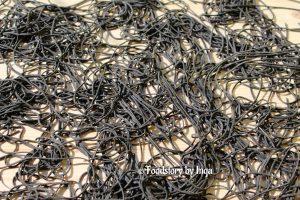 As well as, black magic Tortellini. Soon recipe for beauties…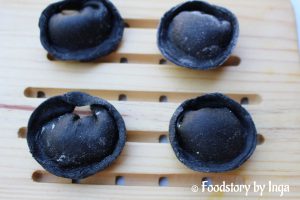 Enjoy!
–Croatian version-
Isprobavanje aktivnog ugljena, osim pri izradi kruha, nastavila sam i s tjesteninom. Divna boja i prva inspiracija je napraviti prilog na azijski, wok povrće (baby klipići kukuruza, mlade tanke mahune, đumbir…), soja sos…ali me put ruku naveo i na izradu Tortelina punjenih svježim sirom i pestom od medvjeđeg luka. I okusom i bojama prelijepa kombinacija. Bez straha, ova tjestenina nema nikakav poseban okus ili miris zbog aktivnog ugljena te se može koristiti s bilo kojim namirnicama u daljnoj obradi. U ovom receptu donosim samo izradu tjestenine, a u slijedećem piču o Black Magic Tortelini u umaku od jabuka i timijana s dodatkom pinjola…a sada recept za tjesteninu: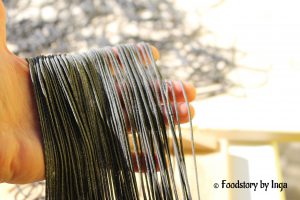 200g bijelog brašna
1 žličica prosijanog aktivnog ugljena
2 jaja
Mlake vode po potrebi (ako su jaja premala)
Malo ulja i soli
Kajenski papar
Prosijati brašno, napraviti u sredini udubljenje i staviti dva jaja, malo soli i po želji malo ulja. Zamijesiti kompaktno tijesto, po potrebi dodati malo vode (ako su jaja mala).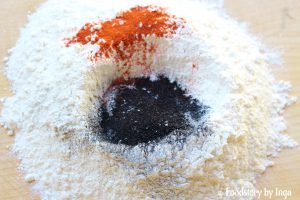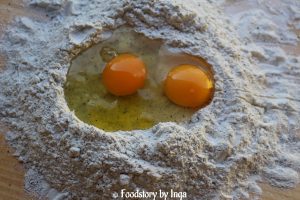 Zamotati u prianjajuću foliju i ostaviti da miruje pola do jednog sata.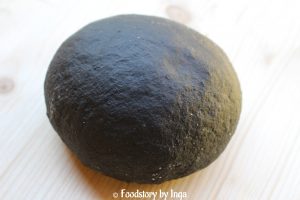 Rukama stisnuti tijesto i izrezati na 4 dijela. Svaki dio prvo provući kroz mašinu za tijesto na broju 1 (ako vam je to najširi dio na valjku mašine). Prvo valjanje dati će prilično neravni pravokutnik pa ga presavijte sa svake strane prema sredini i ponovo pustite kroz valjak mašine, ali sada na broju 2.
Ponavljajte korak 2 dok ne dobijete fino, ravnomjerno i tanko tijesto. Ja sam ga valjala do širine 6 (maksimalno ih imam 7 na mašini). S time da čim dobijete ravnomjerni pravokutnik, nije potrebno krajeve savijati prema sredini i onda valjati (kao što je navedeno kod prvog valjanja).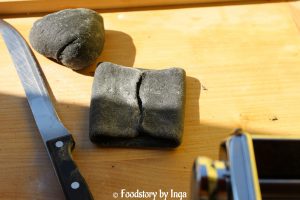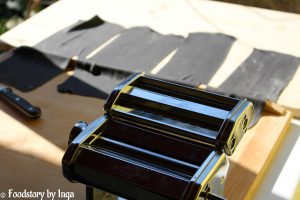 Mislim da sam na širini 3 ili 4 dobila pravilnu liniju tijesta i onda sam samo provlačila kroz sve uže i uže.
Na kraju sam ih izradila u prekrasne crne špagete….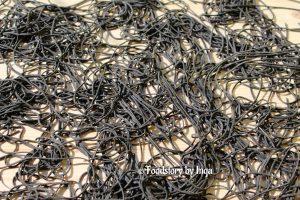 a dio upotrijebila za Torteline punjene sirom i pestom od medvjeđeg luka..uskoro recept za ove ljepotice na blogu..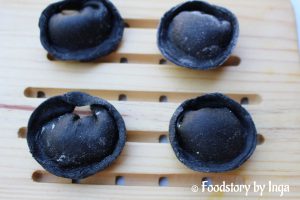 Dobar tek!