How I promised, I prepared lots of fresh and tasty vegetables with white wine to serve with my beautiful orange pasta from red lentil flour (recipe is already on my blog). Until pasta is cooked (which takes only minute or two when you have fresh homemade pasta) bright orange color is gone, but it does not disturb irresistible taste of your own pasta. I was lucky enough to find domestic wild asparagus in Zagreb and beautiful pioppino mushrooms and fresh spinach on the market in my hometown Vinkovci…so inspiration for cooking was already there. Let's see what kind of magic was in my pot.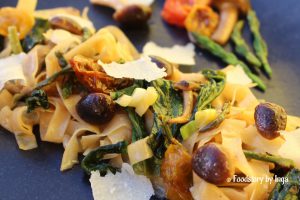 My biggest problem is, when I got idea what to cook and what ingredients to use, I cannot control my hands from not going to the fridge and choose some surprise ingredients to put in a pot J…But at the end it is all about how delicious is it, right? Do not tell me, after this recipe, that girl from Slavonia cannot cook light and delicious…from time to time….well, bon appetit!
Recipe:
20 wild asparagus
100 g pioppino mushrooms
50 ml white wine
10 semi-dried cherry tomatoes
40g butter
1 shallot and one clove of garlic
Olive oil, salt and pepper
1 scallion
100 g spinach
Vegetable stock as needed (about 1dcl)
Homemade pasta (in this recipe red lentils flour)
Let's cook it!
Stir fry on olive oil chopped shallot and garlic, add little bit of butter and mushrooms and stir fry approximately 5-7 minute. Then add blanched asparagus, fresh spinach, scallion and homemade semi-dried cherry tomatoes.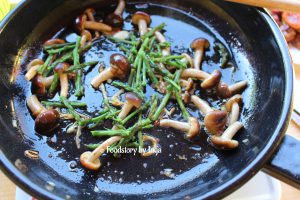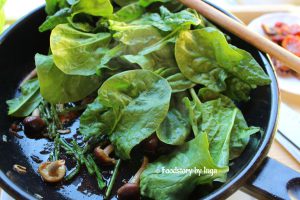 When spinach is wilted, add white wine and reduce. Pour little bit of vegetable stock. Season as needed with salt and pepper. At the end put little bit of butter to make sauce tasty.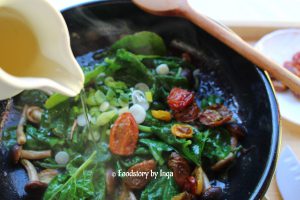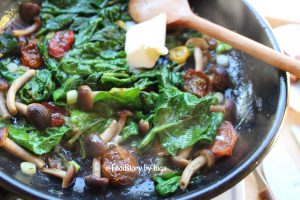 In the meantime cook the pasta. I used homemade fresh pasta (red lentil flour, you can find recipe in my blog) which you are supposed to cook only minute or two.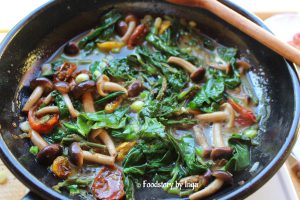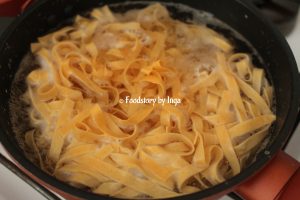 When pasta is cooked, put it in a pan with vegetable sauce and stir carefully. Serve with roughly grated Grana Padano cheese….and glass of wine…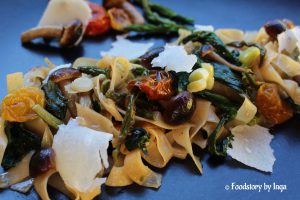 -Croatian version-
Kao što sam i obećala, uz domaću tjesteninu od brašna crvene leće (recept u prethodnom postu) pripremila sam lagano dinstano povrće s bijelim vinom. Narančasta boja izgubi se pri i tako kratkom kuhanju, ali okus domaće tjestenine jednostavno je neodoljiv bez obzira na boju. Imala sam sreće da sam u Zagrebu našla divlje šparoge koje su svježe stigle samnom u Vinkovce i inspirirale me na ovaj lagani obrok, a na vinkovačkoj tržnici obradovale su me prelijepe jablanovače i svježi špinat ……..pa idemo kuhati.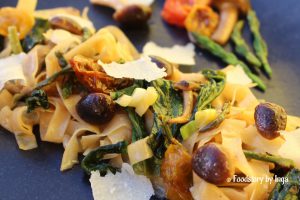 Moj problem je što u glavi imam jednu ideju što sve staviti u tavu, a kad krenem kuhati, ruke same odu do hladnjaka i ubace poneku namirnicu iznenađenja :)…ja ne važem baš u dcl vino i temeljac ili maslac u gram, tako da će iskusni hedonisti znati koliko im vina, gustoće ili masnoće po okusu treba i prilagodoti si onako kako to vole…sve u svemu, bitno je da se na kraju poliže tanjur! I neka mi netko onda kaže da Slavonke ne znaju kuhati laganini..s vremena na vrijeme jel…dobar tek!
Potrebno:
20 tak divljih šparoga
100 g jablanovača
50 ml bijelog vina
10-tak polusušenih rajčica
40g maslaca
1 ljutika i češanj češnjaka
Maslinovo ulje, sol i biber
1 mladi luk
100 g špinata
Po potrebi povrtni temeljac (oko 1dcl)
Domaća tjestenina (u ovom receptu od brašna crvene leće)
Pa skuhajmo…
Na maslinovom ulju dinstajte narezanu ljutiku i češnjak te dodati malo maslaca i jablanovače pa pustiti koju minutu da se dinstaju. Potom dodati kratko blanširane šparoge, svježi špinat, na kolutove narezani mladi luk i domaće polusušene rajčice.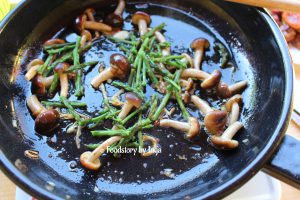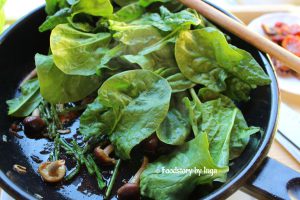 Kada špinat malo uvene, podliti bijelim vinom i reducirati te dodati malo povrtnog temeljca. Po potrebi začiniti solju, paprom i završiti dodavanjem komadića maslaca.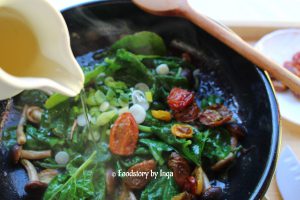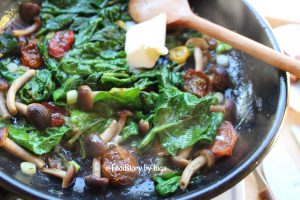 U međuvremenu skuhati tjesteninu. Ja sam koristila svježe napravljenu tjesteninu od brašna crvene leće (recept je na blogu) i kao takvu treba je kuhati vrlo kratko, minutu-dvije.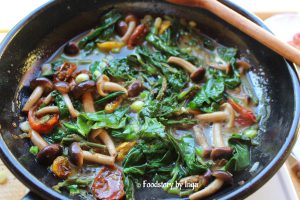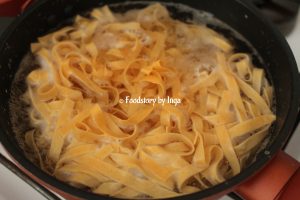 Ubaciti skuhanu tjesteninu u tavu s povrćem i promiješati. Servirati uz listiće parmezana…i čašu vina…Dobar tek 🙂