I am really in love with Italian kitchen. Pasta, pasta and only pasta….parsley, and cherry tomatoes. Homemade olive oil and garlic….and if you love chili and shrimps…Of Course, I am talking about The Classic of every proud Italian human being, and two years ago one proud girl from Slavonia – Aglio e Olio! At the very first look very simple meal, but this one is asking little bit of cooking experience in the kitchen….pasta is supposed to be al dente, garlic should be crispy but not too dark colors. Be generous with coarse ground pepper…And I made it, inspired with one pasta workshop with Italienische Cook Angela Zicara, Aglio e Olio with Scampi without chili, but with generous amount of garlic and pepper…
Well, let's take a ride for a day to Bella Italy…with tastes, smells and pictures….Ciao a tutti!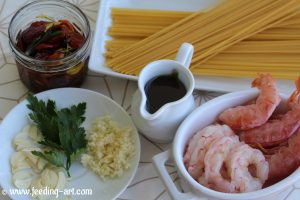 Ingredients:
Spaghetti
3 cloves of garlic cut lengthwise
3 cloves of garlic, chopped
Olive oil
Homemade semi-dried tomatoes (different colors)
Salt and coarse ground pepper
Parsley, fresh
Shrimps (10 pieces)
Cook Spaghetti according to directions. In a pan, pre-heat olive oil and fry shrimps, season with salt and pepper. In a second pan on pre-heated olive oil fry garlic cut lengthwise, they should not have too dark color. Shortly before it is finished, add chopped garlic and fry together for 1 minute. Add semi-dried tomatoes ( http://feeding-art.com/2017/05/11/semi-dried-tomatoespolususene-rajcice/), shrimps, cooked Spaghetti and stir it well.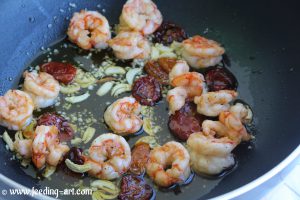 Season with salt and pepper if needed. Serve with freshly chopped parsley.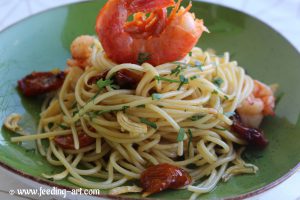 -Croatian version-
Zaljubljena sam u talijansku kuhinju. Pasta, pasta i samo pasta…svježi peršin i mini rajčice. Fino maslinovo ulje i češnjak….pa još ako volite čili i škampe…Naravno, pišem o klasiku svakog ponosnog talijana, a od prije dvije godine i ponosne Slavonke – Aglio e Olio! Na izgled jednostavnog jela, koje ipak traži i određene vještine u kuhinji…tjestenina mora biti al dente, ploškice češnjaka nikako ne smiju potamniti, a sitno kosani češnjak doslovno minutu-dvije pržiti. Ne štedite na crnom, grubo mljevenom papru…A ja sam, inspirirana tečajem izrade tjestenine kod, naravno, talijana Angela Zicara, ovaj puta napravila Aglio e Olio sa škampima i bez čilia, ali zato uz pristojnu količinu češnjaka i papra. Pa, otputujmo na trenutak u bella Italiju…okusom, mirisom i slikama…Ciao a tutti!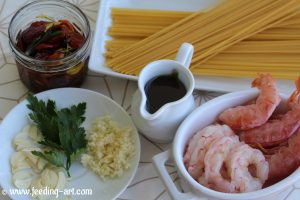 Sastojci:
Špageti
3 češnja češnjaka narezana na ploškice
3 češnja češnjaka sitno narezana na kockice
Maslinovo ulje
Domaće polusušene mini rajčice raznih boja
Sol i grubo mljeveni papar
Svježi peršin
Skampi (10 komada)
U tavici na zagrijanom maslinovom ulju ispeći ploške češnjaka, paziti da ne potamne jako. Pred kraj dodati sitno sjeckani češnjaki kratko zajedno pržiti. Ubaciti polusušene rajčice (http://feeding-art.com/2017/05/11/semi-dried-tomatoespolususene-rajcice/), prethodno ispečene škampe i zajedno vrlo kratko peći te ubaciti skuhane špagete i sve dobro promiješati.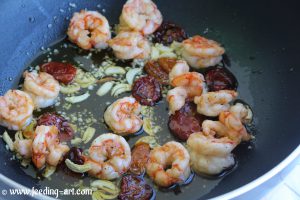 Po potrebi začiniti soli i paprom. Servirati i posuti kosanim peršinom te još jednom posuti krupno mljevenim paprom.