Two years ago I attended homemade pasta course by Italian Cook Angelo Zicaro who is the owner of Italienische mediterrane Kochschule and Restaurant "Tiratardi" in Munich. It was great and I did learn a lot. As always, when teacher unselfishly shared his knowledge.
Then and there, the Love at the first and the last taste was born – between me and homemade semi dried tomatoes. I am preparing it often, I keep them in a jar with olive oil, they do taste the best when my dealer Mariana provides homemade olive oil from Korčula (Croatien). In this magic jar I am putting slices of toasted garlic, fresh rosemary and thyme…it is like I am sea side girl and not proud Slavonian girl :). I keep it in a fridge…2-3 days if I am not eating too fast (of course you can have it for a week).
One of my favorite meal is pasta Aglio e Oglio….blend, for me, the simplest and the most magical ingredients….pasta, parsley, garlic, the best quality of olive oil, and after pasta course with Angelo…semi dried tomatoes. About this meal I will write later, but still have a need to mention the best of the best…Aglio e Oglio with Shrimps mmmmm….soon.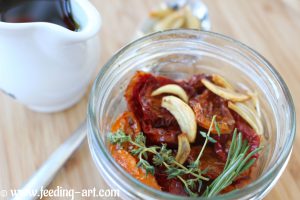 Therefore….I would recommend you to enjoy homemade semi dried tomatoes with a piece of cheese (I like soft cheese, like camembert or cheese with nuts), homemade bread, spread of parsley and garlic, (about this spread, soon, more).
What are you waiting for? Turn on the oven!
Recipe:
Cherry tomatoes, different colors
Fleur de sel with rosemary and thyme
Pepper
Olive oil, homemade if possible
Garlic
Fresh thyme and rosemary
Let's drie it:
Wash tomatoes and halve them lengthwise. Season with salt, pepper, little bit of olive oil. Arrange the halved tomatoes over a baking sheet lined with parchment paper, cut sides up and sprinkle with sugar.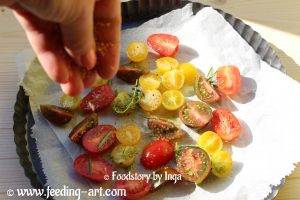 Preheat oven on 90-100C and bake for about 2,5 – 3 hours.
After one and a half our check it, small one are probably finished, and big one you may need to turn on another site. Before all tomatoes are semi dried, add slices of garlic and bake it for 15 minutes or until semi dried with nice color.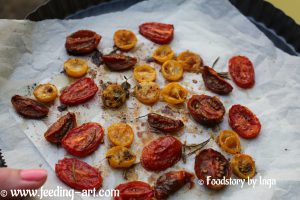 Place semi dried tomatoes in a jar, add fresh rosemary and thyme, baked garlic and pour olive oil.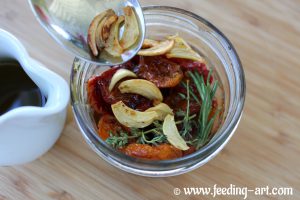 Before you close it, just take a deep breath of this mediterranean smell and enjoy…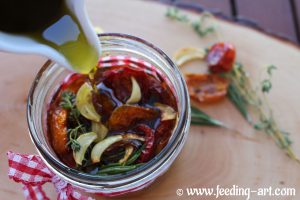 Store in the fridge for up to a week.
You can use them in 1001 ways…salads, pasta, pizza, quiche, bruschette, flammkuchen, cheese, antipasti….enjoy
-Croatian version-
Prije dvije godine bila sam na radionici izrade domaće tjestenine pod stručnim okom talijanskog kuhara Angela Zicara, vlasnika škole kuhanja "Italienische mediterrane Kochschule" i restorana "Tiratardi" u Münchenu. Bilo je sjajno i puno sam naučila. Kao i uvijek kada onaj koji vodi radionicu, svoje znanje nesebično daje.
Tada se rodila ljubav na prvi i posljednji okus između mene i polusušenih rajčica u domaćoj izvedbi….radim ih često, spremim u teglicu s maslinovim uljem, najradije kada mi moja dilerica Mariana nabavi domaće ulje s Korčule. U tu čarobnu teglicu još ubacim i ploškice prepečenog češnjaka, svježi ružmarin i timijan..uf, domaće je domaće..zvuči kao da sam prava žena s mediterana, a ne Slavonka :). U hladnjaku mi izdrži 2-3 dana ako ne jedem prebrzo.
Najviše na svijetu volim Spagheti Aglio e Oglio…spoj meni najjednostavnijih i najčarobnijih sastojaka….tjestenine, peršina, češnjaka, kvalitetnog maslinovog ulja i nakon radionice s Angelom…polusušenih rajčica (o ovom jelu ću pisati drugom prilikom)….a točku na i…Aglio e Oglio sa Škampima uffffff….budemo i o tome uskoro čitali.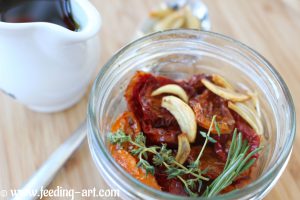 Dakle….uz ovako pripremlje rajčice preporučam komad dobrog sira (volim mekše sireve tipa camembert ili sir s orasima), svježi domaći kruh, namaz od peršina i češnjaka ( o tom namazu uskoro nešto više).
Što se čeka? Pali pećnicu!
Potrebno:
Mini rajčice raznih boja
Maslinovo ulje, po mogućnosti domaće
Krupna morska sol s mediteranskim začinima
Krupno mljeveni papar
Smeđi ili bijeli šećer
Češnjak
Rajčice operite, posušite, prepolovite i marinirajte sa soli, paprom, malo maslinovog ulja. Na lim za pečenja stavite papir te poslažite rajčice s prepolovljenom stranom prema gore. Posuti šećerom i sušiti na 90-100C.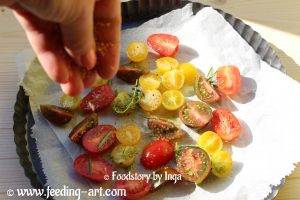 Nakon sat, sat i pol pogledati kako napreduju te one manje koje su ili već posušene, izvaditi ili okrenuti ako je s donje strane uhvatilo malo više boje. Krupnije ostaviti da se i dalje suše, maksimalno oko 3 sata. U svakom slučaju povremeno provjeravati jer to ovisi o pećnici. Pred kraj sušenja dodati ploškice češnjaka da se malo posuše i poprime boju.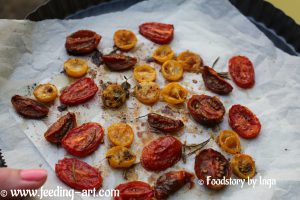 U teglicu staviti polusušene rajčice, ploškice pečenog češnjeka, grančicu-dvije svježeg ružmarina i timijana i sve zaliti, po mogućnosti, domaćim maslinovim uljem.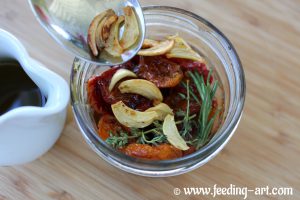 Prije zatvaranja teglice obavezno udahnuti miris mediterana iz nje….Čuvati u hladnjaku.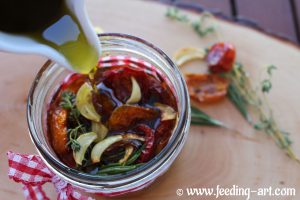 Kod polusušenih rajčica samo je nebo granica..tjestenine…salate, bruschete, quiche, sirevi, flammkuchen, ciabatte, peciva….ostavljam vam mašti na volju i dobar tek!