So called German hamburger, Bulette, Frikadelle or as in Bavaria Fleischpflanzerl. This is one of favorite traditional dish in Germany, especially in Bavaria. Made from minced pork and veal or beef, mustard, marjoram, parsley, bread, egg….and according to your own taste can add nutmeg, chili or any spice you like. I like to fry them shortly in oil and then bake in oven, so they are not very fatty. The amounts of spices and liquids you see in recipe adjust to your taste. I like to taste little bit of vinegar in potato salad, as well as fresh marjoram in minced meat.
The most popular side dish with Fleischpflanzerl is potato salad, Bavarian way – with mustard, onion, vegetable stock and at the end as you like – with or without rocket, cucumber, radish, chopped parsley or chives.
It is simple to make and taste the best in winter….well, give a try and enjoy your meal!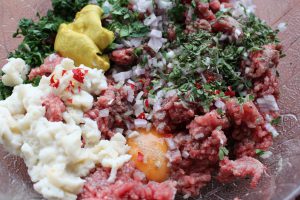 Fleischpflanzerl
250g minced pork
250g minced veal
1 egg
2 small buns without crust
Little bit of milk
1 tea spoon of parsley and marjoram, fresh
Salt and pepper
Chili
One big onion or shallots
2 cloves of garlic
2 tea spoon of mustard
Oil for frying
Cut bread in small pieces and pour little bit of warm milk all over. After 5 minutes squeeze gently and add to the meat. Chop garlic and onion in small pieces as well as parsley and marjoram. Mix all together with hands, very gently, do not squeeze or knead. Form meat patty (ca 90-100g),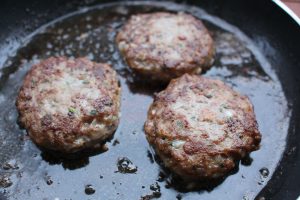 shortly fry in oil until they become nice color and finished baking in oven (170 C).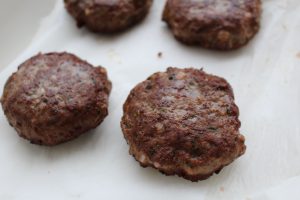 Potato salad:
6 potatoes
2 big onions
Little bit of rocket
Salt and pepper
2-3 soup spoon of white wine vinegar
1, 5 – 2 soup spoon of mustard
1 tea spoon of sugar
3-3,5 dl vegetable stock
About 1, 5 dl sunflower oil
*all quantities of spices and liquids adjust according to your taste, start with smaller quantities and increase as needed
Boil potatoes in water, cool down little bit (but they have to stay warm), peel the skin and slice it. Finely slice onion and sauté in oil (without color).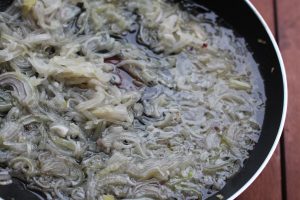 Mix hot vegetable stock, mustard and ½ of vinegar, season to taste with salt and pepper and try (you should taste vinegar in this mixture). As needed add some more spices, vinegar or mustard. Use ½ of this mixture and pour all over warm potatoes, stir gently and add onion with oil. Stir again and let it rest for an hour or more (in this time potatoes soak liquid and you will have to add some more liquid after that).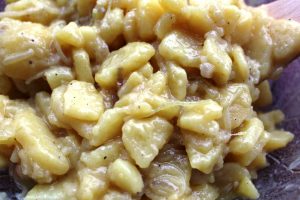 Prepare salad at least 2-3 hours in advance, as potatoes need time to soak enough liquid to be just like traditional Bavarian potatoes salad.
– Croatian version-
Neki ih zovu njemački hamburger, Bulette, Frikadelle, a u Bavarskoj su najpoznatije kao Fleischpflanzerl. To je jedno u nizu od tradicionalnih jela njemačke, a posebno Bavarske. Jednako omiljene i kod nas u Hrvatskoj gdje se popularno zovu Faširanci ili Faširane šnicle. Rade se od mljevene svinjetine i junetine, senfa, mažurana, peršina, kruha, jaja, zapravo što se tiče začina svatko dodaje neki svoj omiljeni pa tako se tu nađe i muškatnog oraščića, čilia ili pak nekon vašeg tajnog gastro aduta. Ja ih pripremam najradije tako da ih na ulju s obje strane popržim da dobiju lijepu boju i onda pečenje završim u pećnici…tako na kraju nisu jako masne, a zadrže lijepu boju i hrskavu koricu dok su unutra mekane i sočne. Količinu začina i tekućine u receptu prilagodite svome okusu. Ja volim malo osjetiti ocat i senf u krumpir salati pa stavim ponekad i više nego što sam u receptu navela. Isto tako volim svježe začine i obavezno narežem svježeg mažurana u Faširance.
Najpopularniji prilog Faširancima je dakako krumpir salata, a u receptu sam je pripremila na bavarski – sa senfom, lukom, temeljcem i rukolom. A na kraju možete po želji dodati svježi krastavac, rotkvice, svježi peršin ili vlasac.
Ovo vrlo jednostavno i brzo jelo najbolje je uživati u zimskim mjesecima….
Faširanci
250g mljevene svinjetine
250g mljevene junetine
1 jaje
2 mala peciva bez kore
Malo mlijeka
Svježi peršin i mažuran (po jedna kavena žlica od svakoga)
Sol i papar
Čili
Velika glavica ljutike ili luka
2 češnja češnjaka
2 kavene žlice senfa
Ulje za prženje
*začine kao i temeljac i senf dodajte na početku u manjim količinama te prema vašem okusu povećajte količine dok ne dobijete okus koji se vama sviđa.
Kruh bez kore narezati na male kockice i preliti s mlakim mlijekom te nakon par minuta nježno ocijediti i dodati mesu. Češnjak i ljutiku narezati na sitne kockice, mažuran i peršin također sitnije narezati. Sve zajedno s mesom i ostalim sastojcima nježno sjediniti u kompaktnu smjesu. Formirati šnicle (oko 90-100g), kratko pržiti na ulju s obje strane da dobije lijepu boju i završiti pečenje u pećnici na 170 C.
Krumpir salata:
6 krumpira
2 veća luka
Malo rukole
Sol i papar
2-3 jušne žlice vinskog octa (bijelog)
1,5-2 jušne žlice senfa
3-3,5 dcl povrtnog temeljca
1 kavena žlica šećera
Oko 1,5 dcl ulja
Krumpir skuhati u kori. Pustiti da se malo ohladi te oguliti i narezati na ploške. Luk narezati na tanke ploške i bez boje dinstati na ulju. Pomiješati zagrijani temeljac sa senfom, pola količine octa, po okusu posoliti i popapriti te potom probati (treba se pomalo osjetiti ocat). Po potrebi dodati začine, senf ili ocat te preliti s pola tekuće smjese po narezanim, mlakim krumpirima i nježno promiješati. Potom dodati izdinstani luk i dio ulja te ponovo sve pažljivo promiješati. Pustiti sat vremena ili duže da krumpir upije tekućinu i onda po potrebi i okusu dodavati ulje, temeljac sa senfom, začine. Salatu pripremati nekih 2-3 sata prije posluživanja kako bi krumpir imao dovoljno vremena da upije potrebnu tekućinu.