Is there more beautiful winter spirit as smell of fresh lemon and orange zest, ground cinnamon and nutmeg in sweet dough? Sticky fingers and warm rolls coated with mixture of lemon, powder sugar and water?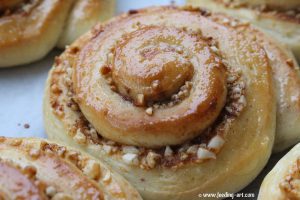 Rosehip marmalade is great with nutmeg and cinnamon in this sweet, smelly and aromatic dough. Of course you can use as filling any sort of nuts (walnuts, almond…) or poppy seeds….change the taste of marmalade for your favorite flavor, add more spices and enjoy your piece of winter delicacy with a cup of tea or coffee…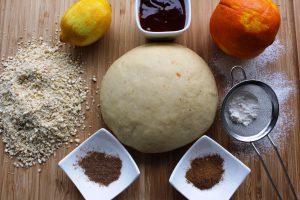 Dough:
400g flour
½ pack of fresh yeast and 1 tee spoon sugar
3 vanilla sugar
Zest of one lemon and one orange
1.5 tee spoon of nutmeg
1 egg and 1 egg yolk
Little bit of salt
30g butter
200-230 ml warm milk
Mix together yeast, sugar and 1 spoon of flour with little bit of warm milk and let it rise. Knead dough from ingredients and let it doubled in a warm place. Knead again and let it rise for 45 minutes.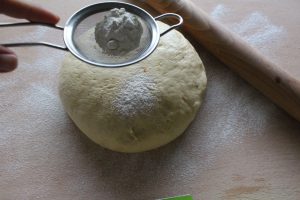 Roll it in thin rectangle, spread marmalade all over, sprinkle generously with cinnamon and coarsely ground cashew nuts and roll it like roll-up jelly-roll style.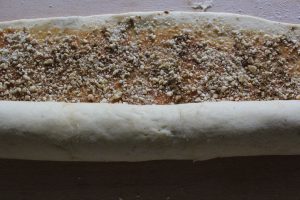 Cut little rolls (thick like a finger) and put on a baking tray (with a baking paper).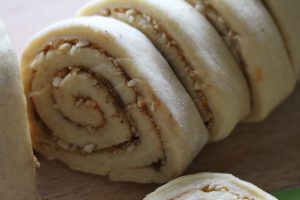 You can roll the dough from both sides in order to get double rolls. Bake in preheated oven (180 C) about 10-15 minutes (depends on oven). Coat still hot rolls with a mixture of sugar, lemon juice and water (mixture should not be too thick).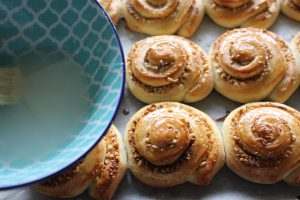 You are supposed to get just a sweet, sticky, see through cover.
For filling:
100g ground coarsely ground cashew nuts
3 tee spoon cinnamon
About 3 soup spoon Rosehip marmalade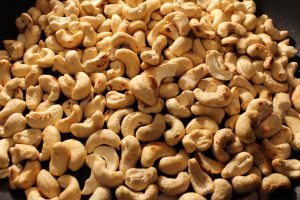 For coating:
2 soup spoon of powder sugar
Little bit of lemon juice and water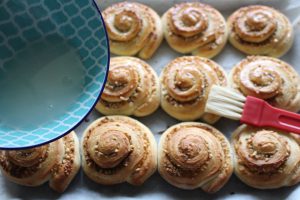 -Croatian version-
Ima li ljepšeg zimskog ugođaja od mirisa svježe ribane korice naranče i limuna, mljevenog cimeta i muškatnog oraščića u slatkom dizanom tijestu? Prstića zaljepljenih za svježe, tople rolice premazane smjesom šećera, vode i limuna?
Marmelada od šipka sjajan je partner mljevenim indijskim oraščićima i cimetu u ovom mirišljavom i aromatičnom slatkom dizanom tijestu. Naravno da za fil možete koristiti i mak, bademe, orahe i poigrati se s marmeladom nekog drugog okusa. Jednostavno sastojke prilagodite svome okusu i uživajte uz šalicu čaja ili cappucina….
Tijesto:
400g glatkog brašna
½ kocke svježeg kvasca i kavena žličica šećera
3 vanilin šećera
Korica od jednog limuna i jedne naranče
1,5 kavena žlica muškatnog oraščića
1 jaje i 1 žumanjak
Na vrh noža soli
30g maslaca
200-230 ml toploga mlijeka
Pomiješati kvasac, šećer i žlicu brašna s malo mlakoga mlijeka i pustiti da se smjesa udvostruči. Umijesiti dizano tijesto od navedenih sastojaka te ostaviti na toplom da se udvostruči. Ponovo premijesiti te ostaviti da se smjesa još jednom digne. Razvaljati tanko u pravokutnik, premazati marmeladom od šipka, posuti cimetom i grubo mljevenim indijskim oraščićima te zarolati poput rolata. Rezati rolice debljine prsta i slagati na papir za pečenje. Možete tijesto rolati s dvije strane i tako dobiti dvostrukerolice. Peći na 180 C oko 10-15 minuta (ovisno o pećnici). Vruće rolice premazati smjesom šećera u prahu, vode i limunovog soka (smjesa ne smije biti gusta kako ne bi ostao bijeli trag šećera na rolicama).
Za fil:
100g grubo mljevenih indijskih oraščića
3 kavene žlice cimeta
Oko 3 jušne žlice marmelade od šipka
Za premazivanje:
2 jušne žlice šećera u prahu
Malo limunovog soka i vode
Izraditi pjenjačom u srednje gustu smjesu.