Blutwurst (meaning blood sausage) is a spicy, salty German blood sausage, often dark in color, almost black. It is the best to bake it shortly in oven. You can bake it in a frying pan but take care not to burn yourself (do not fry cold sausages, straight from the fridge, in hot oil). People love them or hate them. I am in the first group because I grew up with blutwurst. In my home town it was tradition every winter to make all sorts of products from pig. And Blutwurst was one of them, with pickled cabbage of course. Cooked or baked potatoes and mulled wine. But, it tasted those time all better just because we did have real winter, -10 degree, and this is one of those dishes that suite cold days. Anyway, not to talk too much, my dinner is getting cold…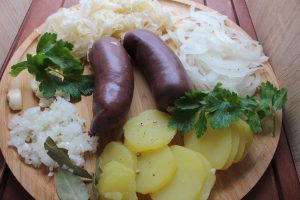 Ingredients:
2 pairs of Blutwurst
6 pieces of potatoes and coarse salt with spices
1 big onion
Salt and pepper as needed
0,5 kg pickled cabbage
2 bay leaf
Sunflower oil
3 gloves of garlic
Bake sausages in preheated oven (180 C), but prick them before baking with wood stick.
Boil potatoes with skin, cool down, peel and slice them. Preheat some oil (I like olive oil, but you can use sunflower as well) and little bit of butter in a frying pan. Put sliced potatoes and bake them until they got nice color, then turn them around, add finely sliced onion and garlic. Bake until they are crispy and slightly brown. Season with coarse salt with spices and coarse ground black pepper.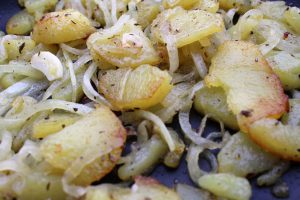 Slice pickled cabbage and rinse with water. Preheat sunflower oil in a frying pan and sauté onion. Add cabbage, little bit of water, pepper and bay leaf. Sauté until cabbage soft is. Add some chopped parsley.
-Croatian version-
Krvavice su jednako omiljene kako u Bavarskoj tako i u Slavoniji, pa sam što se tiče hrane odabrala zaista odlično mjesto za život. U Bavarskoj one su duplo kraće i nešto deblje nego u Slavoniji, više tamno sive nego izrazito crne boje. Lagano su aromatične ili što bi rekli dobro začinjene. Ja ih najradije pečem u pećnici iz jednostavnog razloga što u tavi ulje šprica na sve strane te se lako možete opeći. Ako ih baš želite u tavi peći, izvadite ih iz hladnjaka barem pola sata ranije da ne budu jako hladne u dodiru s vrućim uljem.
Odrasla sam u Slavoniji gdje je pripremanje raznih proizvoda od svinjetine dio tradicije. Pa sam tako zavoljela i krvavice. Najradije uz dinstani kiseli kupus i restani krumpir s lukom. Ne bi škodila i čaša kuhanog vina. A bez zimskog ugođaja, snijega i barem -10, nemaju onaj pravi okus tradicionalnog zimskog jela. Mene to nije omelo da na +1 jednako uživam u meni omiljenom obroku….dobar tek za sve ljubitelje ovih malih crnih vražičaka…
Sastojci:
2 para krvavica
6 srednje velikih krumpira i krupna sol sa začinima
1 veliki luk
Sol i papar
0,5 kg kiselog kupusa
2 lovorova lista
Ulje
3 češnja češnjaka
Krvavice na par mjesta ubosti čačkalicom da se pri pečenju previše ne raspadnu. Peći u prethodno zagrijanoj pećnici na 180 C.
Skuhati krumpire u kori, ohladiti, oguliti i narezati na srednje tanke kolutove. U tavici zagrijati malo ulja i maslaca (ja sam koristila maslinovo ulje, ali ako vam je okus preintenzivan uzmite suncokretovo ili biljno). Dodati narezani kuhani krumpir i peći s jedne strane dok ne poprimi lijepu boju. Okrenuti, dodati narezani luk i češnjak. Peći dok ne poprimi lijepu boju i s druge strane i dok ne postane hrskav. Začiniti krupnom soli sa začinima i grubo mljevenim crnim paprom.
Narezati kiseli kupus i isprati s hladnom vodom. Zagrijati ulje u tavi i dinstati sitno sjeckani luk (pola glavice). Dodati kiseli kupus, malo vode, krupno mljeveni crni papar i lovorov list. Dinstati dok kupus ne omekša. Kada je gotovo, po želji dodati sjeckani svježi peršin.