The book ''How to make bread'' from Emmanuel Hadjiandreou I have for a long time in my gastro collection. I was attract with his simple recipes, the way he is doing the whole process of making bread and starter as well as with lots of details. I already tried several of recipes from this book, and this time I was preparing for the very first time, starter. And bread with fresh beetroot.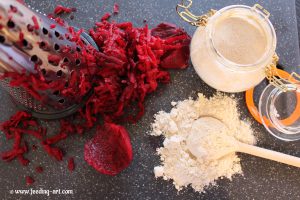 I was using white flour type 1050 (in Germany), and unfortunately I do not know what kind of flour would be the same in Croatia. My experience with making starter I described below.
No matter how hard is to make decision to start baking with your own starter (it takes 5-6 days to make it, if everything is all right with ''feeding''), I must admit it is worth every second of waiting, hoping, pampering and caring of this small amount of flour and water. To have at the end the most delicious bread I ever baked and ate in my life.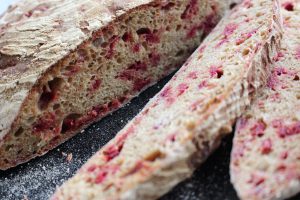 This special smell that is coming from your oven during baking makes you curious to open it before bread is baked – but do not! Stay brave and persistent and do not open oven for the first 30 minutes despite the dizziness that it causes to you :). I bake really often, and always with fresh or dried yeast, but for very first time with starter it was pleasant surprise for me too – taste, smell and appearance.
Baked bread has brown-gold color and if you are letting bread rise in a bread basket covered with a generous amount of flour, you are going to have beautiful pattern. Do not be scared of pretty soft dough, it is important to remove it quickly from bread basket to the baking try and in the oven. Do not add lots of flour to the dough jut you think that dough is too soft.
The taste of bread is sensational, it looks like bread from black flour, little bit of earthy flavor, and taste as beetroot only if you bite little bit of beetroot in bread.
It is homemade bread with no artificial ingredients, bread that smell just like home and homemade. The taste of beetroot is very discreetly present, but gives undoubtedly authenticity to the bread's taste.
It tastes great when you eat it on its own, but I would recommend you to try in combination with avocado, cheese, fresh tomatoes and little bit of olive oil and lemon juice…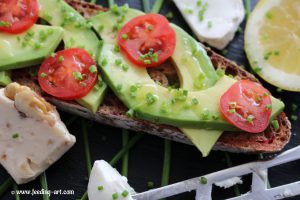 …or just a great choice of cheese, nuts and glass of wine.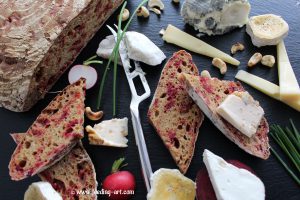 Smoked salmon, cheese spread, chives and fresh horseradish is as well great combination with this bread…well let your imagination be your limit while enjoying this simple, unique and delicious bread 🙂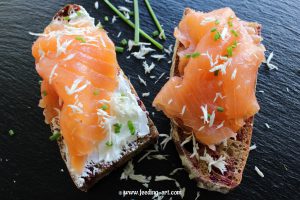 I did enjoy this great bread with my homemade, vegan horseradish soup (with white root vegetables) – I made little croutons from beetroot bread…and for all fans of vegetarian dishes little bit of beetroot bread joined with some smoked salmon….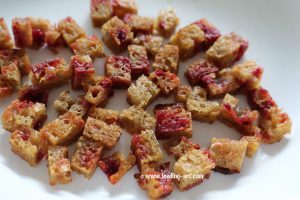 Ingredients for bread:
370g white flour (type 1050 in Germany)
8g salt
160g fresh beetroot, coarse grated
220g starter (my was from white flour type 1050)
10ml olive oil
200ml lukewarm water
Little bit of flour if needed (if your hands are sticking too much with bread dough).
To make a starter:
I was ''feeding'' starter 6 days using water and flour (type 1050). Every evening I was adding 10g flour and 10g water in small, clean jar stirring with wooden spoon.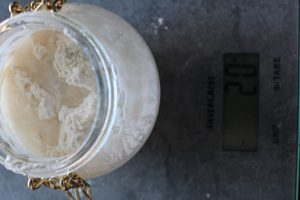 I was reading different experience about growing your own starter, so at the beginning I was keeping my jar closed, but after 3 days I kept my jar little bit open. I did not increase amount of flour and water at the daily basis (as some advice so), because I did not want to throw away it after 3 or 4 days, and at the end I did not want huge quantities of it.
Making Beetroot bread:
Grate beetroot, coarsely and leave it at the side. Mix flour and salt in one bowl. In another bowl mix lukewarm water and starter and add olive oil.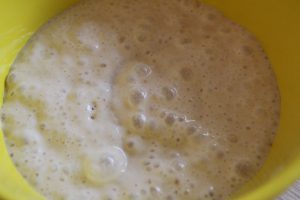 Add flour and salt and knead shortly until ingredients are combined. At the end add grated beetroot and knead shortly until all is combined. Cover with cling foil and kitchen towel, let it rise in a warm place for a 10 minutes. After 10 minutes shortly knead with a ''stretch and fold'' method of kneading bread (grab a portion of the dough, lift it and fold it back on itself). Turn around the bowl and repeat the kneading procedure with second part of the dough (make this 8-10 times). Cover the dough and let it rise for a 10 minutes. Then, repeat 3 times the same kneading, and between each leave it to rise for a 10 minutes. At the end of last kneading let the dough rise for one hour in a warm place.
Put some flour on a working surface and place the dough in the middle. Shape bread, dust liberally proving bread basket (up the sides too) with flour, this must be well coated with flour as you don't want your loaf to stick.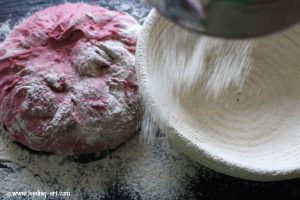 Place the dough in the basket and dust with flour. Cover with cling foil and kitchen towel and let it rise 3-6 hours (or over the night) in a warm place until doubled in size.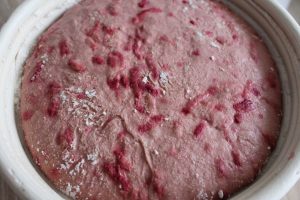 Place a shallow tray in the bottom of the oven and preheat the oven on 230 C. When dough is doubled in size, add a cup of tap water into the shallow tray placed into the bottom of the oven. This creates steam and gives you a crust.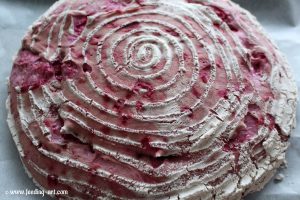 Place the dough ball, flipping it over, onto a baking tray (you can cut the surface to have nice pattern after baking), and bake it about 30-40 minutes (depends on oven). At the end you should have nice, gold-brown color. Check after 30 minutes if bread is baked, if not leave it for another 5-10 minutes. Lower temperature if needed (on 200C). It took me 40 minutes for my bread on 230 – 220 C.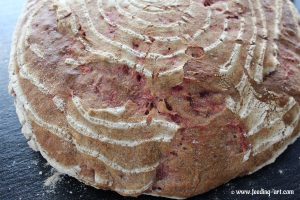 After baking, place on a cooling rack.
-Croatian version-
Knjigu Emmanuel Hadjiandreou "Kako napraviti kruh" već dugo imam u svojoj kolekciji, a najviše me privukao svojim jednostavnim receptima i načinom izrade kruha te detaljnim opisom postupaka. Već sam isprobala nekoliko njegovih recepata, a ovaj puta odlučila sam se za recept s kiselim tijestom (domaćim starterom koji sam prvi puta radila) i svježom ciklom.
Koristila sam bijelo brašno tip 1050 (u Njemačkoj), na žalost ne znam koji bi točno ekvivalent bio u Hrvatskoj za ovaj tip. Iskustvo s izradom startera opisala sam niže u tekstu.
Koliko god se teško odlučujete pokušati napraviti starter jer mu treba 5-6 dana da bude aktivan (ako sve ide kako treba s hranjenjem), moram priznati da se isplati svaka sekunda čekanja, nadanja, maženja i paženja te male količine brašna i vode od koje nastaje najčarobniji kruh koji sam ikada ispekla i jela.
Taj poseban miris koji se širi iz pećnice u tijeku samoga pečenja mami da otvorite pećnicu prije vremena – nemojte! Budite hrabri i ustrajni i ne otvarajte 30tak minuta bez obzira na bajnu vrtoglavicu koju vam izaziva :). Često pečem kruh sa svježim ili suhim kvascem, ali prvi puta sa starterom je nešto sasvim novo i za mene – okusom, mirisom i izgledom.
Pečeni kruh ima smeđezlatnu boju, a ako dižete tijesto u košari za kruh obilato posutom brašnom, dobit ćete sjajnu mustru na gotovom kruhu. Neka vas ne uplaši mekoća tijesta, bitno je brzo ga prebaciti iz košare za dizanje na lim i u pećnicu. Nemojte dodavati velike količine brašna misleći da je tijesto premekano.
Okus kruha je predivan, izgledom je poput kruha od crnog brašna, pomalo zemljanog okusa i usput kada zagrizete i komadić cikle u njemu podsjeti vas od čega je napravljen. Okus domaćeg kruha u kojemu nema niti jednog sastojka koji nije prirodan i koji miriše na dom i domaće. Kruh u kojemu okus cikle ne prevladava, ali mu jasno i nedvosmisleno daje autentičnost u okusu.
Sjajan je kada ga jedete samoga, ali bih vam toplo preporučila kombinaciju kruha, sira, svježeg avokada i rajčica s malo maslinova ulja i limunovog soka…..ili samo uz različite sireve, orašaste plodove i čašu vina. Dimljeni losos uz sirni namaz na kruhu i sitno sjeckani vlasac još je jedna sjajna kombinacija uz ovaj kruh. Dakle, mašti na volju dragi moji pekari i pekarice 🙂
Ja sam ovaj sjajan kruh upotrijebila u još jednoj odličnoj kombinaciji – napravila sam malene croutonse i poslužila uz okrepljujuću juhu od bijelog korjenastog povrća i aromatičnog svježeg hrena…prava veganska delicija….a ako ste ipak za vegetarijansku verziju, nema problema – od kruha izrežite kraće štapiće i obložite s malo dimljenog lososa…sjajno se slaže s hrenom 🙂
Potrebno za kruh:
370g bijelog oštrog brašna (tip 1050 u Njemačkoj)
8g soli
160g svježe cikle, krupno ribane
220g starter kulture (moja je bila od bijelog brašna tip 1050)
10ml maslinova ulja
200ml tople vode
Po potrebi još malo brašna ako se tijesto jako lijepi
Postupak za izradu startera:
Starter sam "hranila" 6 dana kombinacijom vode i bijelog brašna tip 1050. Svaku veče stavljala sam 10g brašna i 10g vode u malu, čistu teglicu miješajući drškom drvene kuhače. S obzirom da sam čitala razna iskustva oko izrade startera, u početku sam ga čuvala u čvrsto zatvorenoj teglici, a nakon trećeg dana poklopac sam malo ostavila otvoren. Nisam na dnevnoj bazi povećavala količinu brašna i vode pa samim time nisam dobila velike količine startera i nisam ga morala 3 ili 4 dana djelomično bacati.
Postupak za izradu kruha:
Svježu ciklu oguliti, krupno naribati i ostaviti po strani. Pomiješati prosijano brašno i sol u jednoj posudi. U drugoj posudi pomiješati toplu vodu i starter kulturu te kada se smjesa ujednači dodati maslinovo ulje. Potom dodati brašno i sol te mijesiti rukama dok se sastojci ne povežu. Na kraju umiješati ribanu ciklu i kratko mijesiti da se sastojci povežu. Prekriti prozirnom folijom (da se tijesto ne osuši s gornje strane) i krpom te ostaviti na toplome da se diže. Nakon 10-15 minuta tijesto kratko premijesiti na način da tijesto povučete sa strane prema gore i pritisnete u sredinu. Malo okrenuti posudu i ponoviti postupak s drugim dijelom tijesta. Ponoviti 8-10 puta. Ponovo prekriti tijesto i ostaviti na toplome. Potom još 3 puta ponoviti miješanje tijesta na gore opisani način s odmaranjem od 10 minuta između miješanja. Na kraju posljednjeg miješanja ostaviti tijesto da se diže sat vremena na toplome mjestu.
Na dasku stavite malo brašna te istresite tijesto. Oblikujte ga u željeni oblik kruha (disk ili duguljasti kruh, ovisi o košari za dizanje tijesta), pobrašnite košaru za dizanje tijesta, stavite tijesto i pobrašnite ga odozgora. Ostavite pokriveno da se diže na toplome mjestu 3-6 sati.
Stavite posudu otpornu na toplinu na dno pećnice te zagrijte pećnicu na 230 C. Kada se tijesto udvostručilo u volumenu ulijte šalicu vode u posudu u pećnici, tijesto prebacite na lim za pečenje, eventualno ga malo zarežite nožem da dobijete lijepu mustru nakon pečenja, te ubacite tijesto u pećnicu. Kruh pecite 30-40 minuta (ovisi o pećnici) dok ne dobije lijepu zlatnosmeđu boju. Svakako nakon 30 minuta provjerite je li kruh pečen (lupite ga lagano po donjem dijelu, trebalo bi zvučati šuplje) i kakve je boje. Po potrebi smanjite temperaturu malo. Meni je trebalo 40 minuta na 230 – 220 C.
Nakon pečenja ostavite ga na rešetki da se ohladi.