Herbed crackers are magic addition to the cheese plate, great finger food with various dips, healthy and easy to make snack to go or to surprise your friends with endless variations – cheese, herbs, seeds, spices. I love to make them with fresh herbs from my balcony, this time olive herb with its sensational smell and taste of olive and rosemary, so heavenly in all sorts of bread, ciabatta, baquette and of course crackers.
I used my starter to make crackers, but you do not need any yeast, starter or baking powder in crackers. Just mix flour, spices, seeds, oil, salt, water…..rest the dough, cut, bake and enjoy!
Would you believe that these are my very first crackers I baked in my life? Well, for sure not the last! Do not understand why it took me so long :).
Ingredients:
80g starter (active)
90g water (33-35C)
130g whole spelt flour
30g rye flour
8g salt
25g olive oil
10g white sesame seeds
10g black sesame seeds
15g sunflower seeds
20g oats
20g honey
1 tsp of fresh herbs (I used rosemary and olive herb)
Others:
Some white and black sesame seeds to sprinkle before baking.
In a big bowl mix starter and water. Add flour and all other ingredients and stir with spatula, than with hand until just combined. You do not need to knead. Cover and rest 1,5-2,5 hours (always allow the dough to rest before rolling it out, it helps relax the gluten and makes the dough easier to handle.
Put the dough on the slightly floured working surface and form a square.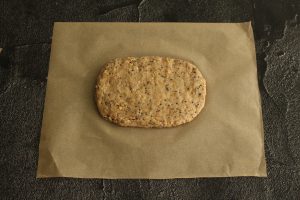 Transfer the dough on a baking paper and cover with another piece of baking paper. Roll it out thin (1-2 mm). If you roll them very thin, they are going to be very crispy. If thicker, they are going to be softer but equally delicious.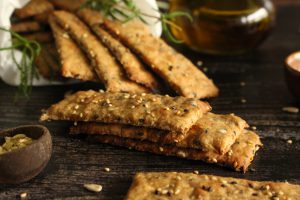 Cut the dough into the desired shape, sprinkle some sesame seeds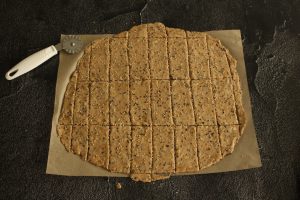 and bake in preheated oven (180-190C) 10-15 minutes (depends on oven).
-Croatian version-
Krekeri sa svježim začinima točka su na i kod serviranja uz platu raznoga sira. Savršen finger food uz različite namaze (pesto, humus u raznim okusima, svježi sirevi, namazi od povrća…). Zdrava i vrlo jednostavna grickalica za "to go" ili jednostavno da iznenadite svoje prijatelje uz poslijepodnevnu kavu uz neki od bezbrojnih okusa – sa sirom, začinima, sjemenkama.
Ja ih najviše volim sa svježim začinima s moga balkona, nikad ne znam unaprijed gdjeeće moje škare krenuti! Ovoga puta koristila sam maslinovu travu s njezinim senzacionalnim okusom i mirisom maslina te ružmarin, koji se svojim čarobnim i karakterističnim mirisom i okusom sjajno slaže u svim vrstama kruha, ciabatta, baquette i naravno krekerima.
Koristila sam starter (domaći kvasac) za pečenje ovih krekera, ali uopće nije potrebno koristiti nikakve kvasce niti prašak za pecivo. Jednostavno pomiješajte brašno, začine, sjemenke, ulje, sol, vodu….odmorite tijesto, ispecite i uživajte. Toliko je jednostavno napraviti domaće, zdrave i prefine domaće krekere.
Vjerujete li mi da su ovo moji prvi krekeri u životu, koje sam ispekla? Ali sigurno ne i zadnji :).Ne znam zašto mi je trebalo tako dugo.
Sastojci:
80g startera (aktivnog)
90g vode (33-35C)
130g punozrnog crnog brašna
30g raženog brašna
8g soli
25g maslinovog ulja
10g bijelih sezamovih sjemenki
10g crnih sezamovih sjemenki
15g suncokretovih sjemenki
20g zobenih pahuljica
20g meda
1 kavena žlica sitno rezanih svježih začina (ja sam koristila maslinovu travu i ružmarin)
Ostalo:
Malo bijelih i crnih sezamovih sjemenki za posipanje krekera prije pečenja.
U većoj zdjeli pomiješajte starter i vodu. Dodajte sve ostale sastojke i sjedinite špatulom, a potom rukom. Nije potrebno mijesiti. Prekrijte i ostavite da miruje 1,5-2,5 sati (kod izrade krekera uvijek ostavite tijesto da malo odmori, tako će se gluten lakše razviti, a tijesto lakše razvaljati.
Prebaciti tijesto na pobrašnjelu površinu i formirati rukama kockasti ili pravokutno oblik. Potom položiti tijestona papir za pečenje, prebaciti drugim komadom papira i razvaljati tanko (1-2 mm). Ako razvaljate prilično tanko, dobit ćete hrskavije krekere. Ako su malo deblje razvaljani, biti će mekši. U svakom slučaju, ne možete pogriješiti, biti će prefini!
Izrezati u željene oblike, posuti s malo sezama i peći u prethodno zagrijanoj pećnici (180-190C) 10-15 minuta (ovisi o pećnici).