After the whole world baked homemade muesli bars, finaly it was my turn to make this delicious, healthy and easy to make snack
! I cannot explain myself why it took me so long, again, to make something mega delicious
! My choice was mashed bananas, agave syrup and honey for sweetness, cranberries for sourness, coconut chips and pecan for extra crunch, coconut oil, cinnamon and vanilla for extra flavor
. Mega delicious, last for 10 days with its fresh taste!
For ca. 22-24 bars, 9×3cm, 1 cm thick
Ingredients:
3 bananas (ca 300g). Mash bananas with a fork or use blender
140g oats (coarse)
40g Quinoa (puffed)
60g coconut oil, (or butter), melted
3 tbsp of Agave syrup
1 tbsp of honey
90g dried cranberries, chopped (or any other dried fruit)
30g coconut chips
50g pecan nuts, chopped (or any other nuts)
1 tsp of vanilla powder
1 tsp of cinnamon
Mix all ingredients. Grease form for bars with coconut or any other neutral oil. Fill with mixture, press well.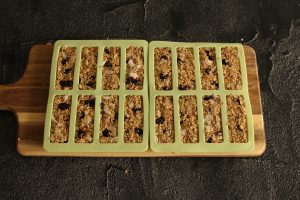 Or, if you bake in baking tray, use baking paper. Press well, cover with baking paper and bake at 150-160C for about 20-30 min, depends on oven.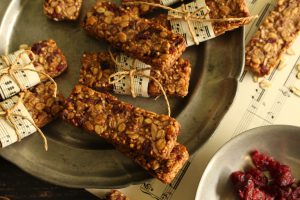 Allow to cool and carefully relies from baking form (or cut in bars if you bake in baking tray).
-Croatian version-
Još jedan jednostavan, prefini recept za domaće musli pločice koje sam napokon i ja napravila
, nakon što ih cijeli svijet već rutinski peče i uživa u njima
! Ali, bolje ikad, nego nikad
. Moja opcija je s bananama, agaven sirupom i medom za slatku notu, brusnicama za malo kiselkasti "touch", čips od kokosa i pekan orasi za više hrskavosti, kokosovo ulje, cimet i vanilija za ekstra aromu
! Idealna kombinacija za snack koji ostaje svjež i do 10 dana
Za ca 22-24 pločice dimenzija 9×3cm, debljine 1 cm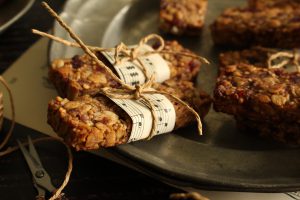 Sastojci:
3 banane (ca 300g), purirati u blenderu
140g zobenih pahuljica, krupnih
40g Quinoa (tzv napuhana "puffed" quinoa)
60g kokos ulja (ili maslac), otopiti
3 jušne žlice Agaven sirupa
1 jušna žlica meda
90g suhih brusnica, sitno nasjeckanih (ili neko drugo suho voće)
30g kokosovog čipsa
50g pekan oraha, sitno narezanih (ili bilo kojih drugih orašastih plodova)
1 kavena žlica vanilije u prahu
1 kavena žlica cimeta
Sve sastojke pomiješati i utisnuti u prethodno kokosovim (ili nekim neutralnim) uljem premazane modle za muesli pločice. Ili, u papirom za pečenje obloženim limom za pečenje. Dobro utisnite smjesu rukama, prekrijte papirom za pečenje i pecite na 150-160C 20-30 minuta, ovisno o pećnici. Ostaviti da se ohladi i tek onda pažljivo izvaditi iz modle za pečenje.