Onion is everyday's ingredient when we are talking about cooking. And the finest in the cooking decided, let's give onion its own dish. And be dish – Onion Soup! Simple to make and, but hard to cook it fine and tasty. Most of people use beef stock but I made chicken stock instead, and you are going to find very often cheese Gruyèrea…but I tried my way..
I would say the secret of making tasty Onion soup is in this final part, seasoning, balance between wine, caramelizing, thyme, bay laurel. Did I succeed? I do not know…I am dreaming of visiting France, eating French soup for a one day, to feel how parents of this soup are making it. And then I would cook again, and I would for sure know if I did make Onion soup….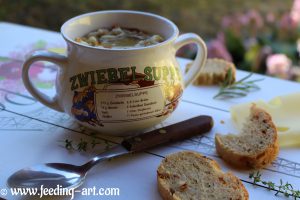 To make it little bit different and close to my taste, I used croutons from Mediterranean bread instead of classic toast bread and Emmentaler cheese because of its neutral taste with Mediterranean croutons. So, Inga, let's try…..
2 onions
2 cloves of garlic
Butter and oil
30 ml white wine
Salt, pepper, sugar
Bay laurel, thyme
1 spoon flour
500 ml chicken stock
Croutons (from homemade Mediterranean bread)
Emmentaler cheese
Melt butter and olive oil, fry onion until get nice color and stay very soft. Caramelize with sugar and add garlic and flour.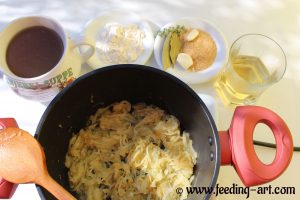 Stir and add white wine, reduce. Put bay laurel, thyme and chicken stock. Cook at the low fire, season with salt and pepper if needed.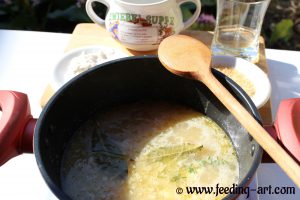 One slice of Mediterranean bread cut in small cubes as well as Emmentaler cheese, mix together and bake it until cheese melt.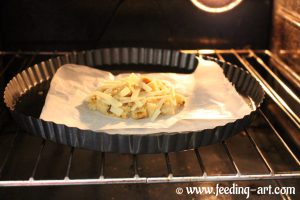 Bread-cheese circle adjust to the size of soup bowl. Put it on hot soup and serve.
Tradition is to serve onion soup in heat-resistant bowl, than slice of bread and slice-two of cheese at the top. Bake it shortly, until cheese melt. My bowl is not heat-resistant, but, how you see, it is not a problem to prepare bread-cheese cover separate.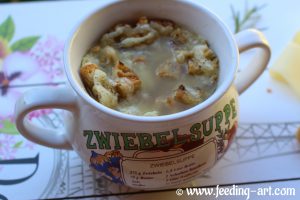 I would recommend to serve it in your garden, in the background old gramophone and Edit Piaf with Non, je ne regrette rien (No, I do not regret at all), just in case you are asking yourself…eating or not eating so much onion??
Bon Apettit!
-Croatian version-
Negdje sam pročitala da dobrom jelu ne treba više od 5 namirnica i slažem se. A jedna od njih je luk. Zapravo, gotovo da i nema jela u kojemu se ne nalazi luk. Dinstanje, kuhanje, pečenje, redukcije…i sigurna sam da su upravo juhu od luka kreirali najistančaniji hedonisti. Pa bio bi grijeh da jedna tako važna namirnica, Gospodin Luk, ne dobije svoje osobno jelo…Najčešće se radi s goveđim temeljcem, ponekad se dodaje šeri, često sir Gruyèrea….a kod mene? Pa pročitajmo….
Juhu od luka jednostavno je napraviti, barem se tako čini kada se pročita nekoliko recepata. Ali, tajna je upravo u onom završnom činu, kada se dodaju začini, balansira između vina, lovorova lista, timijana i karameliziranja. Jesam li ja uspjela? Ne znam…jer mi je san otići u Francusku i jedan dan isprobavati juhe od luka..da osjetim kako to naraštaji domovine juhe od luka rade…i onda bih ponovo kuhala…i odgovorila jesam li uspjela….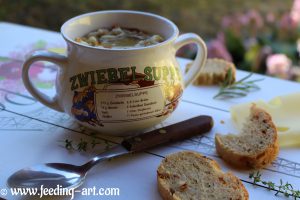 Kako bih dodala malo mediteranskog štiha, umjesto toast kruha koristila sam kockice domaćeg mediteranskog kruha (recept je na Coolinarici) i sir Emmentaler koji je neutralan po okusu tako da ne preuzme glavnu ulogu u igri luka i croutonsa.
2 luka
2 češnja češnjaka
30g maslaca
Maslinovo ulje
30 ml bijelog vina
Sol, biber, šećer
Lovorov list, timijan
1 žlica brašna
500-700 ml pilećeg temeljca
Croutons (od mediteranskog kruha)
Ementaler sir
Na maslacu i maslinovom ulju dinstati tanko narezani luk dok ne poprimi lagano boju i ne omekša. Karamelizirati šećerom. Dodati češnjak i brašno.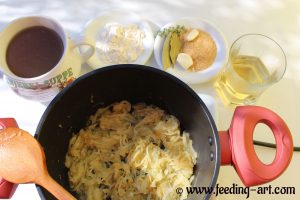 Promiješati te podliti bijelim vinom i reducirati. Dodati lovorov list, timijan i temeljac. Na laganoj vatri kuhati i po potrebi začiniti solju i biberom.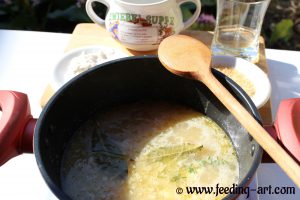 1 krišku mediteranskog kruha narezati na kockice, ementaler sir također, zajedno pomiješati i na papiru za pečenje zapeći u pećnici. Kada je pečeno veličinu kruga prilagoditi veličini posude za juhu.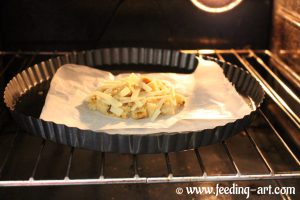 Staviti na vruću juhu i poslužiti.
Inače se juha od luka servira u vatrostalnim posudama, gore stavi kriška kruha i sira te se zapeče. S obzirom da moja posuda za juhu nije vatrostalna, jednostavno se kruh sa sirom pripremi posebno.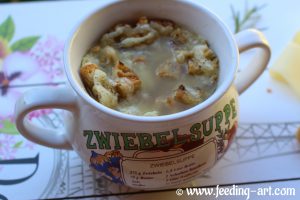 Servirati u vrtu, u pozadini stari gramafon i Edith Piaf sa Non, je ne regrette rien (Ne, ne žalim ni za čim)…u slučaju da imate dvojbe jesti luk ili ne 🙂
Bon Apettit!