The classic from our childhood has new look…Sataraš, well known Croatian stew made from different colors of pepper, fresh tomatoes, onions, garlic and little bit of chili. And it is served with boiled potatoes…light, delicious and healthy. Most of the time made in summer, to refresh hot days.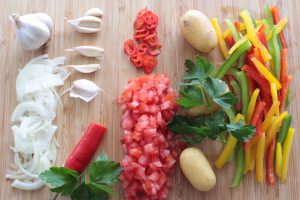 For 4 persons:
2 red peppers
2 yellow peppers
2 green peppers
6 tomatoes
1 small chili
1 big onion
4 clove of garlic
Little bit of olive oil and butter for frying
Little bit of brown sugar, salt and ground pepper
Slice onion in stripes and sauté on olive oil and butter. Add chili, cut in rings, and sauté shortly. Sprinkle with some brown sugar and caramelize. Add pepper cut in stripes and finely chopped garlic. Sauté 10 minutes and add fresh tomatoes cut in small cubes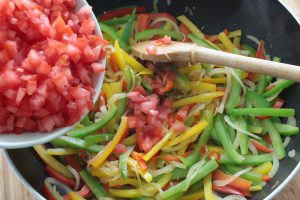 (without meat and seeds) until vegetables medium soft is. Season with salt and pepper. If you like, add some finely chopped parsley.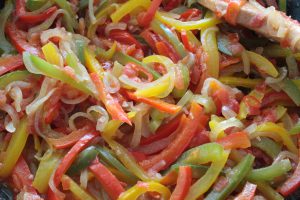 Serve Sataraš with boiled potatoes, rice, couscous, bulgur or pasta. It is very delicious only with a piece of homemade bread.
-Croatian version-
Sataraš….jelo iz djetinjstva. Tako jednostavno, a prefino. Uz dodatak chilija i minimalističko serviranje danas je dobio novi izgled, ali dobro znani okus djetinjstva. Žute, zelene i crvene paprike, svježa rajčica, puno luka, nešto češnjaka i čilija…pravo vitaminsko osvježenje u ove vruće dane.
Za 4 osobe:
2 crvene paprike
2 žute paprike
2 zelene paprike
6 srednje velikih rajčica
1 manji čili
1 velika glavica luka
4 češnja češnjaka
Malo maslinovog ulja i maslaca za prženje
Malo smeđeg šećera, soli i papra
Luk narezati na tanke trakice te popržiti na zagrijanom maslinovom ulju i maslacu. Dodati čili narezan na tanje kolutove i kratko pržiti. Posuti s malo smeđeg šećera i karamelizirati. Dodati paprike narezane na trakice i sitno rezani češnjak. Sve pirjati 10-tak minuta te dodati na sitnije kockice narezane rajčice (bez mesa i sjemenki) te pirjati dok ne omekani. U međuvremenu začiniti sa soli i paprom te po želji dodati sitno sjeckani peršin.
Sataraš poslužiti uz kuhani krumpir, a poželji može i uz rižu, cous cous, bulgur, tjesteninu ili jednostavno uz komad domaćeg kruha.