I just love potato! First picture is my Mum, she was doing the best potato pie. With homemade dough for potato pie. And, as a proud daughter, I am doing the same, with a decent amount of onion and freshly ground black pepper. Yum…hot and freshly baked…or just preheated in a little bit of water.
I love all sorts of baked potato…thick and thin potato slices, cubes, potato halves, the whole baked potato….potato salad (Croatian and Bavarian way), or just a boiled potato with little bit of butter and freshly chopped parsley or dill.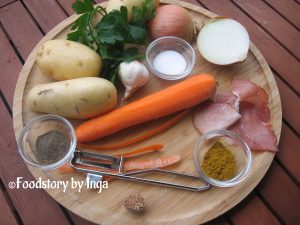 But today, I am going to write about equally delicious, but very elegant way of preparing a dish with potato – Potato soup!
Potato soup, creamy or with finely chopped vegetables. With a little bit of bacon or roasted ham, homemade bread or stylish grissini. And the red onion foam.
You do not need to measure ingredients for this soup…you just need to make it tasty how you like it, with vegetables and spices on your own choice…
Let's see what did I do…
For the soup:
Potato
Onion and garlic
Carrot
Salt, pepper, curry, nutmeg, oil, water
Ham, thinly sliced and roasted
Put some oil in a pan and fry onion with garlic. Add curry and stir well. Put some water and chopped carrot and potato, salt and pepper. When the vegetables are cooked, mix it until you get medium thick soup and season with nutmeg. If needed add some more spices and water to have potato soup as thick as you like.
Red onion foam:
Red onion, oil, water, salt, pepper and, if you like, white wine.
Fry chopped onion in some oil until soft. Add some water and/or white wine and mix it in a medium thick mass.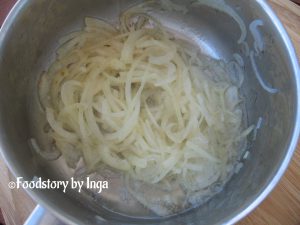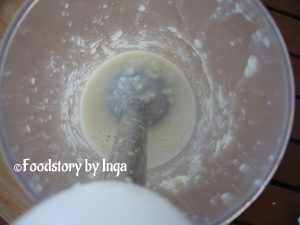 Pass the onion mixture through a Strainer. Before serving, mix it one more time to have beautiful foam,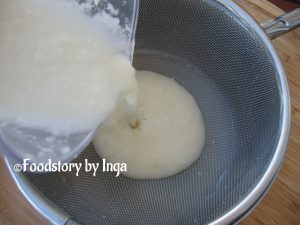 and put it carefully with a spoon on the soup.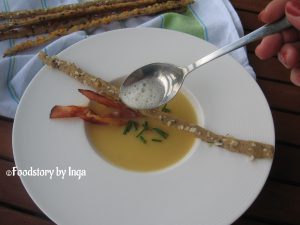 *Of course it is easier to make foam with whipped cream dispenser…until I buy one, I will still mixing and mixing…unless some really good person sponsored one Dispenser for my Blog 🙂 Thank you in advance!
Grissini:
Knead medium-hard dough using buckwheat and white flour (50:50), dried yeast, milk, butter, salt, pepper, chili flakes, black sesame.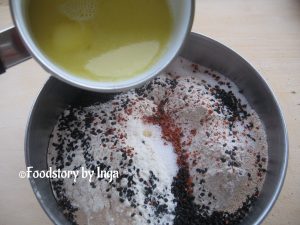 When the dough is doubled, roll out and cut into thin, long strips.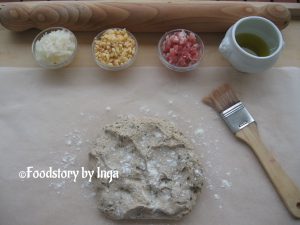 On each strip put the filling of your choice (small pieces of bacon, cheese or onion) and bake shortly on 180 C.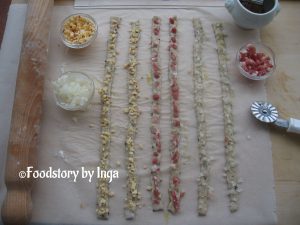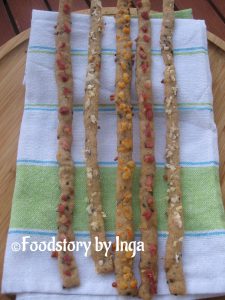 At the end serve the soup with roast ham and grissini.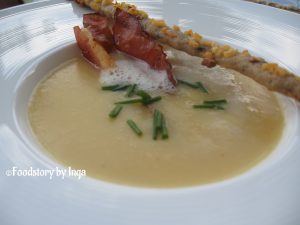 Enjoy your soup!
 -Croatian version-
Obožavam krumpir. Prvo me asocira na slasnu domaću krumpirušu koju je radila moja mama, a boga mi i ja razvučem i kore domaće i nafilam pošteno krumpirom i dostojanstvenom količinom crvenog luka i svježe mljevenog bibera. Uf, onako vruća…svježe pečena. Ili tek u malo vode podgrijana…i samo lončić jogurta uz to…
Volim i sve izvedenice pečenog krumpira…debele i tanke kriške, kocke, pole, cijele….pa krumpir salata po hrvatski i bavarski, ili samo kuhani pa na malo maslaca i uz svježi kopar ili peršin….dakle 101 način. Danas ćemo o jednako slasnoj, ali vrlo elegantnoj obradi krumpira – Krumpir juha!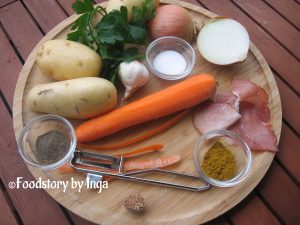 Krumpir juha, kremasta ili uz sitno narezane kockice povrća, jednako grije zimi. Uz malo slanine ili prepečene šunke, domaći kruh ili elegantne grisine. Uz dodatak pjenice od crvenog luka.
Radi se po okusu, bez vaganja i mjerenja, po želji se dodaje i ostalo povrće i/ili začini po želji. Pa krenimo…
Kremasta krumpir juha:
Krumpir
Crveni luk i češnjak
Mrkva
Sol, biber, curry, muškatni oraščić, malo ulja, voda
Šunka, tanko rezana i prepržena na malo ulja
Na malo ulja prepržiti luk i češnjak, dodati curry i dobro promiješati. Uliti vodu do 2/3 posude za početak te na kocke narezanu mrkvu i krumpir, te sol i biber. Kada je povrće skuhano izmiksaj u kremastu juhu te začini muškatnim oraščićem. Po potrebi dodaj ostale začine i vodu kako bi juha bila idealne gustoće.
Pjenica od crvenog luka:
Crveni luk, ulje, voda, sol, biber, po želji bijelo vino i začini po želji
Narezani luk dinstati na ulju dok ne omekša.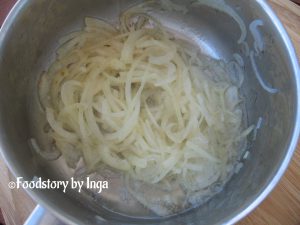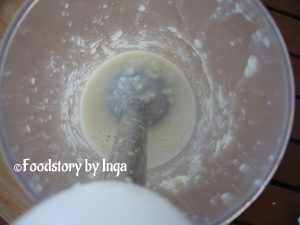 Potom dodati vodu (i/ili bijelo vino), izmiksati u srednje gustu masu te procijedi kroz cjedilo.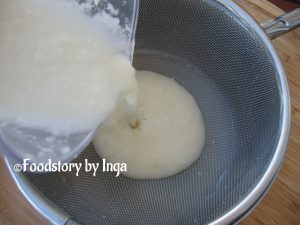 Prije serviranja još jednom izmiksati da se dobije pjenica i lagano žlicom staviti na juhu.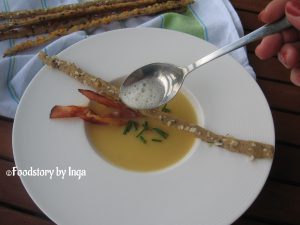 *Naravno da je brže i jednostavnije pjenicu napraviti pomoću profesionalne dispenzer boce…dok je moja kuhinja ne nabavi, ja ću i dalje miksati i miksati….osim ako se ne javi koji sponzor :)..Hvala!
Grisini:
Umijesiti srednje tvrdo tijesto od heljdinog i bijelog brašna (50:50), suhog kvasca, mlijeka, maslaca, soli, bibera, čili pahuljica, crnog sezama.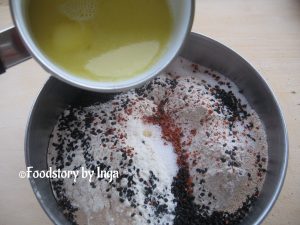 Kada se digne, razvaljati i isjeći na tanke, dugačke trakice.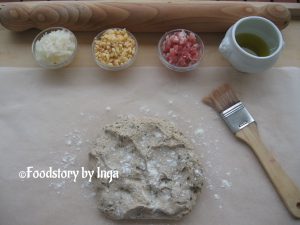 Na svaku trakicu staviti nadjev po želji (sitno rezanu slaninu, crveni luk ili sir) te kratko peći na 180 C.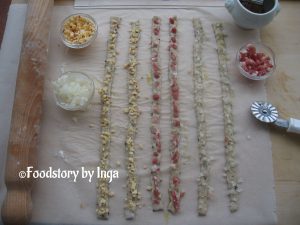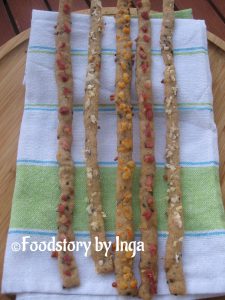 Na kraju pažljivo servirati uz preprženu šunku i grisine.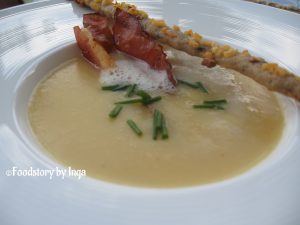 Dobar tek!