It is like springtime is inspiration for my sister Lily…she made second delicous and very attractive salad with asparagus and fruits…enjoy this asparagus season and stay fit and healthy 🙂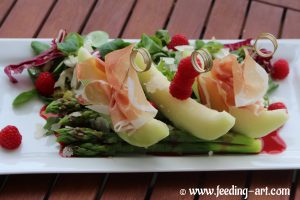 All you need:
Asparagus, green
Mix green salad
Melon
Prosciutto Crudo ham
Parmesan cheese
Raspberries
Raspberries Vinaigrette
Just make them work together:
Peel green asparagus (only ¼) and cut hart lower part. Boil shortly in water with salt, sugar and lemon juice. They should be al dente.
Wash Salad and Raspberries. Slice Melon, not too thick, peel the skin. Place ham and raspberries on finger food sticks.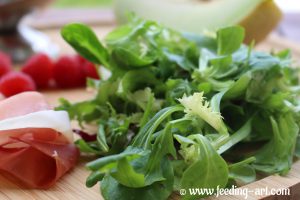 For vinaigrette: Mix the raspberries pour everything through a fine sieve (to eliminate the unpleasant small raspberry seeds). Whisk together with little bit of raspberry vinegar, honey, salt and olive oil.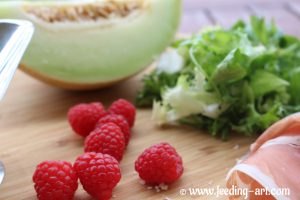 Let's serve it: I would recommend you to use long plate. Place Salad on the one side and green asparagus at the other. At the top of asparagus place melon slices with ham and raspberries. Put all around fresh raspberries and pour gently with Raspberries Vinaigrette. And grate some parmesan cheese all over.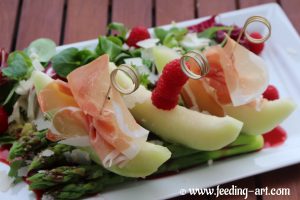 -Croatian version-
Mojoj sestri Lily šparoge su očito prava inspiracija za zdrave i brze obroke. Druga u ponudi je ova oku atraktivna i vrlo jednostavna salata obogaćena sušenom šunkom i domaćim dressingom od malina. Nekoliko listića parmezana točka su na i ovoj pravoj proljetnoj poslastici 🙂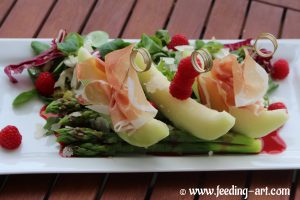 Potrebno:
Zelene šparoge
Mix zelene salate
Prosciutto Crudo (talijanska sušena šunka)
Dinja
Parmezan
Maline
Vinaigrette od malina
Postupak:
Zelene šparoge oguliti u visini ¼ od donjeg dijela, tvrdi dio odrezati. Kratko prokuhati u proključaloj vodi u koju ste stavili sol, šećer i limunov sok. Paziti da se ne prokuhaju, za salatu su idealne al dente.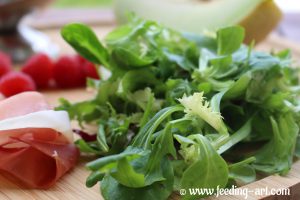 Salatu oprati i ostaviti u cjedilu da se iscijedi višak vode. Maline oprati. Dinju nasjeći na kriške i oguliti. Na ukrasne štapiće staviti šunku i maline.
Za vinaigrette: maline purirati i protisnuti kroz sitnije sito. Pomiješati pjenjačom s malo vode, malinovog octa, meda, malo soli i malo maslinovog ulja.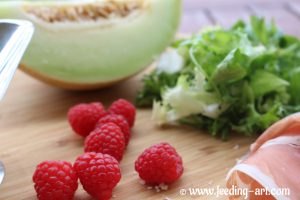 Serviranje: salatu servirati na dugački tanjur. Na jedan dio staviti salatu, a na sredinu šparoge. Na šparoge staviti dvije kriške dinje sa šunkom i jednu krišku s malinama. Poslagati maline sa svih strana i lagano preliti s Vinaigrette od malina. Na kraju dodati parmezan nariban na tanke listiće.