These Breadsticks are the right ones for all those who enjoy beer…combination of ham and parmesan just call for one more bottle of beer. From this recipe you are going to have ca. 30 Breadsticks.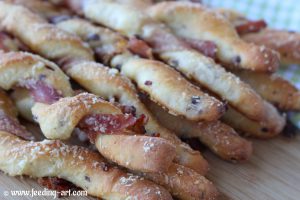 350 g whole grain flour
Baking powder
Coarse salt with spices (thyme, rosemary…)
Pepper
250 g fresh cow cheese
1 egg
2 tbsp olive oil
Olives (kalamata, finely chopped)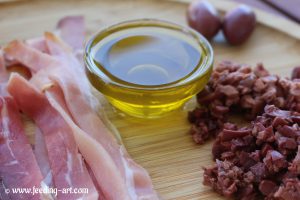 Air dried ham (cut into strips)
Parmesan
Olive oil for Breadsticks
In one bowl put together flour, baking powder, salt and pepper. In second bowl put together cheese, egg, finely chopped olives and olive oil.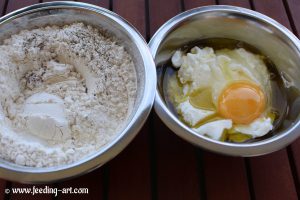 Mix together wet and dry mixture and knead a dough. At the beginning you are going to have pretty dry dough, but do not add more cheese. Just knead little bit more and at the end you are going to have nice and smooth dough. Dough does not need to rest.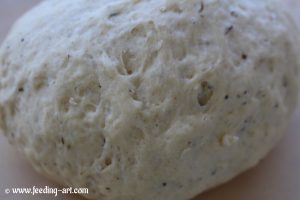 Roll out the dough into a thin rectangle and cut into thin strips. At each strip of dough place ham strip and carefully form spiral Breadstick.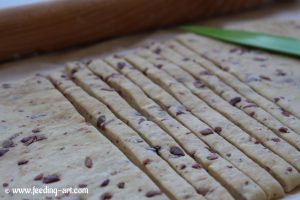 Coat with olive oil and carefully roll in finely grated parmesan.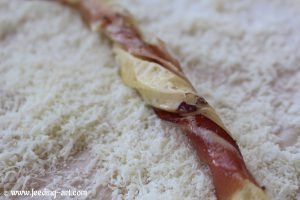 Place them on a baking paper and bake in pre-heated oven (180C) for about 15-20 minutes (depends on oven), they are finished when they have nice, light brown color.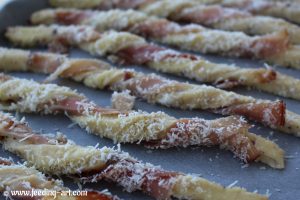 Instead of finely chopped olives you can use semi-dried tomatoes, cooked ham or zucchini or do not use any of those ingredients and bake it just with spices. If you use finely chopped cooked ham, then do not wrap dried ham around grissini.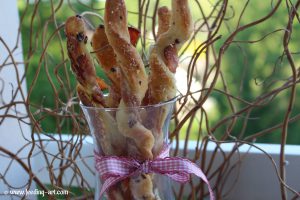 -Croatian version-
Ovi grisini idealni su za obožavatelje piva jer spoj parmezana i šunke upravo poziva na extra kriglu piva :)! Od ove količine dobit ćete oko 30-tak grisina.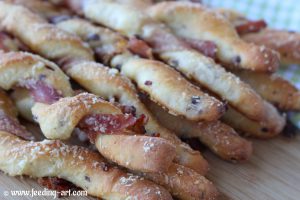 350 g crnog brašna
Prašak za pecivo
Krupna sol sa začinima (timijan, ružmarin…)
papar
250 g svježeg, kravljeg sira
1 jaje
2 jušne žlice maslinovog ulja
Masline (kalamata)
Tanko rezana, sušena šunka
Parmezan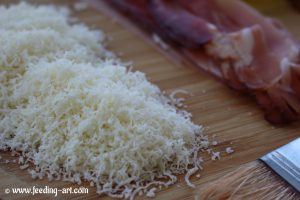 Maslinovo ulje za premazivanje grisina
Prosijati brašno i pomiješati s praškom za pecivo, soli i paprom. U drugoj posudi pomiješati sir, jaje, sitno sjeckane kalamata masline i maslinovo ulje.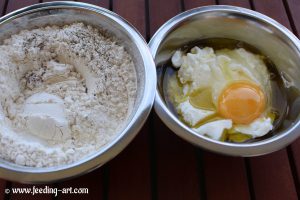 Sjediniti suhu i mokru smjesu te umijesiti tijesto. Neka vas ne uplaši na početku mješenja suhoća mase, što duže mjesite sir će otpustiti vlažnost i dobit ćete lijepo, glatko, podatno tijesto za grisine. Tijesto ne mora stajati.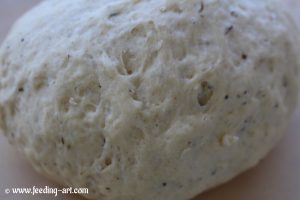 Razvaljati tijesto u tanki pravokutnik te isiječi tanke trake. Na svaku traku staviti trakicu šunke i oblikovati spiralno grisin.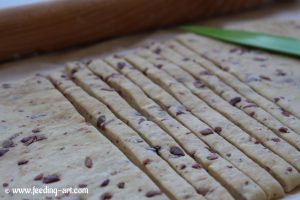 Premazati maslinovim uljem i pažljivo grisim uvaljati u sitno ribani parmezat.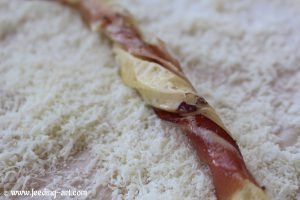 Poslagati ih na papir za pečenje i peći u prethodno zagrijanoj pećnici na 180C oko 15-20min (ovisi o pećnici), gotovi su kada poprime lijepu boju.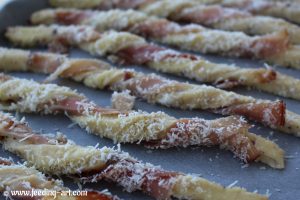 Grisine možete, umjesto s maslinama, praviti i sa sitno rezanim polusušenim rajčicama, kuhanom šunkom, tikvicama ili pak bez tih dodataka u tijestu. Ukoliko radite sa sitno rezanmo šunkom, onda svakako nemojte još dodatno omatati sušenu šunku oko grisina.