Summer is perfect for all kind of cold soups. It is the simplest way to refresh yourself during hot days with a real vitamin bomb. And if you do not put any cream in it, it will be very light meal as well. Could you wish more in summer?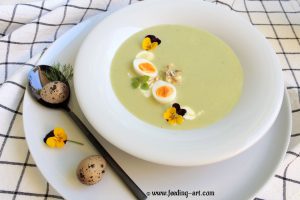 I am pretty sure that every one of us did try to make at least once cucumber soup. This time we did enriched cucumber soup with avocado, which gave little bit of silky texture to the soup. And Jalapeno Pepper just enough spiciness. Instead of classic way of serving cucumber soup with shrimps, we did serve it with Quail egg and different sorts of sprouts. Only 1 tea spoon of cream was added as decoration. It would be great combination with some croutons, marinated with mediterranean spices.
At the end it is enough combinations for everybody's taste, so there is no excuse not to use these hot days to prepare your own cucumber soup 🙂
3 big cucumbers
2 young green onions (white and green part)
½ jalapeno pepper
1,5 Avocado
Lemon zest and juice from 1 lemon
Little bit of honey
Little bit of dill, fresh, finely chopped
Salt and pepper
Put all ingredients in mixer and mix it in smooth mixture.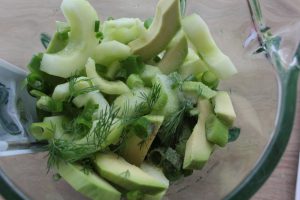 If the soup is too thick, add some water. Strain through a fine sieve.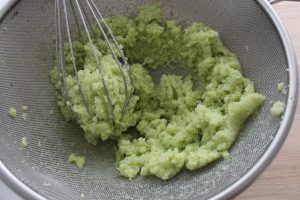 Add more spices if needed. Leave in refrigerator for 1-2 hours and serve cold.
For decoration:
1 Quail egg, cooked
Sprouts
Cream
Edible flowers
Dill
Put Quail egg in cold water and bring to boil. Cook for two minutes. Cool down with cold water and peel the egg carefully. Cut in half. Decorate the soup with cream, egg, sprouts, edible flowers and dill.
-Croatian version-
Ljetne hladne juhe od raznog povrća najjednostavniji su način da se osvježimo uz čašu (tanjur) vitaminske bombe koja, ukoliko nema dodatka vrhnja za kuhanje, predstavlja pravi lagani obrok. Idealna kombinacija za ljetne dane.
Mislim da se svatko od nas barem jednom okušao u pripremi juhe od krastavaca. Mi smo je ovaj puta obogatili avokadom koji je juhi dao blagu svilenkastu teksturu, a jalapeno laganu dozu ljutine. Već standardne načine posluživanja uz kozice ili škampe ovoga puta zamijenile smo prepeličjim jajem uz malo raznih vrsta klica. Bila bi dobra kombinacija i uz croutonse marinirane mediteranskim biljem, ali kombinacija je kao i obično dovoljno za svačiji ukus, pa stoga iskoristite još malo ove tople dana i upustite se u pripremu vaše verzije juhe od krastavaca…dobar tek :).
3 velika krastavca
2 mlada luka
½ jalapeno paprike
1,5 Avokado
Korica i sok jednog limuna
Malo meda
Malo sjeckanog svježeg kopra
Sol i papar
Sve sastojke staviti u blender i miksati dok ne dobijete ujednačenu smjesu. Ako vam je pregusta možete dodati malo vode. Propasirati kroz sitno cjedilo miješajući pjenjačom dok ne dobijete srednje gustu juhu. Ostatak bacite. Po potrebi na kraju još začiniti. Ostaviti u hladnjaku sat-dva i poslužiti hladno.
Za dekoraciju:
1 prepeličje jaje, kuhano
Klice
Vrhnje
Jestivo cvijeće
Kopar
Prepeličje jaje staviti u hladnu vodu te zajedno zakuhati. Kada voda prokuha, kuhati 2 minute. Malo ohladiti pod mlazom hladne vode i pažljivo ogulitite prepoloviti. Servirati juhu, staviti malo vrhnja, dekorirati s jajem, klicama i jestivim cvijećem.