Chanterelles Saison is always great opportunity to prepare something simple but special. We like it with risotto or pasta, but Quiche with salad has its own elegance. And Chanterelles deserve to be served in this way. Make sure to fry onion slowly (not to have dark color, but nice and soft onions) and caramelize really nice because this sweetness gives great taste to the Quiche. If you like filling little bit creamy, you can add some double cream.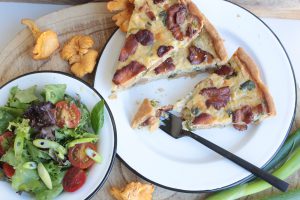 Just a simple green salad with some tomatoes and classic vinaigrette will be enough to serve with this simple delicacy.
Dough:
200g flour (100g white and 100g whole grain white)
135g butter
1 egg
½ small spoon of salt
All ingredients should be at the room temperature. Mix all ingredients together and knead dough, leave half an hour in the fridge. Roll the dough thinly and put in a baking tray (I used round form).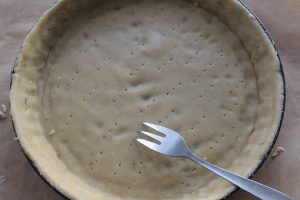 Carefully shape edges with your hands. Prick the dough with a fork. Put a baking paper all over the dough and place rice to avoid dough from rising while baking.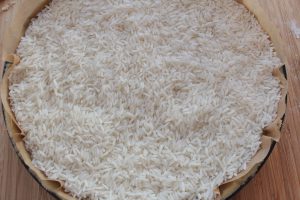 Preheat oven and bake for about 10 minutes at 170C. Carefully remove baking paper with rice and let the dough cool down.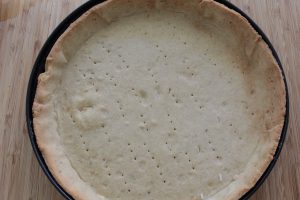 Filling:
250g Chanterelles
3 onions
3 young green onion (green and white part)
150ml cream for cooking
2 eggs
Little bit of olive oil and butter
Salt and pepper
Nutmeg
Slice onion thinly and fry in a pan with little bit of oil and butter. Caramelize with brown sugar and season with salt, pepper and nutmeg.
Cut young onion into rings and fry shortly. Clean Chanterelles with a brush. If they are very dirty, put them in a sieve and sprinkle with some flour. Shake carefully and rinse with cold water. Let them dry on a piece of kitchen towel. Fry them shortly and leave apart some of big ones to decorate quiche.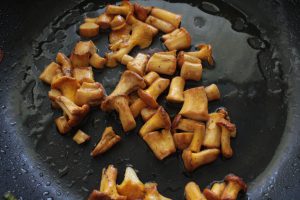 In a bowl mix cream for cooking, eggs, salt, pepper, nutmeg and chopped parsley. Add onion, young onion, chanterelles (do not forget to leave big ones for decoration). Pour filling in half baked dough. Put some big Chanterelles at the top.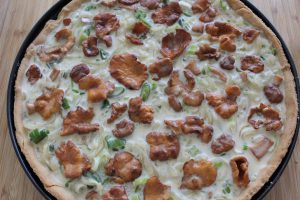 Bake in preheated oven (180 C) about 30 minutes (depends on oven).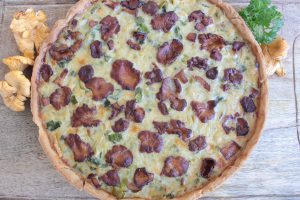 Serve with salad.
-Croatian version-
Volite li Lisičarke? Ja ih obožavam…još i više kada ih netko očisti za mene. Jedem ih na 100 načina..uz rižoto, tjesteninu, na salatu ili bruschette…ovaj put jednostavan quiche kojemu poseban okus daje karamelizirani luk i malo muškatnog oraha…uz ovu deliciju treba vam samo malo salate i klasičan vinaigrette 🙂
Prhko tijesto:
200g brašna (100g bijelog i 100g bijelog punozrnog)
135g maslaca
1 jaje
½ male žličice soli
Svi sastojci trebaju biti sobne temperature. Brašno prosijte te s ostalim sastojcima zamijesite tijesto. Ostaviti u hladnjaku oko pola sata umotano u foliju. Tanko razvaljati valjkom i obložiti prethodno maslacem namašćenu formu za pečenje tarta. Ja sam koristila okrugli oblik. Rubove pri vrhu pažljivo oblikovati rukama. Tijesto izbosti vilicom. Na tijesto položiti papir za pečenje te staviti neko opterećenje da se tijesto ne digne prilikom pečenja (ja sam koristila rižu). Peći na 170C, 10 minuta. Pažljivo odstraniti papir s rižom i ostaviti tijesto da se ohladi u kalupu.
Fil:
250g lisičarki
3 luka
3 mlada luka
150ml vrhnja za kuhanje
2 jaja
Malo maslinovog ulja i maslaca za prženje
Sol i papar
Muškatni orah
Luk narezati na tanke trakice i na malo maslinovog ulja i maslaca popržiti, karamelizirati smeđim šećerom i začiniti sa soli, paprom i muškatnim orahom. Mladi luk narezati na tanje kolutove i kratko prepržiti na malo ulja i maslaca. Lisičarke pažljivo očistiti kistom, a ako su jako prljave, posuti ih brašnom, staviti u cjediljku, pažljivo promiješati i polako ih oprati hladnom vodom. Staviti na papir da se posuše. Kratko ih prepržiti na malo ulja i maslaca. Manje lisičarke odvojiti za fil, a veće posebno za gornji sloj.
U posudi pomiješati vrhnje za kuhanje, jaja, sol, papar i muškatni orah. Dodati luk, mladi luk i manje i srednje velike lisičarke. Filom napuniti napola pečeno tijesto ukalupu. Gore poslagati veće lisičarke. Peći u prethodno zagrijanoj pećnici na 180 C oko 30 minuta, odnosno dok ne dobij lijepu boju.
Poslužiti uz salatu.