Eine 20×30 cm große Backform, eingefettet und mit Backpepier ausgelegt.
Den Backofen auf 175°C vorheizen.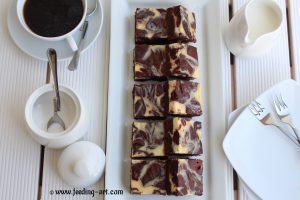 Käsekuchenmischung:
350g Frischkäse
1 TL Vanille-Extrakt
100g Zucker
2 Eier, leicht verquirlt
Zunächst die Käsekuchenmischung zubereiten. Hierführ alle Zutaten in eine Schüssel geben, gründlich miteinander vermengen und anschließend beiseite stellen.
Brownies Teig:
200g Zartbitterschokolade, gehackt
150g Butter in Würfeln
150g Zucker
3 Eier ( M )
125g Mehl
1 Prise Salz
Die Schokolade und die Butter in eine hitzebeständige Schale geben, die Schale auf einen Topf mit köchelndem Wasser stellen und alles zu einer einheitlichen geschmeidigen Masse verrühren. Die Schokolade etwas abkühlen lassen.
Den Zucker und die Eier mit einem Schneebesen in einer separaten Schüssel 1-2 Minuten lang aufschlagen, die geschmolzene Schokolade unterziehen und alles sorgfältig durchmischen. Anschließend das Mehl und das Salz darübersieben und die Mischung zu einem geschmeidigen, schweren Teig verrühren.
Drei Virtel der Brownie-Mischung in die vorbereitete Backform geben, die Käsekuchenmasse gleichmäßig darauf verteilen und alles mit dem restlichen Teig bestreichen. Eine Paletten oder Tortenmesser spiralförmig durch die verschiedenen Schichten ziehen, sodass ein Marmormuster dabei entsteht, das Blech einmal kräftig gegen die Arbeitsplatte schlagen, um die Masse gleichmäßig auf dem Blech zu verteilen und den Teig anschließend auf mittlerer Schiene im vorgeheizten Ofen 30-35 Minuten backen.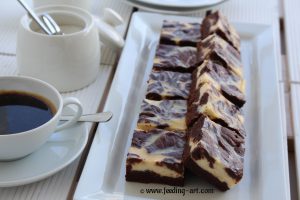 Den fertig gebackenen Teig aus dem Ofen nehmen, in der Form vollständig erkalten lassen und vor dem Servieren in etwa 16 Stücke schneiden.
-Kroatische version
Kalup za pečenje 20x30cm, namašćen i s papirom za pečenje.
Pećnicu zagrijati na175°C.
Krema od sira:
350g svježeg kremastog sira
1 mala žlica vanilije ekstrakta
100g šećera
2 jaja, lagano pjenjačom pomiješana
Prvo pripremiti kremu od sira. Sve sastojke staviti u jednu posudu, temeljito ih pjenjačom sjediniti i ostaviti po strani.
Tijesto za brownies:
200g tamne čokolade, grubo nasjeckane
150g maslaca, na kockice nasjeckanog
150g šećera
3 jaja ( M )
125g glatkog brašna
Prstohvat soli
Čokoladu i maslac otopiti na pari i ostaviti da se malo ohladi. U posebnoj posudi izmješati pjenjačom jaja sa šećerom (mješati 1-2 minute). Dodati čokoladu i sve to dobro sjediniti. Na kraju dodati prosijano brašno sa malo soli. Sve dobro sjediniti tako da se dobije glatka, teška masa.
Tri četvrtine brownie mase raspodijeliti u pripremljeni kalup za pečenje. Na to preliti kremu od sira i na kraju raspodijeliti ostatak brownies mase. Jednim nožem, spiralno, vuči kroz sva tri sloja tako da nastane mramorna mustra. Kalup za pečenje udariti snažno po radnoj površini tako da se masa ravnomjerno rasporedi. Peći na 175°C oko 30-35 minuta. Kolač ostaviti u kalupu da se dobro ohladi te rezati na kocke, ovisno o veličini dobije se oko 16 komada.