This is one of Emmanuel Hadjiandreou recipe as well. I bake very oft from his book, his recipes are very good, but this time I made some changes. I add little bit more flour and less water because I found the dough too soft to work with it. Additional, I left dough to rest in a fridge the whole night so you can handle it easier. It does not change the shape when you transfer the dough in oven (because the dough is pretty soft).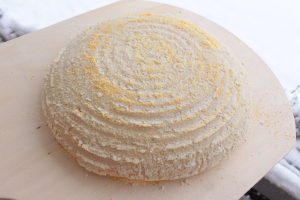 As I did not dissolve polenta in water completely (I left some crumbs), at the end I could saw it in baked bread, and it gave him special rustic look. I did slice the rest of the bread and stored in a freezer. This way you can have homemade, the most delicious bread made with your own starter whenever you want.
Ingredients:
350g white whole wheat flour
1 tbsp salt
150g boiled polenta (take about 50g raw polenta and cook with 200ml water and ½ tbsp salt)
170ml lukewarm water
230g of white flour starter
2 soup spoon of olive oil
Extra flour for dusting and little bit more if dough is too soft.
Mix flour and salt in one bowl. Cook polenta and take 150g of it. Add 170g lukewarm water (polenta should be warm as well) and stir (it is not a problem if you have some pieces of polenta, it makes bread more rustic). Add starter and olive oil. Mix together wet and dry ingredients and let it rest at the warm place covered with transparent foil. Every 20 minutes make stretch and fold 4-6 times. Repeat 4 times the whole stretch and fold. After 4th stretch and fold, let it rise for about 2 hours.  Put the dough gently on the with flour dusted working surface, form bread, put in a rising pot, leave 4 hours at the room temperature and additional overnight in the fridge.
Preheat the oven in the morning 240 C together with baking (pizza) stone (if you do not have it, use any baking tray) and one small pot for water (to create steam during baking). Dust wooden pizza board with flour and transfer bread dough carefully on it. If you like, score dough with a knife.
Bake 30-40 minutes (depends on oven). If needed turn down temperature at 200C after 30 minutes.
Let it on the rack to cool down completely before cutting it.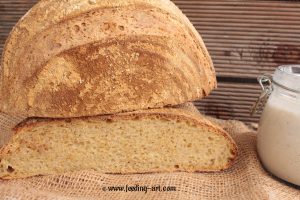 -Croatian version-
Ovo je još jedan u nizu recepata od Emmanuel Hadjiandreou koji je jednako ukusan kao i prethodni. Unijela sam nekoliko promjena, dodala malo više brašna i malo manje vode jer mi se tijesto činilo premekano za oblikovanje. Također sam ovaj put oblikovani kruh u košari za dizanje ostavila cijelu noć u hladnjaku. Tako se tijesto malo stabiliziralo i prilikom prebacivanja u pećnicu nije se promijenio oblik (s obzirom na mekoću tijesta).
Polovicu ohlađenog kruha narezala sam na šnjite i zamrznula. To je zaista idealan način da u svako doba pojedete domaći kruh bez raznih dodataka i umjetnih boja, a još k tome napravljen od vlastitog domaćeg startera. Bolje ne može :). Jednostavno izvadite šnjitu kruha iz zamrzivača ostavite na sobnoj temperaturi par sati (ili zagrijte u aparatu za sendviče, na grill-u ili u pećnici).
350g bijelog punozrnog brašna
1 kavena žlica soli
150g kuhane palente (skuhati 50g polente s 200ml vode i pola žličice soli)
170ml tople vode
230g domaćeg kvasca
2 jušne žlice maslinovog ulja
Dodatno brašno za posipanje i još po potrebi u tijesto ako je premekano.
Prosijano brašno pomiješati sa soli. Skuhti palentu, izvagati 150g skuhane palente te u nju dodati (dok je još topla) 170g tople vode i promiješati. Ne mora biti glatka smjesa, komadići palente čine kruh još rustikalnijim. Dodati starter i maslinovo ulje te sjediniti. Pomiješati rukom sa suhim sastojcima te ostaviti da miruje na toplom mjestu pokriveno prijanjajućom folijom. Svakih 20 minuta nježno podići tijesto s donje strane te utisnuti u sredinu (4-6 puta okrečući posudu). Ponoviti 4 puta ukupno te ostaviti da se diže oko 2 sata. Potom nježno na pobrašnjenoj površini formirati okrugli kruh i ostaviti 4 sata na sobnoj temperaturi te tijekom noći u hladnjaku.
Ujutro zagrijati pećnicu na 240 C (ja sam kruh pekla na kamenoj podlozi koju treba staviti da se zagrijava zajedno s pećnicom i jednom manjom posudom u koju ćete prije pečenja uliti vodu da se stvori para). Kruh pažljivo prebaciti na pobrašnjenu dasku (ja sam koristila manju dasku za ubacivanje pizze u pećnicu), malo posuti brašnom te po želji žiletom ili oštrim nožem zarezati tijesto.
Peći 30-40 minuta (ovisi o pećnici), po potrebi smanjiti temperaturu na 200C nakon 30 minuta. Provjeriti je li kruh pečen tako da laganim kucanjem po donjoj površini čujete šuplji zvuk.
Ostaviti kruh na rešetki da se u potpunosti ohladi prije rezanja.