Ingredients:
1 Hokkaido pumpkin
2 carrots
1 shallot
2 cloves of garlic
2 cinnamon sticks
2 lemon grasses
Nutmeg
Coriander and Cumin seeds (crush them in mortar)
Salt and pepper
1 dl coconut milk
Turmeric (to taste)
Ginger powder or some fresh, finely chopped.
Sweet, smoked paprika powder
Water as needed
Little bit of oil
Sautѐ shortly shallot, garlic and all spices (except salt and pepper), lemon grass and cinnamon stick. Add carrots and Hokkaido cut in cubes, water and cook on a medium heat until vegetables soft is. Mix it well in a smooth soup, add coconut milk until you reach desired consistency. Season to taste with salt and pepper.
Side dish:
Shrimps
Egg white
Shredded coconut
Salt and pepper
Season egg white with salt and pepper. Dunk shrimps in egg white then in coconut. Put on a baking paper and bake in preheated oven (180 C) for about 7-10 minutes until coconut is slightly brown.
Decorate the soup with chili and coconut chunks.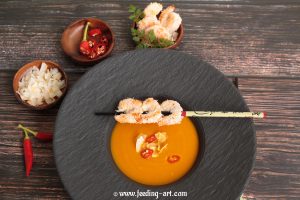 -Croatian version-
Potrebno:
1 Hokkaido tikva
2 mrkve
1 ljutika
2 češnja češnjaka
2 štange cimeta
2 štapića limunske trave
Muškatni oraščić
Sjeme korijandera i kumina usitnjeno u mužaru
Sol i papar
1 dcl kokosovog mlijeka
Mljeveni turmerik po okusu
Đumbir u prahu (ili svježi, sitno sjeckani)
Dimljena, slatka crvena paprika u prahu
Vode po potrebi
Malo ulja
Postupak:
Na ulju kratko prepržiti sitno narezanu ljutiku i češnjak te dodati sve začine (osim soli i papra), štapiće cimeta i limunse trave. Kratko popržiti te dodati mrkvu i tikvu narezanu na kockice. Podliti vodom i kuhati na laganoj vatri dok povrće ne omekani. Začiniti sa soli i paprom. U blenderu dobro izmiksati, dodati kokosovo mlijeko po okusu i željenoj konzistenciji.
Kozice uvaljati u bjelanjak u koji ste dodali sol i papar te u kokos i peći 7-10 minuta u pećnici na 180 C. Juhu dekorirati čilijem i komadićima kokosa.